24. April 2020
Recommendations to the UNGASS on enabling full cooperation in asset recovery matters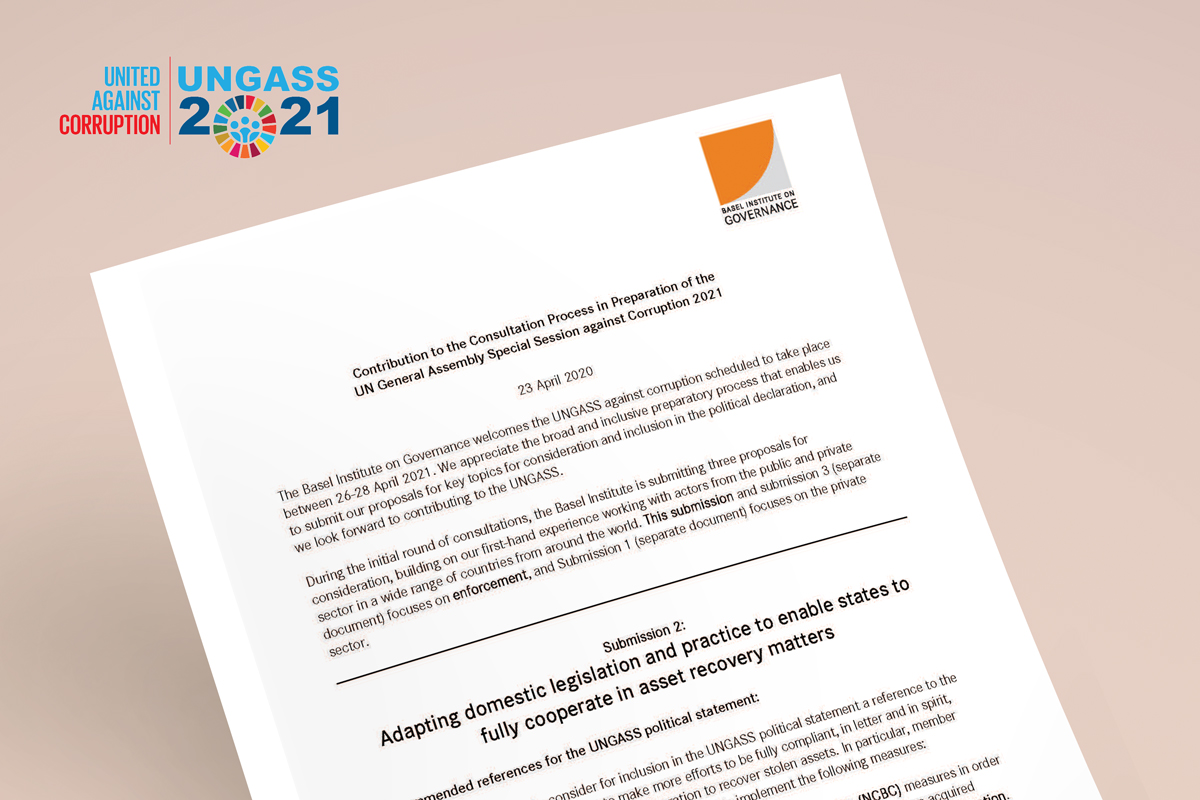 One of our two submissions to the UN General Assembly Special Session against Corruption 2021 concerns adapting domestic legislation and practice to enable states to fully cooperate in asset recovery matters.
Our recommendation
We urge member states to consider for inclusion in the UNGASS political statement a reference to the obligations of UNCAC State Parties to make more efforts to be fully compliant, in letter and in spirit, with UNCAC provisions on international cooperation to recover stolen assets. In particular, member states should through the political statement be urged to implement the following measures:

Member States shall introduce Non-Conviction Based Confiscation (NCBC) measures in order to provide for judicial proceedings for the confiscation of property that has been acquired through, or that is related to, the commission of an offence established in the Convention.
Member States shall adopt such measures as may be necessary to permit its competent authorities to provide assistance in obtaining evidence and to provide assistance in freezing or seizing assets in relation to NCBC investigations and proceedings in another State Party, and to give effect to an order of NCBC issued by a court or other competent authority of another State Party.
Member States shall adopt such measures as may be necessary to allow confiscation of assets subject to the power of disposal of a public official if the wealth of the person has increased disproportionately during her/his public function and it has not been demonstrated that the asset in question was acquired legitimately.
Member States shall interpret the principle of dual criminality in line with Article 43(2) of the Convention.
Member States shall take such measures as may be necessary to permit its competent authorities to provide information and evidence to another State Party without prior notification to the affected person (if the requesting country demonstrates that such is necessary in light of the nature of the conduct under investigation).
Member States shall take such measures as may be necessary to recognize damage to another State Party as a basis for returning confiscated assets or monies refunded as the disgorgement of profits.
Our reasons
Cases in which victim countries of large-scale corruption have recovered stolen assets through the mechanisms of Mutual Legal Assistance in Criminal Matters (MLA) are still rare. International cooperation in financial investigations, the securing of assets and the enforcement of confiscation orders can founder when faced with a range of legal, political and practical obstacles. These include:
Countries are increasingly adopting NCBC procedures to recover assets which are the proceeds of corrupt activities. Although recognised by international treaties and legislation, acknowledged best practice and affirmed by international courts, there remain barriers in international cooperation with certain countries refusing MLA requests in investigations and for the enforcement of final NCBC orders. This failure to provide a wider measure of assistance in cases which arise from corrupt activities undermines the ability of victim countries to recover stolen assets.
The competent authorities of certain State Parties misinterpret the principle of dual criminality to the disadvantage of the requesting state. Instead of looking at the substance of the criminal conduct under investigation, MLA requests are often refused solely based on the legal terminology applied by the requesting State. The latter does not live up to Art. 43(2) UNCAC on the dual criminality principle. 
Despite the advances in international cooperation and the developments in legislation in both criminal and civil forms of confiscation of assets, the recovery of assets remains challenging given the increasing levels of sophistication by which assets are concealed. Increasingly countries are adopting investigative tools or criminal, civil or administrative measures to address unexplained wealth accumulated by public officials or those associated with them. These procedures are to be encouraged where fundamental rights are respected and judicial oversight is integral.
While in many jurisdictions investigative measures aimed at obtaining evidence can be carried out secretly, where the nature of the criminal conduct under investigation justifies it, the MLA legislation of certain countries makes it obligatory to notify the affected person prior to transmitting information and evidence to another country. A prime example is the notification of bank account holders where access to information on their bank account is requested by a foreign authority. This notification to the affected person may compromise the effective investigation and prosecution of corruption offences, may alert criminals of the need to dissipate assets so that they cannot be recovered in the event of a conviction and may endanger the personal safety of law enforcement professional investigating the offending.
There has been a welcome increase in the number of cases where the corrupt activities of private sector entities and corporate executives have been prosecuted or where prosecution has been deferred through a negotiated settlement leading to the payment of financial penalties and conditions agreed as to future conduct. The financial penalties, in part, seek to disgorge the profits gained by corporations and individuals as a result of their corrupt activities. The proceeds of these often multimillion dollar fines are usually retained by the investigating / prosecuting jurisdiction with insufficient regard to the harm caused in the jurisdiction where the corrupt activities took place.
More information
2