30. March 2016
Panama and Basel Institute launch a High Level Reporting Mechanism (HLRM) to promote integrity in health procurement in Panama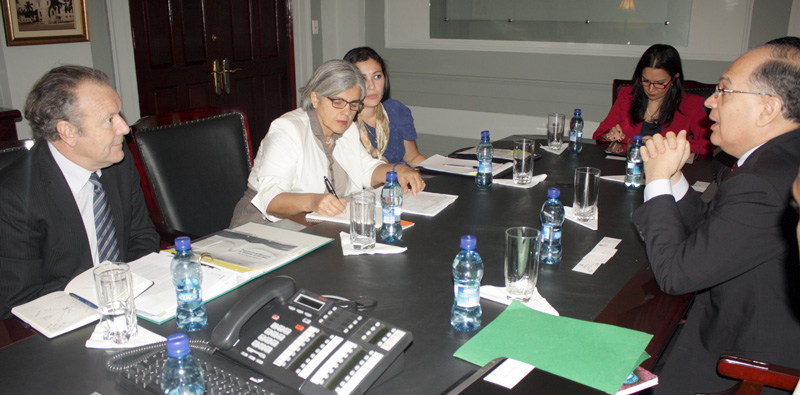 Earlier today the Government of Panama jointly with the Basel Institute on Governance announced the establishment of the country's first High Level Reporting Mechanism (HLRM).
The launch event was led by the Vice President of Panama, Ms Isabel de Saint Malo de Alvarado and by Ms Angelica Maytin Justiniani, Director General of the National Authority of Transparency and Access to Information (ANTAI) and attended by some 100 people, including members of the Panama government and business community, and representatives of foreign governments, international organisations and the local civil society. 
The Basel Institute on Governance was represented by its Chairman of the Board, Professor Mark Pieth, and senior expert Mr Oscar Solorzano.
The first pilot of the HLRM will be managed under the auspices of (ANTAI) and relates to the health sector. When it starts operating in May 2016, it will allow businesses bidding to provide medical equipment and undertake constructions of the Social Insurance Fund (CSS) to file a grievance or complaint with the Corruption Prevention Secretariat (SEPRECO) in relation to potential unfair practices and bribery. The SEPRECO will then prepare timely reports and recommendations for fair resolution of any concerns. When necessary, the HLRM will employ the services of an ad-hoc Expert Committee involving representatives of civil society, private sector and health public procurement expertise to provide further technical assistance.
The concept of the HLRM as a preventive tool was first developed by the Basel Institute and the Organisation for Economic Co-operation and Development (OECD) together with Transparency International. The HLRM in Panama will be the third such mechanism drawing on the examples established in Colombia and Ukraine. Representatives from the Basel Institute's International Centre for Collective Action have been working with ANTAI since 2015 on the development of the HLRM, including through consultations with representatives from the Panamanian business community, civil society and other government institutions.
Funding support for this endeavour was received from the UK Foreign & Commonwealth Office (Panama) and the Siemens Integrity Initiative.
For further information please contact Gemma Aiolfi, Head of Compliance, Corporate Governance and Collective Action at the Basel Institute on Governance.