17. August 2020
Now on LEARN: Guide to the role of civil society organisations in asset recovery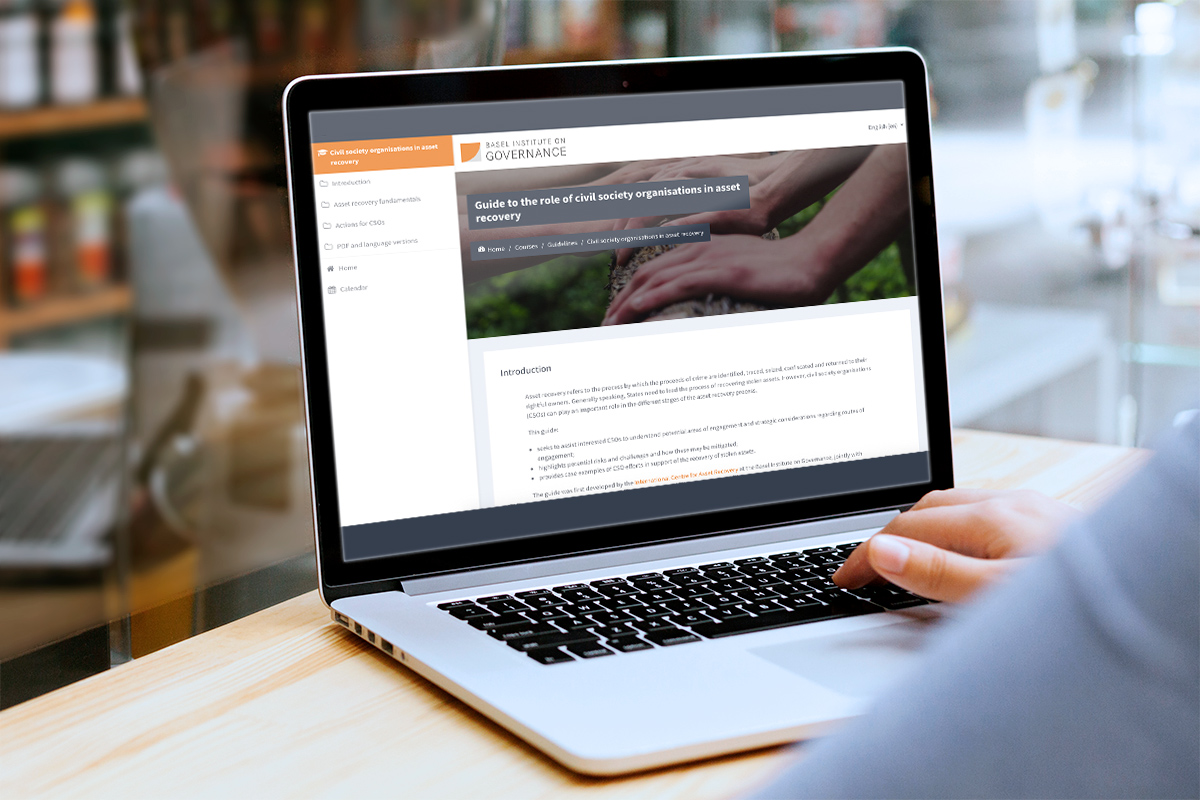 How can civil society organisations (CSOs) support efforts to recover stolen assets for their country? What are the different stages of the asset recovery process and what are potential actions in each one? What is the legal basis for the involvement of civil society in asset recovery? Where are the main risks and challenges, and how can CSOs overcome these?
Our International Centre for Asset Recovery originally developed a guide to the role of CSOs in asset recovery in 2014, together with partners in the context of the Arab Forum on Asset Recovery (AFAR). 
Freshly updated, this guide is now available on the Basel Institute's LEARN platform. 
LEARN offers a suite of self-paced eLearning courses and other practical guidelines on asset tracing, intelligence gathering and financial analysis. The platform is also used for online delivery of some our instructor-led training programmes, including those offered by our ICAR training team.
All of our self-paced courses and guidelines are freely accessible and many are available in multiple languages. More are being added over the next weeks and months, so do check back regularly.
About the Guide
This easy-to-read Guide to the role of CSOs in asset recovery covers:
The fundamentals of asset recovery – what asset recovery is, the four key phases and relevant aspects of international law.
An introduction to the role of civil society in anti-corruption and asset recovery.
Four major areas in which CSOs can have an impact on asset recovery success:

Awareness raising and research
Advocacy
Casework and legal analysis
Return of confiscated assets

Examples of CSOs actively involved in supporting asset recovery now or in the past.
The guidance is applicable globally to all types of CSOs. Arabic and Ukrainian versions are available as PDF downloads.
About the role of CSOs in asset recovery
Asset recovery refers to the process by which the proceeds of crime are identified, traced, seized, confiscated and returned to their rightful owners. Generally speaking, States need to lead the process of recovering stolen assets. However, CSOs can also play an important role in the different stages of the asset recovery process. 
CSOs have traditionally engaged in the asset recovery process through awareness raising, research and advocacy.
Over time, they have also increasingly assisted states in managing frozen assets or helped with considerations related to the end use of returned assets. CSOs have also sometimes been the recipients of returned assets.
More recently, CSOs have also assisted states in their enforcement efforts. This includes helping identify and investigate corruption-related offences, engaging with whistle-blowers or even initiating legal action.
To learn more, click through to the guide or download the PDF.
Acknowledgements
In developing the original guide in the context of the Arab Forum on Asset Recovery (AFAR), ICAR expresses its appreciation to the United Kingdom G8 Presidency, the World Bank/UNODC Stolen Asset Recovery Initiative (StAR) and Ambassador Muhyieddeen Touq of Jordan for their advice and support, and the following CSOs for their valuable contributions:
Association Tunisienne pour la Transparence Financière (ATTF)
Yemeni National Authority for Recovering Stolen Assets (AWAM)