07. February 2019
Launch of GI-ACE research programme & Tanzanian health sector project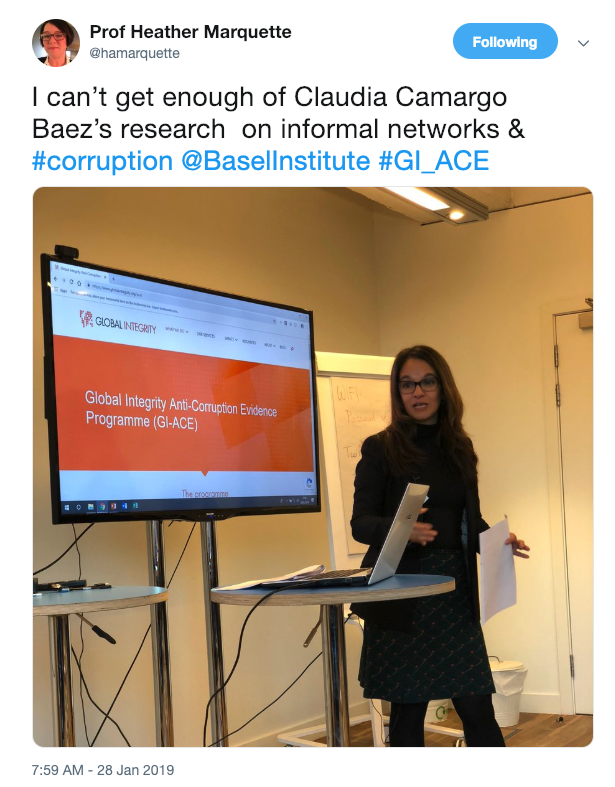 The Basel Institute's Head of Governance Research, Dr. Claudia Baez Camargo, was in London on 28-29 January for the launch of the DFID-funded Global Integrity Anti-Corruption Evidence Programme (GI-ACE).
One of 14 research partners awarded a two-year grant from the programme, Claudia presented her plans for a pioneering project on Addressing bribery and favouritism in the Tanzanian health sector: a behavioural approach. She and her fellow researchers at the Basel Institute's Public Governance division will conduct the project in collaboration with co-investigators Dr Richard Sambaiga from the University of Dar es Salaam, Ms Ruth Persian from the UK Behavioural Insights Team, and Prof Tobias Stark from the University of Utrecht. 
The GI-ACE programme is a partnership between Global Integrity (GI) and the UK Department for International Development (DFID). At the launch event, the researchers engaged with each other's projects and aligned with the programme's goals: not only research to "generate new and operationally relevant evidence on tackling corruption" but outreach to "help policy-makers, practitioners, and advocates design and implement more effective anti-corruption initiatives".
The project, Addressing bribery and favouritism in the Tanzanian health sector, falls squarely into these goals with its hands-on approach. The aim to develop and pilot a new anti-corruption intervention for the Tanzanian health sector based on cutting-edge behavioural research. It follows from a previous research project on "Corruption, social norms and behaviours in East Africa", supported by the DFID's East Africa Research Fund. The findings from this initial research are on the UK government website as well as the Basel Institute publications database.
After the main launch event, Claudia met with DFID representatives and researchers working in the fields of governance and health to explore synergies and possible collaborations in this growing area of focus. Several of the academics involved will also participate in a consultation on health governance with the World Health Organisation at the end of February.