20. November 2019
Boosting interviewing skills for financial investigations in Tanzania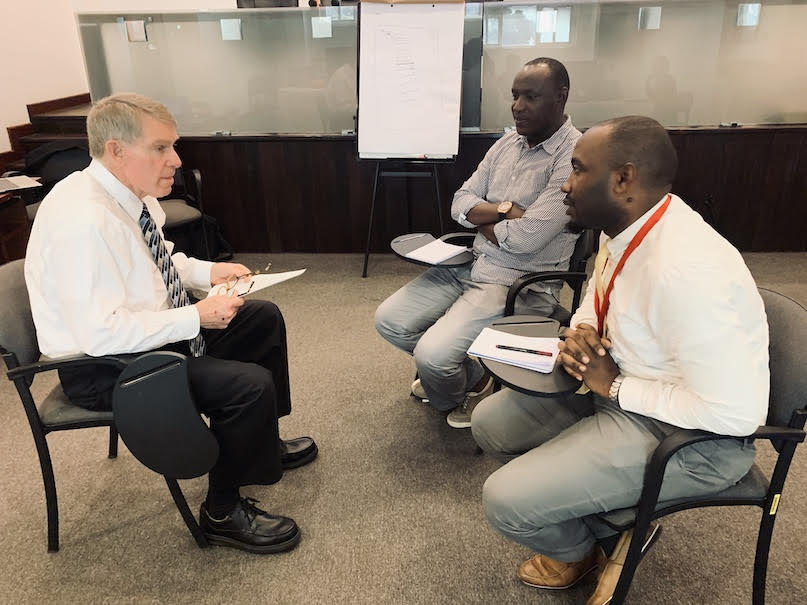 Financial investigators in Tanzania are sharpening their interviewing skills thanks to specialised training by the Basel Institute's International Centre for Asset Recovery (ICAR).
The second five-day training programme in Interviewing Skills for Financial Investigators in Tanzania took place from 4–8 November 2019, following a successful first workshop in September 2018.
The 11 participants included investigators and prosecutors from Tanzania's Prevention and Combating Corruption Bureau (PCCB), joined by an investigator from the Zanzibar Anti-Corruption and Economic Crimes Authority (ZAECA).
About the workshop
The participants acquired new interviewing techniques as they conducted mock interviews in relation to a hypothetical corruption and money laundering case in Tanzania. The case was carefully tailored to Tanzania's environment and laws to make it as realistic as possible.
The participants had to interview 12 witnesses about allegations of fraud and corruption pertaining to procurement contracts, and gather relevant and admissible evidence. The role of the interviewees – including a whistle-blower, committee member, bookkeeper and the main suspect – was played by the ICAR trainers.
Through these mock interviews, the participants learned how to obtain financial information for potential use as evidence to prove the financial elements of offences such as bribery or money laundering.
Sustainable training for Tanzania's PCCB
The workshop took place in the context of a three-year programme funded by the Swiss Agency for Development Co-operation (SDC) and implemented by the Basel Institute on Governance. The programme aims to strengthen the capacity of the PCCB to investigate and prosecute cases of grand corruption and to recover stolen assets domestically and internationally. Several training programmes in financial investigations and asset recovery, corruption in infrastructure and procurement projects, and other key topics have already taken place since 2016.
To help ensure the sustainability of the training efforts, the Basel Institute has certified four PCCB officers as trainers on Financial Investigations and Asset Recovery using ICAR's methodology, through an intensive Train-the-Trainer (TTT) programme.
With support from ICAR's expert trainers, three of these officers are now developing a hypothetical corruption scenario and related mock interviews to provide further training on interviewing skills to their colleagues.
2