03. March 2022
Boosting inter-agency coordination on anti-corruption and asset recovery in Kenya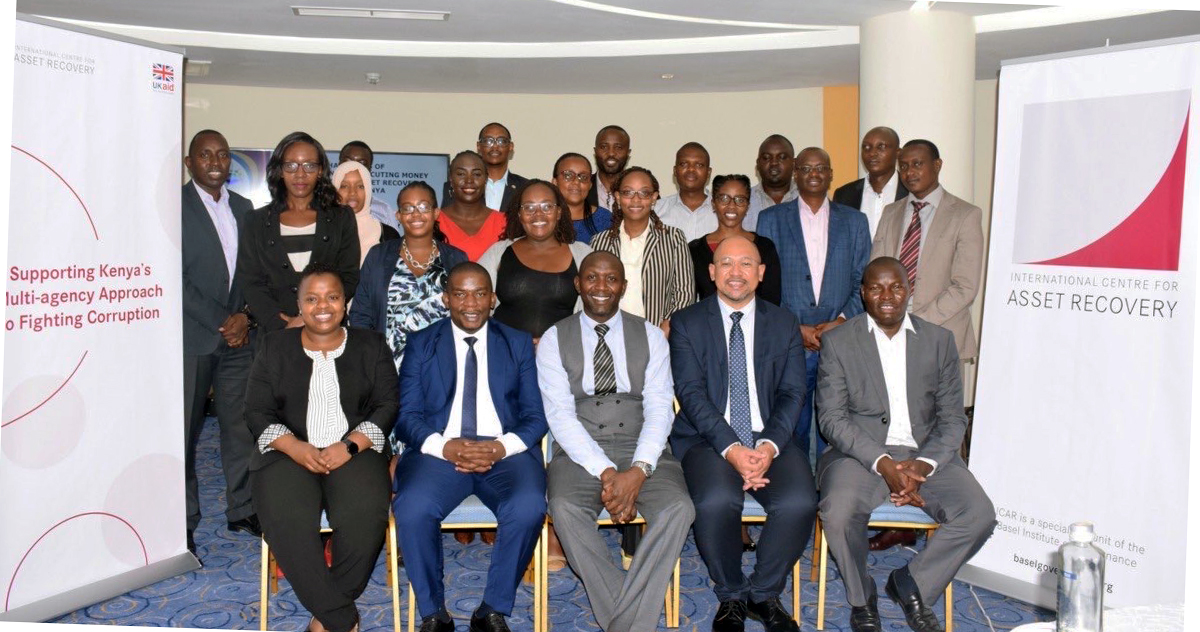 Our International Centre for Asset Recovery (ICAR) training team was in the Kenyan capital Nairobi last week, delivering a Financial Investigations and Asset Recovery training course to a multi-agency group of officers responsible for anti-corruption and asset recovery.
Twenty-one officials from the Ethics and Anti-Corruption Commission (EACC), the Office of the Director of Public Prosecutions (ODPP), the Assets Recovery Agency (ARA) and the Judiciary took part in the five-day training programme, which involved working together to solve a complex simulated money laundering investigation.
The training is part of a newly expanded programme to support Kenya's multi-agency approach to fighting corruption, funded by the UK Foreign, Commonwealth and Development Office (FCDO). The programme, implemented through our new office in Nairobi, builds on and seeks to boost Kenya's rapidly growing capabilities to investigate and prosecute corruption and recover illicit assets.
Strengthening every link in the anti-corruption chain
Both the training workshop and new programme have an important focus on inter-agency coordination in corruption and asset recovery cases.
Kenya's EACC has been a key driver behind many of Kenya's recent asset recovery successes, and is now widely regarded as one of Africa's most successful anti-corruption agencies. Officers have recovered around USD 118 million (at current exchange rates) since 2014–2015, with a substantial increase in the last two years. This has allowed the Government to invest over USD 17.5 million in recovered funds to finance the country's Covid-19 response. The President was able to inform world leaders at the 2021 Special Session of the UN General Assembly Against Corruption of Kenya's "upsurge in investigations, prosecutions and convictions for corruption".
A fruitful collaboration through hands-on mentoring
UK support has been pivotal in the EACC's increased ability to investigate and prosecute corruption and to recover illicit assets, including through ICAR. Our cooperation with the EACC dates back to 2005, with an expert advisor embedded at the agency since 2014.
The EACC's senior leadership recently confirmed that our hands-on mentoring has led to systemic changes and real progress in the EACC's ability to prosecute corruption and recover the proceeds of corruption. "Financial profiling of suspects and financial investigations have been established as a permanent feature in every intelligence-gathering and investigations work plan", they said. International cooperation has also seen a major boost, with 45 mutual legal assistance requests made to 20 jurisdictions between 2014 and 2020; evidence received has enabled important corruption cases that had stalled to recommence.
Training that brings a step change in capacity
In opening remarks Phillip Kagucia, the EACC's Deputy Director and Head of Asset Recovery, mentioned that he was:
"very fortunate to go through the same training conducted by the ICAR training team in 2012. It is no coincidence that soon after that the quality of investigations improved and, within no time, we began enjoying success in asset recovery. Part of the reason we were ultimately successful as EACC was due to our ability to provide an alternative method of financial analysis (Sources and Application) after the initial method (Bank Deposits) failed to persuade the court. This case crystallised the ingredients for forfeiture of unexplained assets in Kenya and opened the way for law enforcement agencies to recover assets that are the proceeds of corruption and other crimes".
Participants commented on how the practical tests and group engagement helped their understanding, with one stating that the "following-the-leads exercise changed my mind on how I will be looking at cases." Another commended the multi-agency approach, stating that "it was a good forum to interact with other state agencies."
Looking forward
In addition to building on these successful steps forward, the new UK-funded ICAR programme in Kenya seeks to strengthen other elements in the anti-corruption and asset recovery chain that have not received a comparable level of sustained support.
This includes capacity and coordination with other key agencies, including the ODPP, ARA and judiciary.