09. October 2018
Basel AML Index reveals slow progress in combating money laundering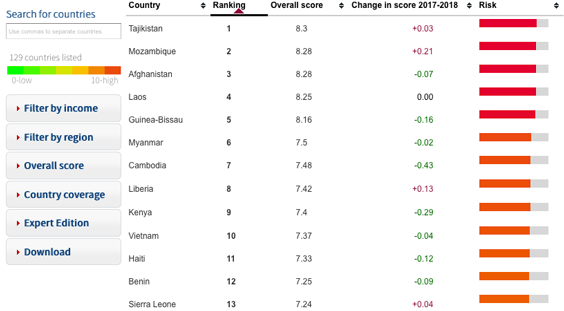 The results of the seventh annual Basel Anti-Money Laundering Index released today support the growing concern that governments worldwide are still not doing enough to combat money laundering. The Basel AML Index is an independent, research-based ranking that assesses countries' risk exposure to money laundering and terrorist financing.
The worsening of some countries' risk levels in the 2018 Basel AML Index is partly due to a lack of effective implementation of anti-money laundering measures. As Gretta Fenner, Managing Director of the Basel Institute on Governance, which issues the annual ranking, says:
"Governments may be ticking the right boxes in terms of formal compliance, but in reality neglecting enforcement of laws and measures to prevent and combat money laundering and related financial crimes. This year's Basel AML Index shows that there is no such thing as a country with no money laundering risk."
The findings tie into recent high-profile probes involving countries generally considered low-risk.
For a full overview of results and interactive country comparison tables, which can be filtered by region and GDP, visit the Basel AML Index website.
About the Basel AML Index
The Basel AML Index is an independent annual ranking that assesses the risk of money laundering and terrorist financing (ML/TF) around the world.
Country risk scores are based on 14 publicly available indicators of anti-money laundering and countering the financing of terrorism (AML/CFT) frameworks, corruption risk, financial transparency and standards, and public transparency and accountability.
Only countries with sufficient data to produce a reliable score are included in the Public Edition of the Basel AML Index. A full list of scores and sub-indicators for 203 countries is available in the Expert Edition, which is free for academic, public, supervisory and non-profit organisations.