18. November 2022
B20 Indonesia Summit: Recover together, recover stronger, and address corruption through Collective Action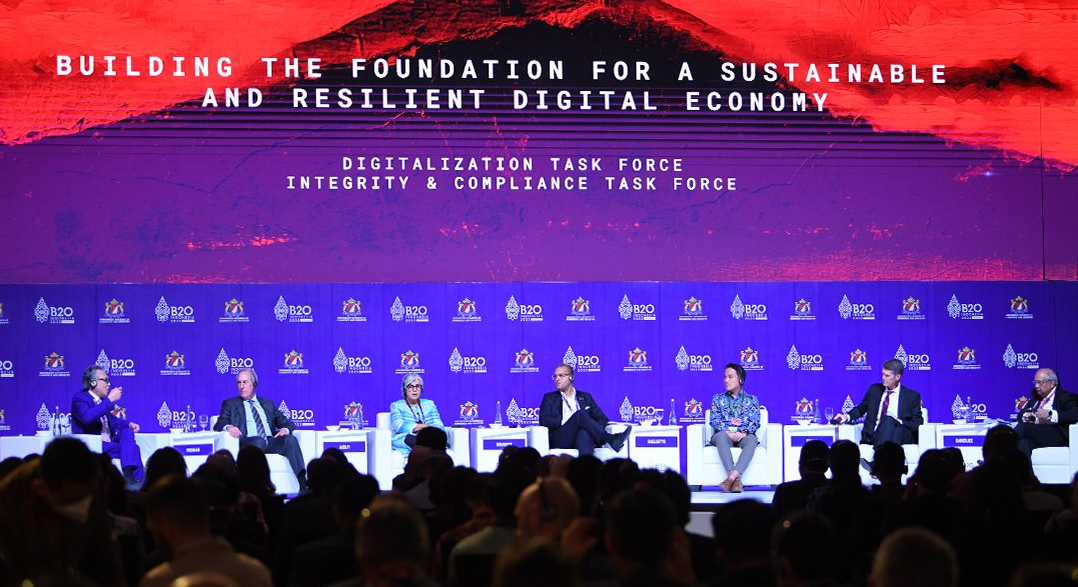 At the 2022 B20 Summit in Bali, Indonesia, political and business leaders repeatedly emphasised the imperative for all sectors of society to work together to address problems that affect us all. Chief among those problems are corruption and unfair business practices, which stand in the way of achieving a strong pandemic recovery and each and every of the Sustainable Development Goals (SDG).
Our call for B20 companies and G20 governments to foster, facilitate and engage in anti-corruption Collective Action was therefore well received among the 3,000 or so delegates and 100 speakers. Collective Action offers a practical avenue for the public and private sectors and civil society to work together to address common integrity issues holding back business.
The Basel Institute was honoured to support the B20 process once again this year as Co-Chair and Network Partner of the Integrity and Compliance Task Force, alongside a fantastic team of Co-Chairs and with the support of the Siemens Integrity Initiative.
Policy priorities on anti-corruption Collective Action
Collective Action to alleviate integrity risks is the second of four recommendations in the important Policy Paper of the B20 Indonesia Integrity and Compliance Task Force. It recommends using Collective Action tools and approaches to "optimize fundamental safeguards of integrity and transparency when interacting with business networks and government parties".
In practice, this translates into three key policy actions:
Cultivate and strengthen integrity through Business-to-Business (B2B) collaboration –since supporting integrity-based relationships will help mitigate third-party risks and ensure resilient value chain and supply chain networks.
Facilitate integrity in Business-to-Government (B2G) interactions, even even during crises when regulatory protocols are relaxed or when providing economic stimulus packages.
Promote inclusiveness between public- and private-sector entities to ensure trust, transparency and high standards of integrity. This means involving actors from state-owned enterprises to micro, small and medium-sized enterprises in enforcing measures to mitigate integrity risks.
The first recommendation highlighted the role of sustainable governance in fostering environmental, social and governance (ESG) initiatives. This is the first time the B20 Integrity and Compliance Task Force recommendations have specifically focused on ESG, reflecting its growing importance in the business community. The other two dealt with combating money laundering and terrorist financing (3), and mitigating cybercrime risks (4).
Integrity in the digital economy
Gemma Aiolfi represented the Basel Institute at the B20 Summit as Co-Chair of the Integrity and Compliance Task Force. She also spoke on a joint panel with the Digitalization Task Force on "Building the foundation for a sustainable and resilient digital economy". The panel addressed the rapidly changing digital landscape and the skills gap, as well as the role of the private sector to help governments develop the digital economy.
No country's "digital economy" is the same, since much depends on the physical infrastructure available and on the types of digital applications that will usefully support policies to achieve the SDGs. But digital strategies need to be built around strong integrity and governance principles, and include policies to safeguard individual rights. What's more, dual-purpose digital technologies like identification systems can make it easier to deliver public services to citizens while also reducing opportunities for public officials to solicit bribes.
In concluding remarks, Gemma Aiolfi reminded Summit delegates that the Basel Institute established the B20 Collective Action Hub 10 years ago following a mandate from the 2013 B20 process. Since then, with the primary support of the Siemens Integrity Initiative, the Hub has evolved into a crucial source of guidance and examples of anti-corruption Collective Action.
Government representatives and business leaders seeking to engage in collaborative efforts to tackle corruption can explore the B20 Collective Action Hub resources and database, and use the Helpdesk function for free advice on specific questions.
The G20 Leaders' Statement committed to fighting corruption in point 49, saying G20 governments will:
"further strengthen our engagement with and promote active participation by stakeholders such as academia, civil society, media and the private sector, including to advance a culture of integrity."
Collective Action provides a practical way to do just that. At the Basel Institute, we look forward to continuing to support the B20 anti-corruption work and the translation of its recommendations into action.
More
Learn more about the B20 Integrity and Compliance Task Force and its members this year: Chair Haryanto Budiman of PT Bank Central Asia, Deputy Chair Paolo Kartadjoemena of PT Bank Negara Indonesia, Policy Manager Amelia Susanto, and Co-Chairs Gemma Aiolfi, Ignacio Gabriel Stepancic, Reynaldo Goto, Daniel Malan, Klaus Moosmayer, Xu Niansha and Che Sidanius.
Chandrajit Banerjee of the Confederation of Indian Industry moderated the panel on the digital economy, which featured entrepreneurial business leaders at the cutting edge of digital businesses: Andre Soelistyo of GoTo, GoTo Financial and Gojek, Sehat Sutardja of Marvell Technology Group, Michael Forman of Mastercard and Michael Punke of Amazon Web Services. A recording will be available shortly.
Learn more about the B20 process on anti-corruption and integrity since 2010.
Learn more about the Bali Summit.
---
Gallery