14. June 2022
Asset forfeiture laws in Latin America: agreeing a human rights focus and more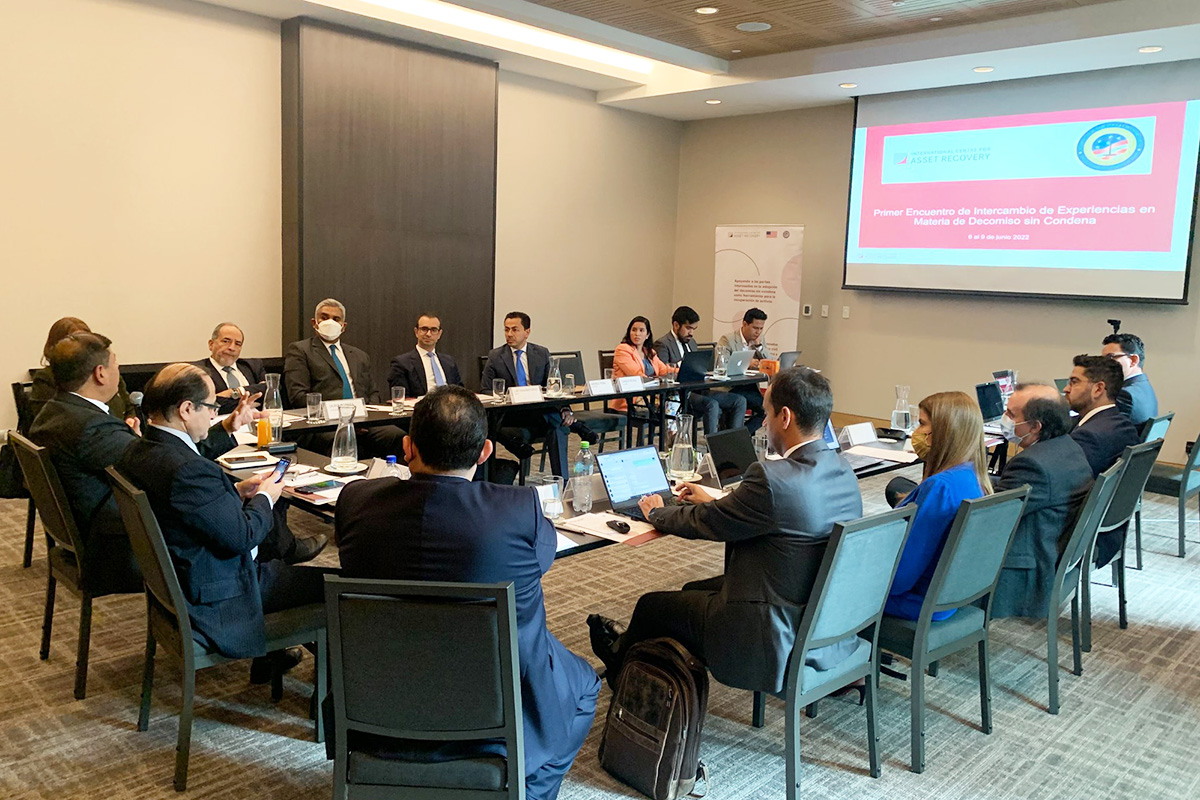 At a regional meeting of legal practitioners, politicians and academics from selected Latin American countries and Spain, participants converged on the need for a strong human rights focus in non-conviction based forfeiture (NCBF) laws – laws that allow the confiscation of assets without a criminal conviction.
A key takeaway from the two-day meeting was that procedural rights and the right to property enshrined in human rights instruments are essential elements of NCBF laws in Latin America and elsewhere. This is not least because detractors of such laws often claim they are unconstitutional on the grounds that they violate these rights.
The detractors' claims do not hold true: cases from Peru for example, such as the Russian arms dealer case and the terrorist financing case of The Nun (La Monja), demonstrate clearly that such laws can be applied with proportionality and in full respect of the rights of the defendants.
As our Head of Latin America and Senior Asset Recovery Specialist Oscar Solórzano has argued in other high-level fora, a human rights-based approach to developing and implementing NCBF laws will help to fireproof them against claims of unconstitutionality. It will also help guide decisions on when and where to apply NCBF provisions.
These safeguards will enable countries to design and implement sustainable NCBF mechanisms that achieve their purpose – enabling the State to recover illicit assets – and are accepted as legitimate by citizens, politicians and courts.
Sharing experiences
The meeting in Lima, Peru, brought together practitioners (primarily judges, magistrates, prosecutors), politicians (including deputy ministers) and other high-level representatives from Chile, Brazil and Colombia. Other experts attended from Spain, Peru and Costa Rica.
Takeaways included:
Of the different models of NCBF that exist in the region, the one most aligned with the human rights focus is the extinción de dominio model adopted by countries including Argentina, Bolivia, Colombia, Ecuador, Mexico, Peru, as well as some Central American countries.
Lessons learned from the application of extinción de dominio laws are useful in implementing other models of NCBF law, such as a law dealing with administrative misconduct (improbidad administrativa) in Brazil or the proceeds of organised crime law of Costa Rica (capitales emergentes).
The human rights approach revolves around three basic criteria: supremacy (no other law can contradict it); universality (it applies to everyone); and practicability (it is viable and demonstrated as such by practice and case law).
The issue of international judicial cooperation in transnational NCBF cases needs more attention. Besides Peru (several cases) and Colombia (one case), no other country has reported to have enforced these laws internationally. There was a strong consensus that the decade-old NCBF Model Law, and most of the laws have that have followed that model, do not adequately address the complexity of international cooperation in cases of asset confiscation.
Asset management is the weakest link in the value chain of asset recovery as a public policy. Even in countries such as Colombia that have extensive experience in asset management, this issue needs more attention. The development of a legal framework could improve efficiency in the administration of seized and forfeited assets. This is important to avoid depletion of the State's resources when asset recovery takes place.
The agenda was specifically designed to facilitate discussion between countries with significant successful experiences in such laws (such as Colombia and Peru) and those currently lacking robust laws (such as Brazil and Chile).
About the meeting
This first regional meeting is part of an ambitious programme to help increase the capacity of countries in Latin America, Sub-Saharan Africa and Lusophone countries to recover stolen assets through effective, appropriate NCBF legislation.
Ten partner countries are involved in the two-year programme, which is funded by the Bureau of International Narcotics and Law Enforcement Affairs (INL) of the US Department of State. Learn more in English, en español and em português.
Following the two-day meeting, many of the participants attended a National Convention for Prosecutors Specialised in Extinción de Dominio, hosted by the Basel Institute-led Programa GFP Subnacional.
The meeting and this news release are a gift of the United States Government and funded by a grant from the United States Department of State. The opinions, findings and conclusions expressed are those of the authors and do not necessarily reflect those of the United States Department of State.