27. March 2018
Africa-Europe asset recovery cooperation: high-level meeting in Berlin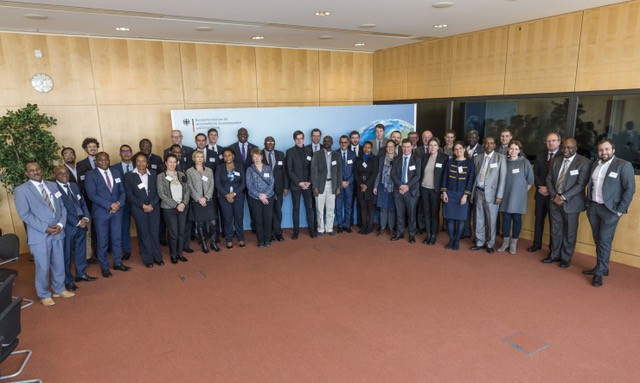 Practitioners and policy makers from Africa and Europe met last week in Berlin, Germany, to discuss ways to further accelerate the success rate in recovering stolen assets. The event was organised by the German Ministry for Economic Cooperation and Development (BMZ) with support from the Basel Institute's International Centre for Asset Recovery (ICAR) and GIZ, and brought together representatives from Ethiopia, France, Germany, Jersey, Kenya, Norway, Switzerland, Tanzania, Tunisia, Uganda and the United Kingdom. 
In brief, key priorities are to shed light on financial transactions, modernise legislation and provide guidance for the return of stolen assets.
The opening remarks by Norbert Barthle, Parliamentary State Secretary, BMZ, and a high-level panel with Prof Mark Pieth (President of the Basel Institute on Governance) and Mr Akere Muna (Member of the High Level Panel on Illicit Financial Flows from Africa) inspired the discussion centred around the fact that asset recovery is a responsibility shared between countries from which assets are stolen and countries through which stolen assets are laundered. Success in recovering stolen assets depends on frank and open dialogue between concerned jurisdictions throughout the asset recovery process. The two-day event sought to facilitate this dialogue with participants by identifying numerous avenues through which they can collaborate further in this work.
These included shedding more light on financial transactions, including through beneficial ownership registries, the use of illicit enrichment offences in the criminal context and the use of non-conviction based forfeiture predicated on unexplained wealth within the civil courts. It was highlighted that where these laws are applied, together with the use of deferred prosecution agreements and plea bargains, there should be provision for the restitution of funds to states from which assets have been stolen.
Effective tracing, freezing and recovery of assets located overseas requires international co-operation through law enforcement and formal evidence gathering under mutual legal assistance. Increasing the effectiveness of this process through regional networks and the development of informal contacts is key, as is the understanding of different states' capacities to follow financial transactions through bank registers and beneficial ownership of company registers. Finally, there was wide agreement on the need for guidelines to assist in discussions about the return and end use of stolen assets.
2