12. March 2021
What is an Ethically Aware Supplier – and how does it support business integrity in Africa?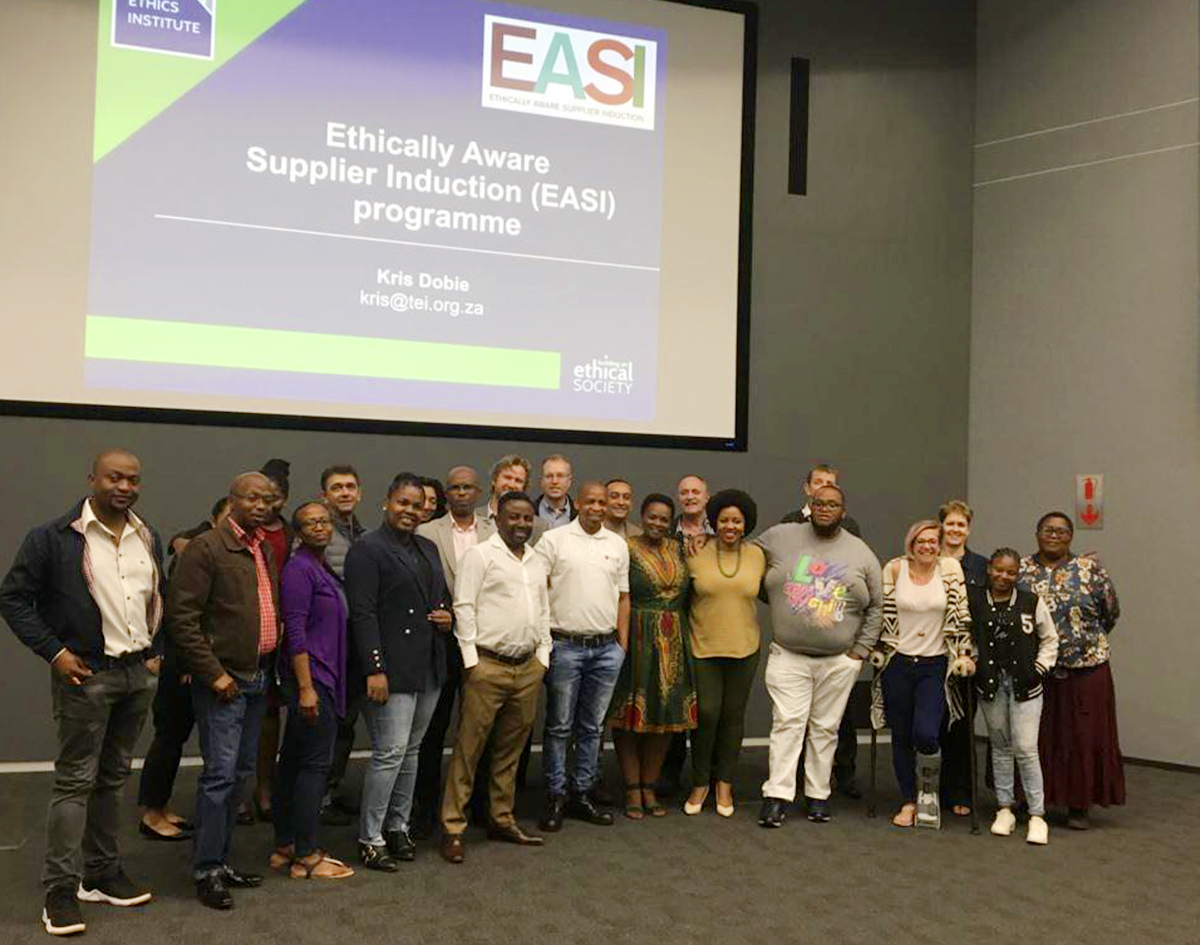 Local certification is emerging as an interesting way for large companies and their supply chains to help address compliance and due diligence issues that can be a barrier to business. A recent Basel Institute working paper showed how local certification programmes developed with a Collective Action approach can help:
SMEs to develop and demonstrate robust anti-corruption compliance procedures;
ease due diligence for large companies seeking suppliers in local markets;
raise standards of integrity across a market or geographical area.
The Ethically Aware Supplier Induction (EASI) programme of The Ethics Institute in South Africa, first developed as a project of the Siemens Integrity Initiative, harnesses this innovative approach. Its expansion into other African countries under a recent grant of the UK Business Integrity Initiative Challenge Fund shows how agile and flexible Collective Action can be – even when working in very different and challenging contexts, and in the face of a global pandemic.
Kris Dobie, Manager – Organisational Ethics at The Ethics Institute, gives an insight into the project below:
What is the idea behind EASI?
Multinational companies want to do business with suppliers that are committed to operating with integrity and that actively manage their corruption risks. This is partly to manage their own legal and reputational risks.
From a big-picture point of view, this can have a positive consequence in developing markets: by insisting on high standards of anti-corruption compliance through their supply chains, multinationals can become an important driver of good governance.
But in practice, SMEs need support and training. Who better to support SMEs in their compliance journey than their larger customers?
What exactly is EASI?
EASI helps companies that want to train their suppliers by providing an online interactive short course in business ethics. The aim is to make participants aware of key ethical issues that are relevant to their companies. It is based on the principles of the UN Global Compact and the content is benchmarked against the supplier codes of conduct of several large companies.
Members of the senior management of SMEs – with influence over the companies' business ethics and operations – can complete the course on behalf of their businesses.
If they pass the assessment, we certify the company as "ethically aware". This emphasises their knowledge and awareness of integrity issues relevant to their company and of the main ethical requirements of multinational enterprises. We don't certify the company itself as ethical.
You can find out about the course on the EASI website or watch this two-minute YouTube video:
Where do the large companies come in?
Ideally, this foundational online training is combined with a live group session where suppliers and representatives of the larger companies come together for a structured discussion on some of the key topics.
We find that significant additional learning – on all sides – takes place here. Many of the compliance officers, procurement specialists and internal auditors who have taken part in these discussions tell us how eye-opening it is to learn of the realities faced by their suppliers.
Rolling out EASI throughout supply chains
Our strategy involved large organisations taking charge of rolling out the EASI programme throughout their supply chains. We started close to home, with the Coalition for Ethical Operations. This is a private sector-led Collective Action initiative that The Ethics Institute facilitates. Its members, who are multinational companies, commit to promoting ethical business across Sub-Saharan Africa and to training their suppliers.
We also partnered with the UN Global Compact local networks in Kenya and Ghana. When the pandemic hit and travel became impossible, we managed to free up funding to partner with the UN Global Compact network in Nigeria, as well as the Addis Ababa Chamber of Commerce in Ethiopia.
What adaptations did you make to address covid-19?
The meetings went online, of course, and sadly webinars replaced business breakfasts and face-to-face engagements. This was rather challenging to facilitate. Group discussions in person foster trust, whereas building a relationship between strangers on a video call is not quite the same. Attendance and attention were also lower online.
Nevertheless, we enrolled 34 multinationals and 82 individuals in the EASI programme across those four countries, and have certified a similar number of SMEs so far.
How did you promote the programme despite the pandemic restrictions?
We believe that business networks are key to reaching more companies, large and small. After all, they are about business getting together to collectively raise the bar. This is why it has been fantastic to partner with the UN Global Compact networks and with the Addis Chamber.
Companies that engage in the EASI programme clearly see its value. One large telecoms company is currently rolling out the EASI programme to subsidiaries and operating companies across its group. If a couple more in this sector follow, EASI will become a form of industry standard. And that's when tangible change will really occur.
Improving together
There are however a number of issues we are still grappling with. The feedback we get tells us that this is a really good product, but it still needs to be marketed to take off internationally – and anti-corruption practitioners are not necessarily marketers. We want to strike the balance between making the programme accessible to as many companies as possible, while ensuring they value it properly. Dealing with "products" as an ethics non-profit organisation has proven to be a healthy learning curve.    
These are issues that I know many fellow practitioners are grappling with in their contexts, as they seek to attract a critical mass of companies to their initiatives. Learning from and supporting each other, such as at the recent peer learning workshops hosted by the Basel Institute or the roundtables as part of their wider certification project, are crucial.
We also thank the Siemens Integrity Initiative and UK Business Integrity Initiative for their support in making this idea become a reality for ourselves and hundreds of companies across Southern Africa.
***
About The Ethics Institute
The Ethics Institute is an independent public institute with the vision of 'Building an ethically responsible society'. They pursue this vision by working with organisations in the public and private sectors where they offer a range of services related to organisational ethics, including training, assessments and advisory services. See www.tei.org.za
About the UK Business Integrity Initiative and Challenge Fund
The UK's Business Integrity Initiative Challenge Fund was launched to support innovative, business-focused, Collective Action initiatives aiming at reducing corruption or promoting human rights to improve the investment climate in emerging markets and developing countries. IMC Worldwide has been working closely with the UK Foreign, Commonwealth and Development Office (FCDO) as the Business Integrity Initiative Challenge Fund Manager. Find out more.
About the Siemens Integrity Initiative
The Siemens Integrity Initiative promotes projects around the world that seek to combat corruption and fraud, supporting educational and training programmes as well as Collective Action, which is building alliances against corruption in a joint effort between business and institutions to establish clean markets and ensure fair competition. See siemens.com/collective-action.