23. November 2020
New online course on cryptocurrencies and anti-money laundering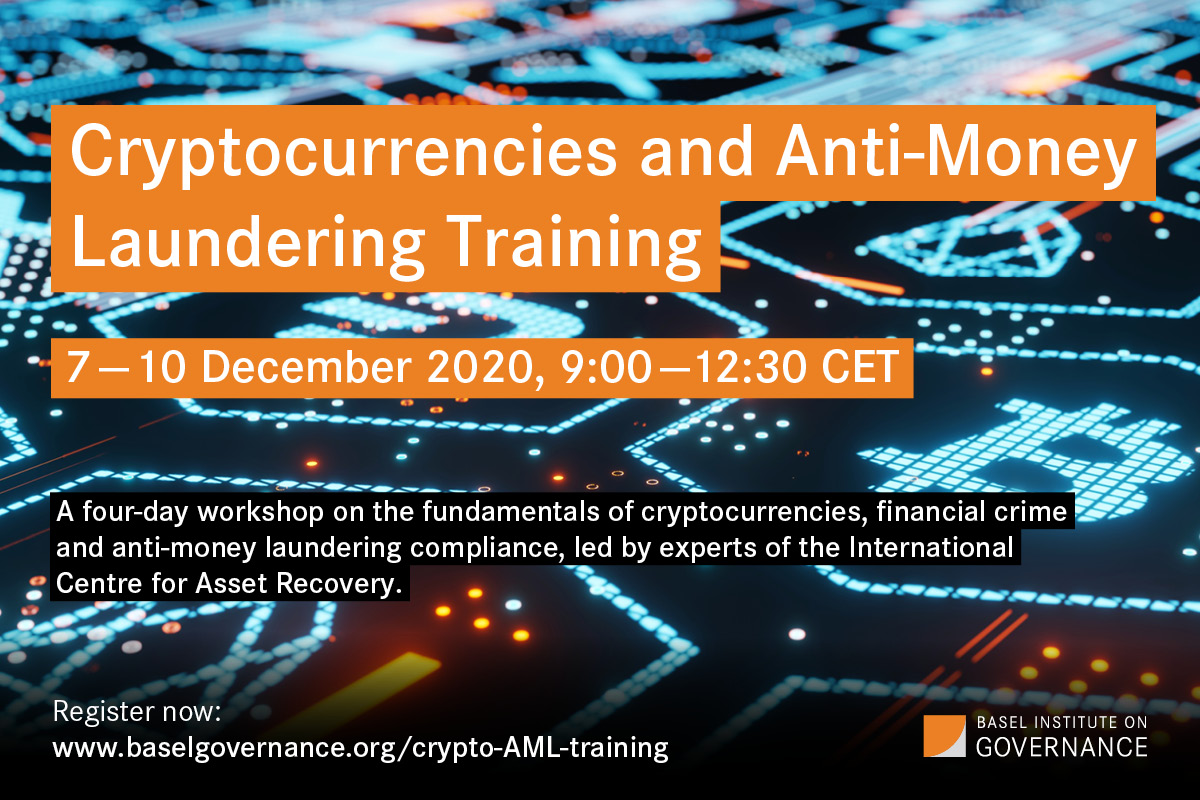 The Basel Institute on Governance is offering a new Cryptocurrencies and Anti-Money Laundering Compliance Training course aimed at law enforcement officials, professionals in AML compliance and FinTech/RegTech fields, as well as policymakers and investigative journalists.
Delivered over four three-hour online sessions, the course covers the essentials of how to detect and prevent the use of virtual assets for illicit activities. 
In this short article below, course leaders Federico Paesano and Phyllis Atkinson explain why it's vital for a wide range of stakeholders in the public and private sectors to be able to investigate and defend themselves against criminals' abuse of cryptocurrencies and other virtual assets.
Cryptocurrencies at the centre of attention
Cryptocurrencies have become an increasingly prominent topic of discussion amongst both public and private sector professionals involved in the prevention and combatting of money laundering. The most well-known cryptocurrency, Bitcoin, has generated a lot of interest, particularly as the media continues to cover a number of high-profile investigations and prosecutions worldwide.
The notoriety of this currency is not ill-founded. The apparent anonymity and invisibility that cryptocurrencies offer is progressively attracting more and more international criminals and money launderers. 
Financial flows that fly under the radar
Cryptocurrencies have characteristics that can confound the efforts of the authorities and make such mediums attractive to the informal and illegal economies.
Notably, they appear to offer the much-craved anonymity and, indeed, invisibility that organised crime requires. In a strongly regulated formal financial sector, this is increasingly difficult to find.
This perceived anonymity is the main attraction of cryptocurrency as a medium for laundering the proceeds of crime. Although the main cryptocurrency exchanges exercise Know-Your-Customer (KYC) and due diligence procedures, there are a number of other options to purchase bitcoins or other cryptocurrencies privately between individuals and bypass online exchanges completely.
Fortunately, as we will cover during the course, cryptocurrency is not as anonymous as many people imagine. Intrinsic characteristics of the blockchain, coupled with an understanding of users' habits and the use of sophisticated investigative techniques employed by law enforcement, make it possible to identify users.
Put into the context of grand corruption and organised crime scenarios, the use of cryptocurrencies is an example of the ever-evolving tactics employed by criminals to frustrate financial investigations and launder illicit assets.
How law enforcement and compliance professionals can keep up
We now have numerous successful criminal investigations where proceeds of crime, laundered through the use of cryptocurrencies, have been recovered. Contrary to popular belief, what makes Bitcoin and other cryptocurrencies work has significant benefits for law enforcement as well.
A public and freely accessible ledger of every transaction ever conducted allows law enforcement to trace transactions in a way that would never have been possible before.
Being borderless, law enforcement can access information without some of the barriers of international cooperation that can hinder cross-border investigations.
Since it is immutable, there is no risk that the data will be unavailable after a few months.
There are various techniques that make attribution a task that is within the reach of not only law enforcement but also compliance professionals in the private sector.
About the course
This course is meant to address an audience of law enforcement and professionals dealing, at different levels, with virtual assets. The course will deepen the experience and expertise of practitioners in understanding cryptocurrencies and the risks associated. The participants will explore the legislative frameworks and learn how to trace illicit financial flows channelled through cryptocurrency.
Given the inevitable overlap between virtual assets and ordinary assets such as fiat currency, real estate, yachts and jewellery, this course also touches briefly on the issue of beneficial ownership. Assets acquired as a result of criminal activity in the form of cryptocurrency may well be exchanged for other assets, thus requiring the identification, tracing and seizure of the proceeds of crime. Determining the beneficial owner of illicit assets remains an integral part of the process, and represents a significant challenge to practitioners across the globe.
The workshop will be centred around a practical case scenario building on known and potential uses to "clean" stolen assets for integration into the financial system. Participants will be asked to trace transactions through the blockchain.
This practical exercise will be interspersed with key presentations, starting from the basics of cryptography, exploring how cryptocurrencies work, how to use the blockchain in financial investigations, understanding compliance and due diligence, through to the final recovery of assets.
A presentation on European Union Anti-Money Laundering Directives (EU AMLDs) and Ultimate Beneficial Ownership (UBO) requirements, and the use of layering and direct ownership chains by beneficial owners, will be included.
The training will also take advantage of an external speaker, Christine Gschwend from MME Legal, a renowned expert on compliance and anti-money laundering. She will cover the compliance and legal aspects of cryptocurrency and virtual assets, and the way the private sector can be compliant with the legislation set forth internationally. 
How to sign up
The next course will take place in English from 7–10 December 2020 (09:00–12:30 CET each day with a half-hour break). The fee is CHF 500 per person, with a discounted rate of CHF 200 per person available to members of public-sector, international, non-profit and academic organisations, plus independent journalists.