22. June 2020
Mapping anti-corruption authorities around the world – Q&A with the French Anti-Corruption Agency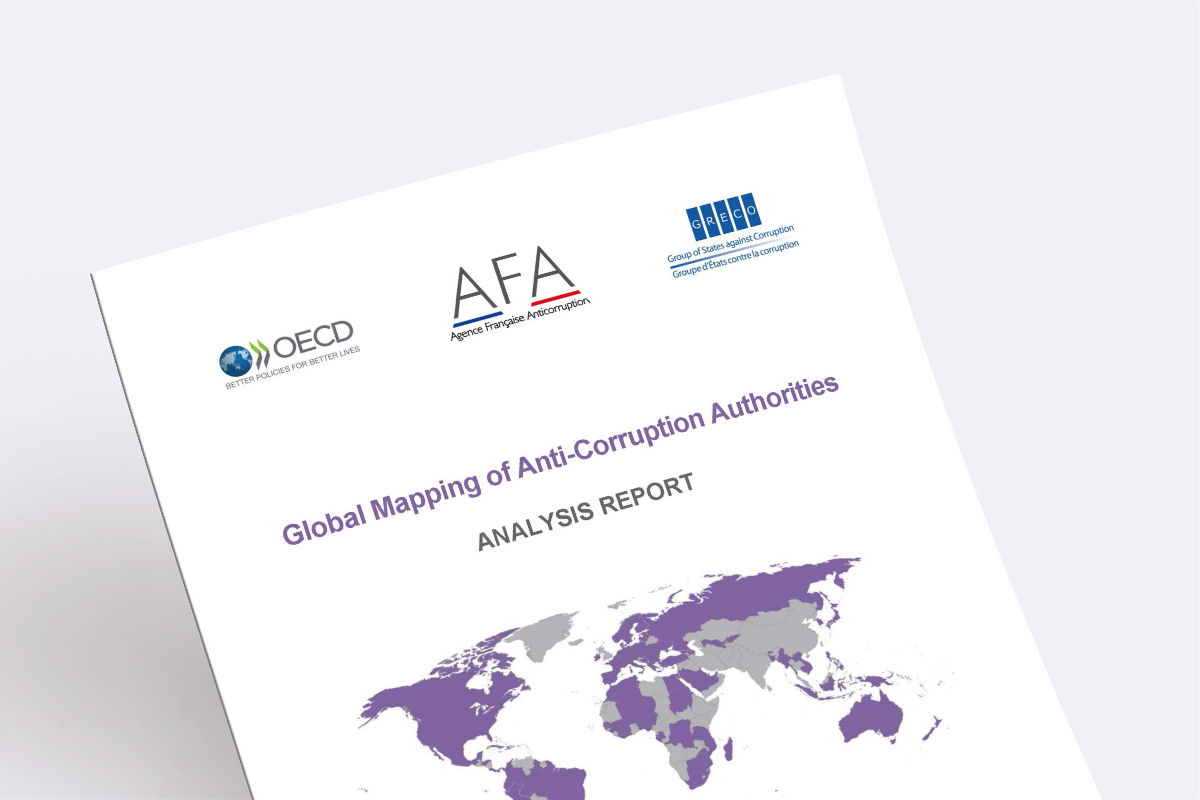 The recently published Global Mapping of Anti-Corruption Authorities fills a critical gap in information about national anti-corruption authorities (ACAs) around the world. ACAs are key institutions to prevent and combat corruption, but until now centralised data on their mandates, activities and even existence has been lacking.
The survey is a project of the French Anti-Corruption Agency (AFA) in partnership with the Council of Europe's Group of States against Corruption (GRECO), the Organisation for Economic Co-operation and Development (OECD) and the Network of Corruption Prevention Authorities (NCPA).
Izadora Zubek, International Affairs Officer at the AFA, explores some of the report's key findings and their implications for anti-corruption practice and cooperation.
1. You launched the survey because "...information about anti-corruption authorities (ACAs) is rather hard to find." What problems does this cause?
First and foremost, this lack of information may hinder international cooperation on anti-corruption. We believe that, in order to design and implement efficient cooperation activities, it is crucial to know three basic things:
who the competent actors are in a given country;
what can be asked from them in light of their mandates;
how to contact them.
Not having this information may cause problems for a vast array of actors involved in cooperation projects: international organisations, donor agencies, civil society organisations, other ACAs… We think that knowing your potential partners is key to building meaningful partnerships.
Secondly, this lack of information can be a problem for companies operating far from home. When these companies are confronted with dubious situations in a foreign country, it might be useful to know who they can turn to. ACAs are central institutional actors that can help companies to understand the applicable anti-corruption standards, and navigate through the relevant channels for reporting misconduct. Lack of information can entail a risky lack of guidance and clarity about the existent rules. This can also affect national companies and citizens: in some cases, it is not clear who are the contact points for anti-corruption in one's own country.
Finally, this lack of information can be a problem for anti-corruption experts and researchers. ACAs often play a pivotal role in coordinating anti-corruption efforts in their countries. It might be difficult to grasp the intricacies of national anti-corruption systems when one has no or little information about the pillars of such systems.
2. Why is it so hard to find this information? Should ACAs communicate more about their work?
This information is hard to find because, as far as we know, there is no single, up-to-date platform centralising all the relevant data about ACAs. While drafting the report, we have found a very interesting portal dedicated to ACAs, with plenty of valuable resources. However, this portal, which was created by the World Bank in collaboration with the United Nation Office of Drugs and Crime (UNODC), the U.S. State Department, and the European Commission, does not seem to have been updated in recent years.
We do encourage ACAs to communicate about their work, but we do not think that more communication by ACAs alone can solve this issue. Almost 200 national authorities contributed to our study. It would be quite difficult to keep track of the activities of all these ACAs if we had to check each and every organisation's website.
Moreover, there is the language barrier: ACAs may not have the necessary resources to translate the content they produce, thus limiting their ability to communicate with their foreign counterparts.  
Consequently, we consider that information needs to be compiled and made easily accessible to an international audience. In this sense, the Network of Corruption Prevention Authorities can be especially useful. The Network provides a forum to connect ACAs, and help them gather and share information about their work regardless of national frontiers.
3. Did you find out anything surprising about the characteristics and needs of ACAs – or anything that will change the strategy of the NCPA?
It was surprising to observe that a majority of ACAs have investigative powers. Given this characteristic, it might be interesting to develop more exchange of good practices and experiences on corruption detection, and examine its linkages with prevention.
In addition, the study has shown that, in most countries, mandatory anti-corruption standards only concern the public sector. Therefore, few ACAs actually seem to monitor or support the private sector's compliance with anti-corruption requirements. We could direct our efforts to close this gap.
Finally, thanks to the survey, we have noticed that many Supreme Audit Institutions were closely involved in preventing corruption. We are currently exploring ways to enhance collaboration between the NCPA and these institutions to pursue our common goals.
4. GRECO and the OECD have already published recommendations on establishing and operating ACAs. What is the added value of connecting the key contact points in ACAs in different countries?
The added value of such connections lies in their potential to foster peer-to-peer cooperation regarding concrete issues encountered by ACA staff in their daily work. The NCPA is a network of practitioners, for practitioners: our focus is to support operational exchanges in the specific field of corruption prevention.
Furthermore, in order to promote anti-corruption globally, it can be particularly valuable to reach out to ACAs that are not from GRECO or OECD Member States, to share our experience in implementing the recommendations of these bodies, and to learn from their experience with different evaluation mechanisms.
As a matter of fact, this global mapping project gave us a good occasion to contact and exchange with ACAs that we do not usually meet because they are seldom involved in GRECO or the OECD's activities.
5. Is there already appetite among ACAs to exchange more with their peers? If so, what aspects are people most interested in learning about?
Yes, we have been contacted by several ACAs following the publication of our study. They have expressed their interest in exchanging more with their peers and in joining or partnering with the NCPA. In a certain way, this study seemed to have reminded them that they are not alone. By focusing on the common characteristics and expectations of authorities tasked with fighting corruption, the study contributed to shedding light on the global community of ACAs.
People are interested in learning about corruption prevention, which is at the heart of the NCPA. In the context of the covid-19 pandemic, preventive measures are vital to mitigate rising corruption risks, and to restore trust in public institutions and decision-makers. We need to stop corruption before it occurs because, when faced with an unprecedented crisis, the stakes are even higher, and the consequences of any lack of vigilance even worse. For this reason, the NCPA released a special statement about the key role of corruption prevention in the global response to covid-19.
In addition, following covid-19 lockdowns and other movement restrictions, we have noted a growing interest in modern technologies and digital tools to prevent and detect corruption. The NCPA is currently carrying out a project about this topic.
6. Are there any concrete examples of peer learning and cooperation between ACAs that demonstrate the value of a stronger network?
The process of drafting the NCPA's technical guide on codes of conduct can be considered as a concrete example of peer learning and cooperation between ACAs. Coordinated by the Italian Anti-Corruption Authority, this project was a great opportunity to organise a collective discussion about codes of conduct. Together, we asked ourselves what constitutes an effective code of conduct, shared experiences, challenges, and lessons learnt, in order to eventually publish a single guidance document.
Likewise, we are producing guidance on small facilitation payments, a form of bribery that can vary depending on context and country. Addressing this issue between ACAs is helpful to find a common ground and, through enhanced cooperation, formulate harmonised recommendations. By pooling our diverse capacities and knowledge in a stronger network, we hope to maximize our efforts to protect our societies from corruption.
7. A directory of contact details is necessary but not sufficient to "facilitate operational exchanges". How will you go from contact details to meaningful contact and cooperation?
We are designing an outreach strategy to go from the identification of counterparts to the development of fruitful partnerships, and are working to include new ACAs in the NCPA's activities. The directory of contact details is not an end in itself, but rather a tool to improve cooperation.
Nevertheless, meaningful cooperation cannot be achieved overnight, and thus we are adopting a step-by-step approach. We have recently published the results of the global mapping of ACAs, which was a lot of work. Now we are looking for ways to establish the international directory of ACAs. Then, we will propose further activities to support this new community of ACAs. In other words, this is still a work in progress.
As International Affairs Officer at the French Anti-Corruption Agency (AFA), Izadora Zubek is in charge of developing the AFA's bilateral and multilateral international relations, including activities related to the Network of Corruption Prevention Authorities (NCPA). Profile.
Find out more