14. April 2021
How to enhance integrity during crises: lessons from behavioural science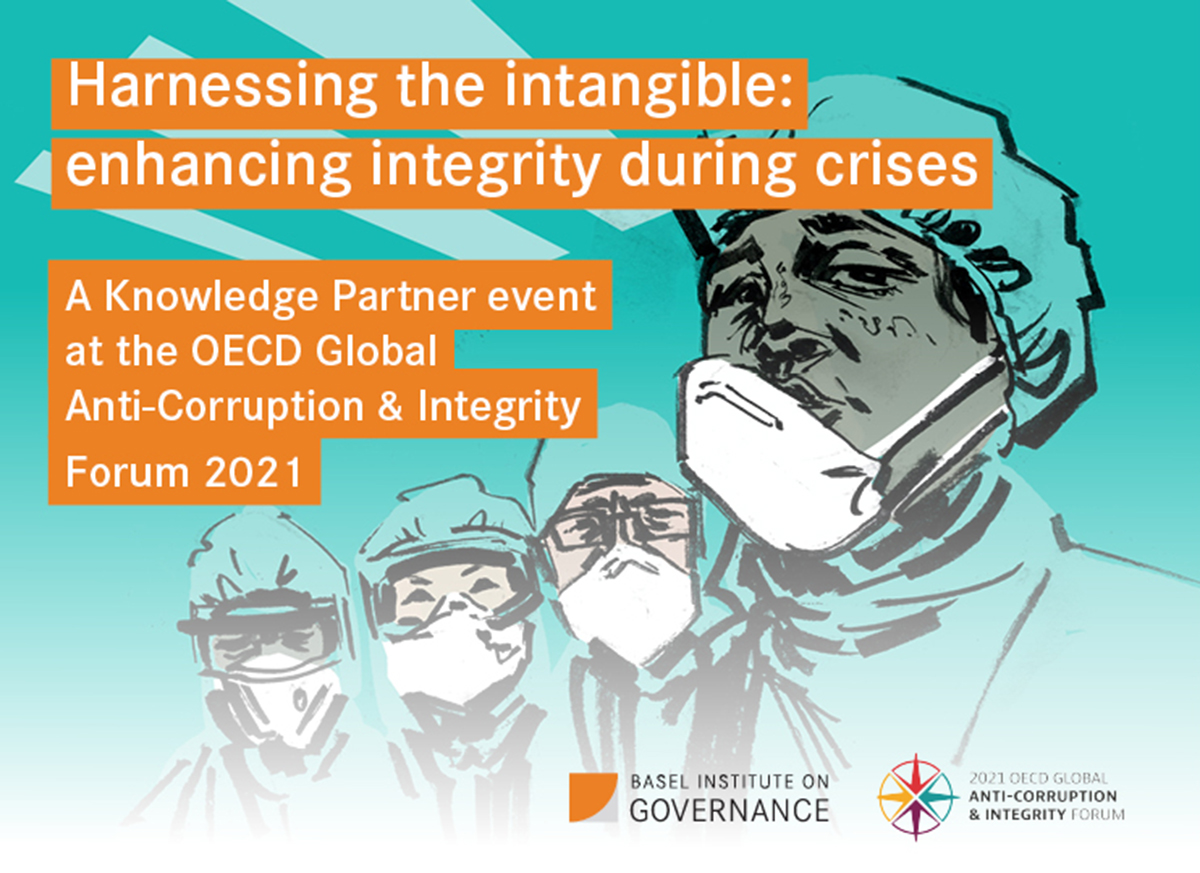 The following summary reflects key messages emerging from the Harnessing the intangible: enhancing integrity during crises Knowledge Partner session on 25 March 2021 at the 2021 OECD Global Anti-Corruption & Integrity Forum.
Hosted by the Basel Institute and moderated by Claudia Baez Camargo, Head of Public Governance, the event explored how practitioners could tailor approaches to strengthen integrity during an emergency response to counter recurrent social norms and informal practices.
The panel incorporated a wide range of perspectives from health, anti-corruption and behavioural research, featuring Dina Balabanova and Eleanor Hutchinson of the London School of Hygiene and Tropical Medicine, David Jackson of the U4 Anti-Corruption Resource Centre, and Ruth Persian of The Behavioural Insights Team.
Why aren't traditional approaches to tackling corruption and promoting integrity working?
A key takeaway from the session is that mainstream anti-corruption interventions focusing on accountability, transparency and law enforcement measures have not been as effective as we would like in combatting corruption.
Could this be because we don't make enough effort to understand the local context, social networks and power dynamics in the target countries as well as individual actors' experience and motivation? A growing body of evidence suggests so.
For example, recent research carried out in Nigeria by the London School of Hygiene & Tropical Medicine reveals that the causes of absenteeism among Nigerian health workers are much more complex than one might expect. They encompass economic pressures, structural inefficacies and managerial/organisational dynamics, with the research also emphasising that these are shaped by sociocultural factors and political relationships.
Without a more nuanced analysis of how and why people behave as they do and the context in which they make decisions, laws and rules alone are unlikely to change the drivers of corrupt behaviour. Initiatives are increasingly focusing on improving health system governance, but thinking about the "upstream" social and political factors is essential.
Exploring social norms can offer insights into the drivers of unethical/corrupt decision-making. For instance, the Basel Institute's current research project in Tanzania under the GI-ACE programme shines a spotlight on, among other things, social norms related to returning favours or serving family members first. Health workers are put under pressure to make special concessions to their kinship or those who offer gifts. If people follow these informal rules, merely changing or strengthening laws or rules will not get rid of the underlying drivers of corruption or violations of integrity.
The message is clear: when designing interventions, it is critical to first understand the context, including what social norms are at play and which behavioural and structural barriers to behaviour change the different actors face.
Are we less rational than we think – and even worse in a crisis?
Traditional economic thinking has assumed that human beings are rational agents acting according to an analytical, cost/benefit analysis. In his best-selling book, Thinking, Fast and Slow, Daniel Kahneman referred to this as slow "System 2" thinking. In contrast, System 1 thinking is fast and automatic, and more susceptible to environmental influences and biases than we think.
However, policies and systems are often designed with only System 2 in mind. Furthermore, in situations where decision-makers act under a lot of pressure and stress – as is the cases in crises –  evidence shows that System 1 is most likely to take over when making decisions.
This has to be taken into account when designing interventions. In the context of the Covid-19 pandemic, interventions could support medical staff and policy makers by simplifying how information is displayed and framed. For instance, a study showed how changing how prescription instructions are framed can lead a significant reduction in prescription errors in UK's National Health Service (NHS).
It seems likely that this finding can be generalised: by providing information at the right time and an easily accessible format and by simplifying decision-making, people working under a lot of stress are supported to take the right course of action.
Do crises amplify integrity issues? Or is "crisis" mode quite normal?
The pandemic has merely exacerbated the fact that health systems around the world are in a constant state of crisis, with regular shortages and understaffing. This generates different pressures on staff workers, with a direct link to integrity issues.
One issue relates to the political economy of a country. For instance, sanctioning health workers for corrupt behaviour if they enjoy political protection may lead to severe consequences – like job losses – for head of departments. An intervention that does not take this into account would do more harm than good.
Gendered norms and expectations also drive behaviour. In the case of absenteeism among Nigerian health workers mentioned above, for example, female nurses are often expected to juggle their shifts with family care and contribution to the household economy (e.g. farming).
Merely changing rules or management without understanding people's behaviour and the expectations they face in a complex system will not yield the expected results. As for political power, understanding how social and family networks are structured and operate is key to designing effective anti-corruption interventions.
Harnessing behavioural insights to drive change
A solid political economy analysis will help build understanding among anti-corruption practitioners – but what should they do with that understanding? The next step is to understand how to use these insights into different networks to design more effective interventions. This is the idea behind another GI-ACE project led by the Basel Institute on Harnessing Informality: Designing Anti-Corruption Network Interventions and Strategic Use of Legal Instruments.
To continue with the example of absenteeism among health workers, individuals who are negatively affected by this (more working hours, more pressure due to the added activities related to the Covid-19 responses) may be more likely to support an intervention to address the issue.
So, clearly identifying networks of allies with a reason to support a change in favour of integrity should be an essential step of any intervention.
How social norms affect behaviour – for better or for worse
Another interesting point raised during the session was how we all belong to different reference groups which form part of our identity. Social norms stem from these reference groups and influence our behaviours in different ways.
We follow descriptive norms because they relate to common behaviour, whereas we respect injunctive norms because we think that others think these behaviours are socially appropriate. For example, assisting our family materially because we think that others perceive this as the right thing to do. 
These last norms generate social pressure as we are scared by the social sanctions we would incur by violating them. Social norms become particularly salient during crises when, as mentioned above, System 1 thinking is likely to take over in stressful situations where actors need to make fast decisions under a lot of pressure.
Rather than changing social norms, perhaps the objective in the Covid-19 crisis and more generally should therefore be relieve individuals from the pressures generated by the norms.
Norms of elites need careful consideration. Cases of decision-makers violating social distancing norms may make it permissible to violate health guidelines in the eyes of the public. However, research shows that trend-setters – i.e. people within groups leading by example by adopting virtuous behaviours associated with social norms (like respecting social distancing) – play an equally important role in changing undesirable behaviours associated with social norms. Revealing information about these virtuous behaviours within reference groups can incentivise others to change their own behaviour vis-à-vis a social norm.
Another option that requires careful consideration and handling – and a deep understanding of political economy, behaviours and norms – is for governments to publicly condemn corrupt behaviour using normative interventions, for example naming and shaming individuals who violated covid-19 regulations.
Can social norms be changed?
So: relieving individuals from the pressures generated by social norms is one avenue for intervention. Another common form of intervention aims to correct people's incorrect perceptions of social norms. More drastically, perhaps some norms need to change in order to form the basis of a stronger, healthier and more resilient society. Is this possible?
The short answer that emerged at the session is yes. Three elements must be present:
People need a reason to change.
People must trust each other.
A mechanism must be in place to let change occur (e.g. a civic space).
This implies that changing social norms to encourage integrity is a collective effort. It is also an immensely challenging one – but nonetheless essential if we wish to enhance integrity during crises as well as during "business as usual".
Learn more