16. May 2023
Fresh hope for Ukraine's forests?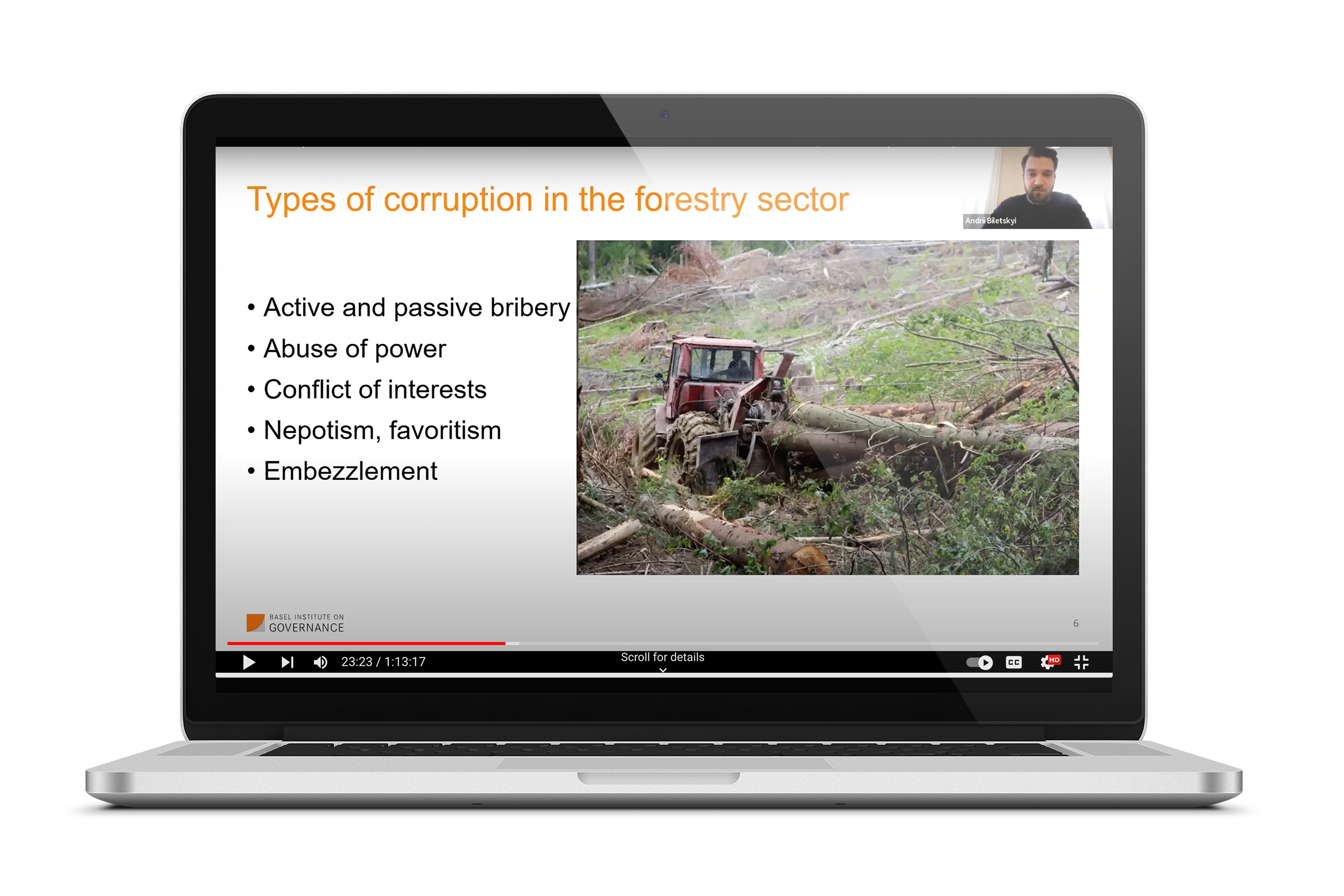 There is fresh hope for the sustainability and governance of Ukraine's forests, according to participants from Ukraine's government and civil society in a Basel Institute webinar on 5 April 2023.
Russia's war is placing unprecedented stress on the forest sector, they agreed. But the creation of the Forests of Ukraine state enterprise, together with Ukraine's candidate status for EU membership, offers a promising opportunity to address pre-war corruption and governance issues.
The webinar launched a report by the Basel Institute's Green Corruption team: How corruption threatens the forests of Ukraine: Typology and case studies on corruption and illegal logging. The first in the Environmental Corruption Deep Dive series of research papers, the report explores pre-war governance and corruption issues affecting Ukraine's forest sector through case studies and a new typology.
Co-authored by Dr Andrii Biletskyi (National University of Kyiv-Mohyla Academy), Yehor Hrynyk (Ukrainian Nature Conservation Group) and Dr Amanda Cabrejo le Roux (Basel Institute on Governance), the report is available in English and Ukrainian.
Claudio Nardi, Counsellor, Office For Foreign Affairs, Principality of Liechtenstein, made opening remarks.
Legislation, digitalisation, cooperation
Representing the Ministry of Environmental Protection and Natural Resources of Ukraine, Hamlet Pohosian and Anatolii Borsuk confirmed that Russia's war has complicated forest conservation efforts far beyond the forests that are currently occupied and mined.
As the report highlighted, the war has increased local demand for wood for heating and reconstruction, as well as its relative value as an economic resource at a time of industrial stress. At the same time, oversight by both government and civil society has decreased, with a moratorium on inspections and many people absent due to the fighting.
Hamlet Pohosian emphasised the Ministry's commitment to improve the sustainability of the sector as well as reduce governance risks through new legislation. The key, though, is how legislation and controls are implemented in practice. That is where many of the challenges highlighted in the report arise.
Digitalisation will help, he said. Ukraine has already introduced an electronic timber accounting and permitting system. But prevention needs to be matched by adequate enforcement. Ukraine's law enforcement agencies need to strengthen their capacity to investigate corruption-related forest crimes.
In a welcome gesture towards Ukraine's vibrant civil society organisations (CSOs), Anatolii Borsuk stressed that the Ministry is keen to involve CSOs in planning and developing activities in the sector. This is an important way to strengthen transparency of the forestry sector, he said.
The value of forests
Speaking as a representative of one such CSO – WWF Ukraine – Dr Iaroslav Teleshun echoed the concerns that deforestation is increasing due to the war. In addition to the concerns above, Ukrainian residents thrust into poverty by the war-damaged economy will look to forests to gain a living, even if that means logging illegally or unsustainably. Corruption, for example of local law enforcement officers – as illustrated in the report's first case study – will help them get away with it.
If managed sustainably, forests and other environmental sectors will remain a major contributor to Ukraine's economy and an indispensable resource in the reconstruction process. And beyond revenue, Ukraine's forests also provide immense value in terms of ecosystem services. Though not officially assessed, he explained that the value is roughly equal to the country's GDP at the end of 2021.
Dr Teleshun concluded that we need a whole-of-society approach to a sustainable reconstruction. Experts from civil society should be involved in forestry planning and control.
New state enterprise: a window of opportunity?
Newly created in February 2023, Forests of Ukraine has united more than 147 state forest enterprises (SFEs) that manage three-quarter of Ukraine's forests.
Viktoria Denyak, the authority's Head of Corruption Prevention, confirmed this was a unique opportunity to lay a strong foundation for risk management and anti-corruption compliance.
These are early days, of course, but her team has already started introducing a corruption prevention system throughout the organisation, including in regional branches. Compliance officers are being appointed to oversee the correct implementation of internal rules and controls.
Learn more