20. August 2020
Flying modems and fast adjustments – how we're switching to virtual training in Mozambique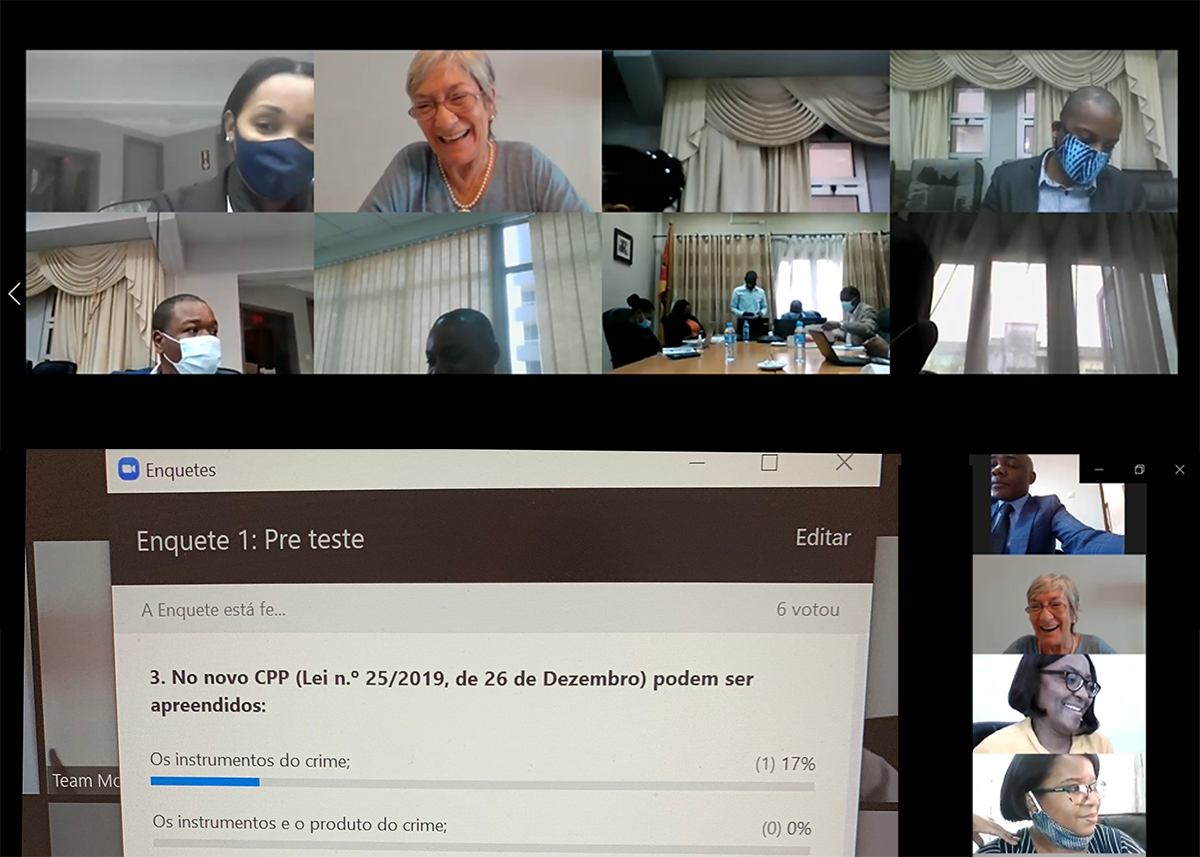 This week, our team in Mozambique has started a series of virtual training courses for prosecutors, investigators and judges across 11 provinces. Getting to this point has been quite a challenge, as Senior Asset Recovery Specialist Margarida Bandeira de Lima explains below. It shows the vital importance of basic technology in enabling public officials responsible for fighting corruption to do their jobs.
It was quite amazing to see how quickly the world switched from classrooms to virtual classrooms as the pandemic spread. For those with good access to technology, the switch to virtual education has mostly worked better than we feared.
It has also worked better than we feared at the Basel Institute on Governance. Our International Centre for Asset Recovery (ICAR) training team has already successfully delivered several training programmes online, despite the challenges of replicating their intensive, hands-on training approach in the virtual space.
In Mozambique, our local team was looking forward to rolling out a series of essential training courses to prosecutors, investigators and judges across 11 provinces from March to July this year.
In the first phase we planned to cover several vital topics: money laundering with a focus on the seizure and confiscation of assets, breach of professional secrecy, and suspicious transaction reports. We also planned to introduce the proposed developments in Mozambican asset recovery legislation being considered by the Assembly of the Republic in the draft Asset Recovery Bill. 
We were going to visit each province in turn and invite all participants to a central training centre. We wanted to spend the mornings delivering training and the afternoons mentoring prosecutors in person to help them apply the new concepts directly to their most complex cases.
Then the pandemic hit.
Physical meetings were suddenly impossible, so we had to switch to virtual training via Zoom. But internet connections in many Mozambican provinces are weak, and not all participants have their own computers.
So, we worked with staff of the Procurator General's Office to arrange internet modems to be flown out to the various provinces. We also arranged for laptops to be rented, which in many cases was not so easy.
We also had to scale back and postpone the plans for mentoring on real cases, as there are currently no real possibilities for secure data-sharing.
The newly flown-out modems and computers are located at the provincial headquarters. Some of the trainees cannot travel there. Social distancing requirements also mean we have had to limit the number of trainees to three prosecutors, two investigators and one judge per province. The aim – in the short term at least – is for these trainees to try to pass on their new knowledge and skills to their colleagues.
Our virtual training course covers the same topics as planned but in a shorter time to avoid computer fatigue. We are grouping provinces in the mornings and afternoons. This will also, we hope, encourage peer learning and domestic coordination on corruption and money laundering/asset recovery cases.
So, it has been challenging to switch to virtual training in Mozambique. And it has exposed the gap between those with good access to technology and those who work in contexts with weak internet and a lack of computers and secure file-sharing systems. I fear that criminals have far better access to these things than the officials in charge of stopping them and recovering the proceeds of their crimes.
Back to the training. What matters is this: the first virtual training sessions have taken place in the provinces and the feedback has been excellent and supportive so far – we are lucky to have such engaged and eager participants. We are also grateful to the programme donor, the Swiss Agency for Development and Cooperation (SDC), with whose funding we were able to arrange the modems and rented computers.
We will continue to adjust and adapt as we move into future phases of training. The next phase will include training on the new multidisciplinary Asset Recovery Office that we are help to set up in order to build specialist capacity and facilitate inter-agency and international cooperation on asset recovery.