15. March 2023
A data-driven strategy for anti-corruption Collective Action: Lessons from Nigeria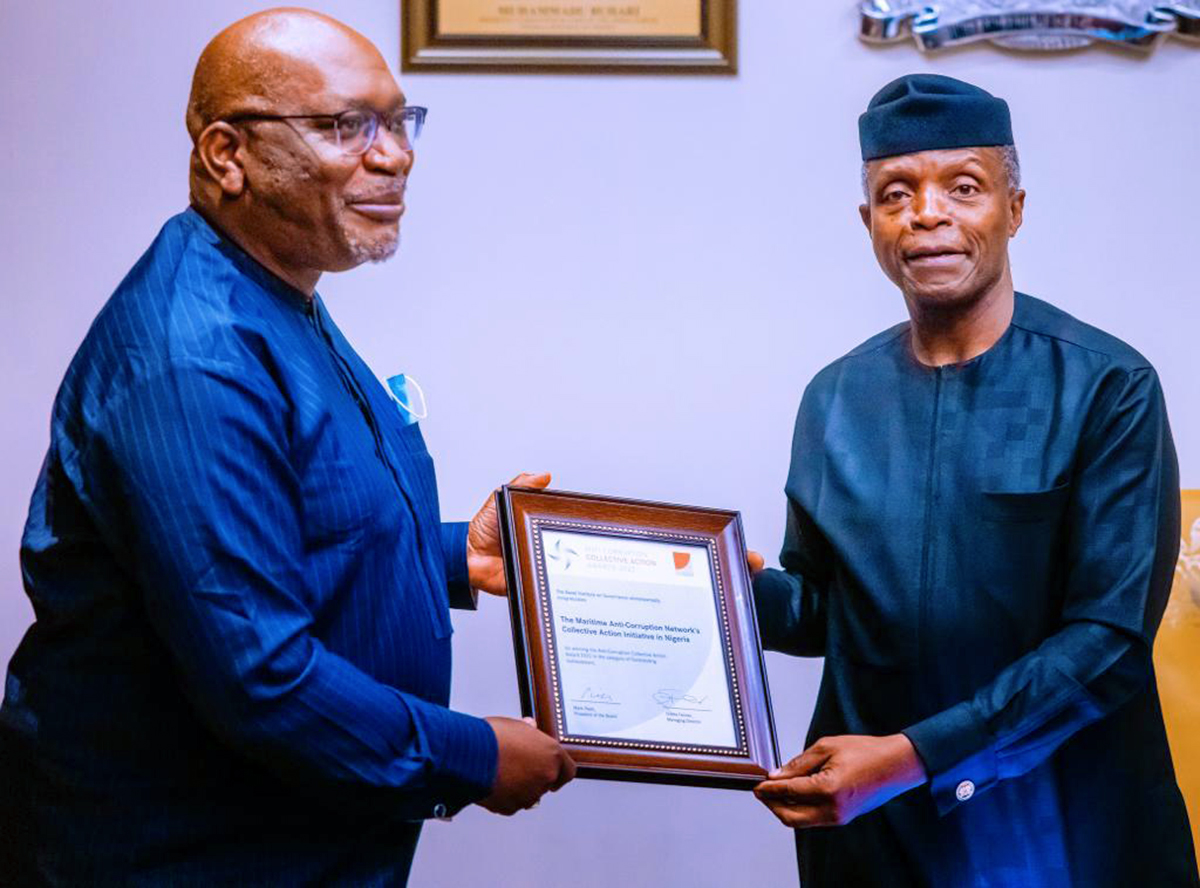 In last week's interview on how Collective Action has cut corruption in Nigerian ports, Cecilia Müller Torbrand of the Maritime Anti-Corruption Network and Soji Apampa of the Convention on Business Integrity explained their data-driven approach and the measurable impact it has had.
In the second part of the interview, Cecilia and Soji offer lessons for anti-corruption practitioners seeking to implement a robust data and impact strategy in their own initiatives. 
What are your top 5 tips for collecting data on corruption?
Data on corruption is never perfect, but it is essential to start somewhere. The MACN's anonymous incident reporting system, which allows maritime players to report incidents of corruption demands in port operations anonymously, has been critical to our data collection strategy over the years.
Based on our experience developing the system, we believe the following lessons have been key to our platform's success:
Develop an easy and simple-to-use system to encourage front-line staff to report.
Define, explain, and communicate the system's objectives to meet the expectations of all stakeholders, including national governments who may receive future reports.
Define what the solution looks like and translate that into data points.
Strongly consider anonymity of reporting to build trust in the reporting system itself.
Ensure good data governance.
How do you manage the data?
Since the launch of MACN's anonymous incident reporting system, the Network's membership and scope of operations have grown significantly. This growth has brought with it an increased adoption of MACN's anonymous incident reporting. Today, MACN has collected over 54,000 incident reports worldwide and continues to see momentum in corruption data collection.
We constantly seek ways to make our data more useful, accurate and actionable. In 2021, with external support from the Danish Ministry of Foreign Affairs, MACN worked on optimising and improving its incident reporting functionalities and developed a robust data visualisation capability.
In addition, MACN progressed with the development of the Global Port Integrity Platform (GPIP) – the world's first platform to measure and compare integrity in ports worldwide. GPIP will draw upon MACN's anonymous incident data as well as other data sources to capture and display integrity risks at the port and operational levels.
What data does the HelpDesk collect and what do you do with it?
In Nigeria, MACN was looking for a way to track the effectiveness and impact of our Collective Action programme. We focused on three main areas:
Transparency of operating procedures
Consistency of their application
Impact of this on the predictability of port call duration (a function of cost)
One key factor in port call delays was the inconsistent application of standard operating procedures by many officials. MACN conducted an annual survey of operations departments and ship captains on their experiences at Nigerian ports and terminals to provide a measure of annual improvement in the operating environment.
Through this, we noted the major challenge of understanding and tracking complaints being filed by vessel captains with the Nigerian authorities and tracking the resolution process. At this stage, only the government could access data on actual complaints. It had decided such information was 'secret' and could not be shared without high-level clearance.
Assessing the operational situation, we saw there were several defined steps involved in clearing a vessel through port. These include being checked and cleared for health risks, undergoing inspections and seeking clearance to depart. Corrupt demands could occur during several of these procedural stages.
Rather than relying solely on anonymous incident reporting in the aftermath of a vessel entering Nigerian waters, we believed there was enormous potential in the real-time tracking of clearance progress and addressing any procedural issues as they occurred. If there were any issues, they could be lodged in the government complaints system and tracked from the response to the resolution.
This process led to the creation of the MACN Nigeria HelpDesk. With the establishment of the HelpDesk, we progressed from receiving anonymous data to actionable data.
A key moment came when the government system went down. All stakeholders had only our HelpDesk to rely on, demonstrating the system's added value as an important extension to official channels.
How did you get captains and companies to use the HelpDesk?
Empowering and building trust in the private sector have been key for the work in Nigeria. There was initial reluctance to use the HelpDesk as MACN had previously promoted anonymous reporting. The operation of the HelpDesk meant issues could not be resolved anonymously.
The changes being implemented in partnership with the Government of Nigeria were highlighted at MACN member meetings over the course of two years, but members were initially skeptical.
A turning point came when a member had a problem at an offshore terminal. They tried to resolve it on their own and did not succeed. Then someone remembered the "crazy" guy at an MACN meeting who claimed things were changing (Soji Apampa in this case) and the member decided to "give it a shot". The company informed MACN and CBi about the issue and we escalated the matter through the new channels established by the government. Within 48 hours the vessel was permitted to sail.
The company had another issue not long after that. It used the HelpDesk immediately, and it was resolved within 24 hours.
Captains in that fleet then started spreading this news by word of mouth within their company and to the wider seafaring community. The masters, crews and company never experienced any backlash, even though the reports were no longer anonymous.
MACN streamlined and promoted the processes of using the HelpDesk amongst members, and uptake increased, especially because of the growing number of success stories. MACN also offered online meetings and other forms of support for companies to ensure captains were well briefed and knew what to do when sailing to Nigeria's waters.
What was the reaction to your Outstanding Achievement Award from the Basel Institute?
We believed what was emerging from the Collective Action project in Nigeria was unique, and we wanted to showcase this as much as possible.
MACN and CBi received the award, but we wanted to ensure that the government and stakeholders locally also received well-deserved recognition. We believed it was important to hand the award over to the Nigerian Vice-President, whose strategic interventions since 2015 (in response to our requests for intervention) accelerated our progress with each case of involvement.
When we eventually presented the award to the Vice-President of Nigeria, the communication of the award trended on social media and was very widely reported in the media. We also used the meeting with the Vice-President to provide direct feedback on what he could further do to make the changes sustainable and the project even more impactful.
What's next?
MACN and CBi have ambitious plans to expand our work in West Africa and continue to build on the learnings from Nigeria. We still have work to do in Nigeria, and our efforts will continue, especially as elections take place in February and March 2023.
We must maintain the momentum and results from this 10-year journey.
Learn more