Wildlife crime learning series – understanding risks, avenues for action
This series of four publications are the PDF versions of a flexible and practical learning resource developed by the Green Corruption programme at the Basel Institute on Governance. The introductory series covers:
Illegal wildlife trade and financial crime
Illegality in the exotic pet trade
Forest crime and the illegal timber trade
Marine species trafficking
The series is broadly aimed at:
Private-sector companies exposed to risks of illegal wildlife trade and related crimes, including financial institutions, transport companies, traders and wholesale retailers
Policy makers
Law enforcement
Practitioners in both conservation and anti-corruption fields
The aim is to broaden understanding of the threats that wildlife crimes pose to sustainable development and clean business. It provides relevant information, statistics and background knowledge to help enhance policies and processes aimed at curbing wildlife crime and associated risks. The focus is on financial crimes and supply chain vulnerabilities that facilitate the illegal trade in wildlife and thereby increase companies' legal, financial and reputational risks.
This learning resource and many more are available as interactive learning tools on the Basel Institute's LEARN platform.
The Green Corruption programme at the Basel Institute on Governance applies anti-corruption and governance tools to address environmental crime and degradation. For more information, see www.baselgovernance.org/green-corruption
This publication was funded by PMI IMPACT, a grant award initiative of Philip Morris International (PMI). In the performance of their research, the authors maintained full independence from PMI. The views and opinions expressed in this document are those of the authors and do not necessarily reflect the views of PMI. Neither PMI, nor any of its affiliates, nor any person acting on their behalf may be held responsible for any use which may be made of the information contained herein.
The work is licensed under a Creative Commons Attribution-NonCommercial-NoDerivatives 4.0 International License (CC BY-NC-ND 4.0).
It is based on content provided by Patricia Raxter with editing and other input from Alexander Berman, Juhani Grossmann, Monica Guy, Shane McLean, Manuel Medina and David Ward.
Citation: Basel Institute on Governance, 2021. Wildlife crime – understanding risks, avenues for action. Basel: Basel Institute on Governance, https://baselgovernance.org/publications/wildlife-crime-series
Links and other languages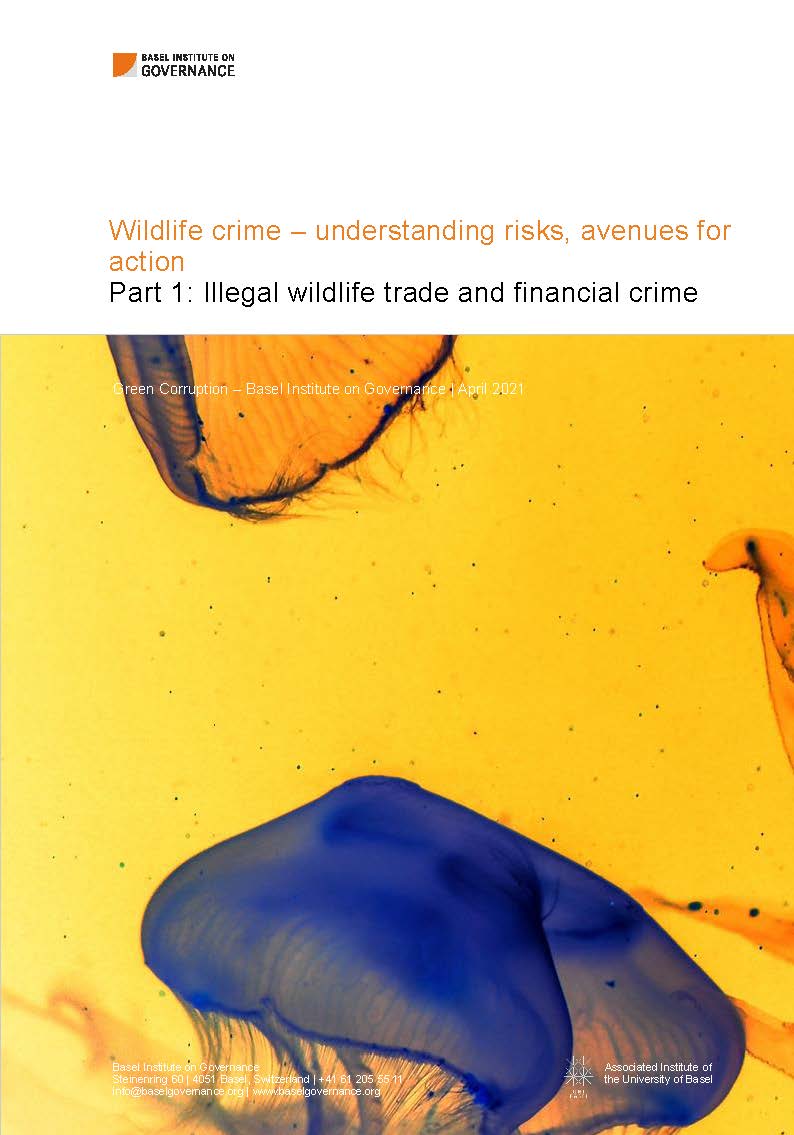 Publisher
Basel Institute on Governance