Development efforts will remain frustrated so long as corrupt leaders continue to steal their countries' wealth and dispose of these ill-gotten gains in foreign jurisdictions. The prevention of such looting, and the recovery of the stolen assets are thus critical development issues and a cornerstone of the United Nations Convention against Corruption (2003) (UNCAC). However, to date experience with asset recovery is limited, and a number of legal and other obstacles continue to impede progress.
This is the first comprehensive work on asset recovery, written by renowned practitioners and academics representing different legal systems and countries, all of whom have extensive experience in the asset recovery field. The authors notably discuss the 'success stories' of the past (the recovery of the assets of Sani Abacha, Ferdinand Marcos and Vladimiro Montesinos) and the concrete challenges for the future with regard to search, seizure, confiscation and repatriation of stolen assets.
The book also provides perspectives on the role of technical assistance and donors in asset recovery and the likely impact of the UNCAC.
Links and other languages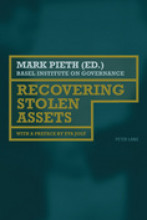 Author(s)