Recommendations of the International Cooperation for Anti-Corruption Cohort of the Summit for Democracy
These recommendations by the Summit for Democracy's International Cooperation for Anti-Corruption Cohort outline how to build on progress in international cooperation made over the last 10–15 years. They seek particularly to overcome challenges related to:
Non-cooperative territories that continue to offer secret hiding places for illicit money.
Mutual legal assistance (MLA), widely acknowledged as still too slow, bureaucratic and underfunded in most states.
Political will to change the status quo.
Corruption fighting back, through disinformation campaigns and malicious lawsuits against prosecutors, judges and journalists.
The Cohort is a cooperation between the Government of Moldova, Basel Institute on Governance and Transparency International under the Summit for Democracy initiative of US President Biden.
***
Participating countries: Albania; Armenia; Austria; Bosnia and Herzegovina; Bulgaria; Chile; Costa Rica; France; Germany; Iraq; Ireland; Korea (Republic of); Kosovo; Malta; Moldova; Nigeria; Norway; Senegal; Slovenia; Spain; Switzerland; UK; Ukraine; USA.
Participating civil society organisations: African Center for Governance, Asset Recovery and Sustainable Development, Nigeria; Basel Institute on Governance and International Centre for Asset Recovery, Switzerland; Brookings Institution, US; Center for the Study of Democracy, Bulgaria; German Marshall Fund of the US; Institute for European Policies and Reforms (IPRE), Moldova; International Bar Association – Asset Recovery Committee; Legal Resources Institute, Moldova; Organised Crime and Corruption Reporting Project (OCCRP); Transparency International; Transparency International France; Transparency International Kazakhstan; Transparency International Moldova; Transparency International Portugal; UNCAC Coalition.
Participating intergovernmental organisations: European Commission; Regional Anti-Corruption Initiative (RAI), UNODC
Links and other languages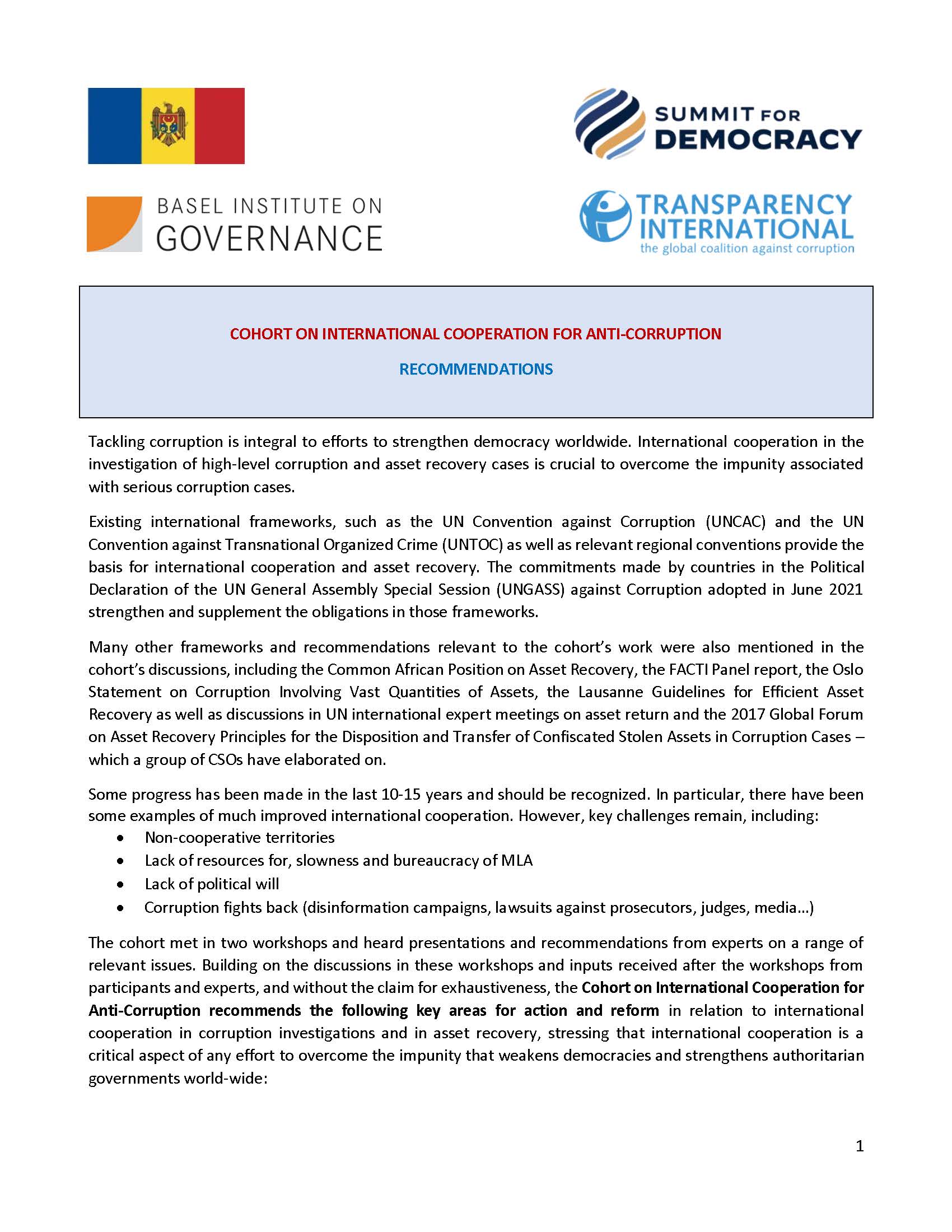 Publisher
Government of Moldova, Basel Institute on Governance, Transparency International