Policy Brief 6: Bringing intelligence and social network analysis together to fight illegal wildlife trade
This policy brief explains how intelligence practitioners within law enforcement authorities and researchers skilled in social network analysis (SNA) can and should cooperate better in the fight against illegal wildlife trade (IWT). 
Intelligence data are crucial for SNA researchers to conduct empirical analysis of illicit activities and dark networks. In turn, these research results can fruitfully feed back into investigations and further intelligence work. The combined effect of research and intelligence can have positive effects on the fight against IWT, and these effects are larger than the simple sum of their components. 
Policymakers and stakeholders who wish to increase the effectiveness and efficiency of the fight against IWT and other environmental crimes are advised to promote the systematic cooperation between intelligence practitioners and researchers, in a way that both communities can maximise the benefits of this synergetic strategy. 
About this Policy Brief
This publication is part of the Basel Institute on Governance Policy Brief series, ISSN 2624-9669, and supports the Basel Institute's Green Corruption programme.
It is licensed under a Creative Commons Attribution-NonCommercial-NoDerivatives 4.0 International License (CC BY-NC-ND 4.0). Suggested citation: Costa, Jacopo. 2021 "Bringing intelligence and social network analysis together to fight illegal wildlife trade." Policy Brief 6, Basel Institute on Governance.
This report was funded by PMI IMPACT, a grant award initiative of Philip Morris International (PMI). In the performance of their research, the authors maintained full independence from PMI. The views and opinions expressed in this document are those of the authors and do not necessarily reflect the views of PMI. Neither PMI, nor any of its affiliates, nor any person acting on their behalf may be held responsible for any use which may be made of the information contained herein.
Links and other languages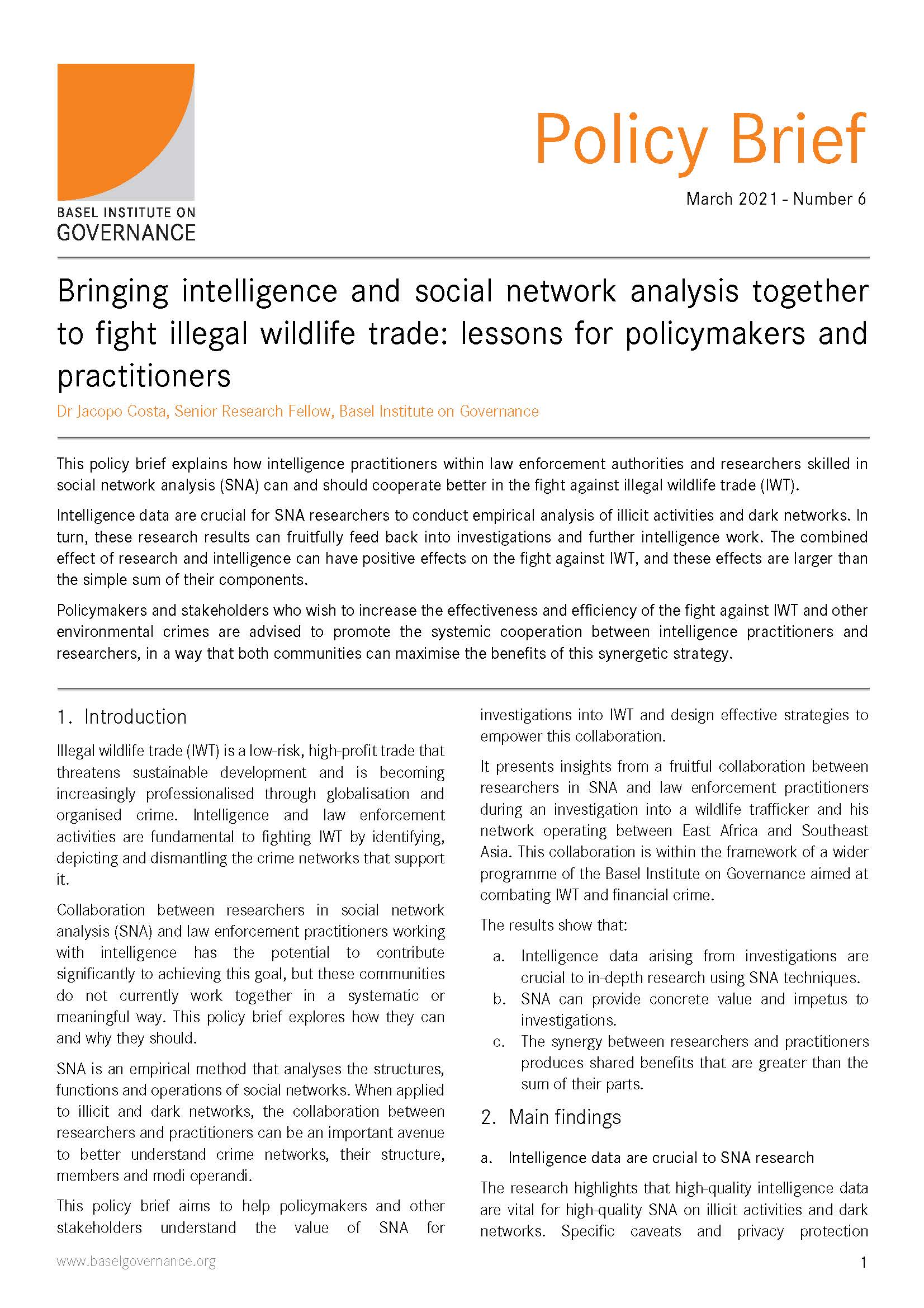 Publisher
Basel Institute on Governance
Author(s)