Implementing Collective Action Initiatives against Corruption in the Middle East & Africa
Corruption is a multi-faceted problem, damaging societies and economies by reducing investment, reducing the quality of goods and services, increasing inequality, and preventing sustainable and fair development. But it also has damaging effects on business as it imposes added transaction costs, increases risk, makes business transactions less reliable and undermines fair competition and productivity.
Specifically in the Middle East and Africa (MEA) region corruption has been repeatedly identified as a key obstacle to economic development, has eroded trust in institutions, and is considered a key impediment to doing business. It is not surprising then, that tackling corruption has been at the forefront of the debate for many years and on the agenda of many policy makers, researchers, civil society organizations, and private sector stakeholders in the region.
Due to the complexity of the issue of corruption and due to its damaging effects on such a diverse set of stakeholders, Collective Action seems like a uniquely appropriate approach to meet this challenge, as it brings together likeminded stakeholders in an alliance that represents diverse interests and combines different capacities of involved stakeholders.
Recent years have seen a multitude of Collective Action Initiatives (CAI) being established in the Middle East & Africa Region and there is still much that can be learned regarding its practical successes and failures, as well as its impact "on the ground". To understand what makes Collective Action efforts succeed or fail in the region and to discuss ways to scale up and improve the long-term effectiveness of initiatives in the region, the Integrity Network Initiative invited regional practitioners and international experts to the workshop "Collective Action to Counter Corruption and Foster Integrity – Regional Clinic Middle East and Africa" on the 7th and 8th of February 2018 in Aswan, Egypt.
This publication sketches out the main outcomes from the comprehensive discussions.
Links and other languages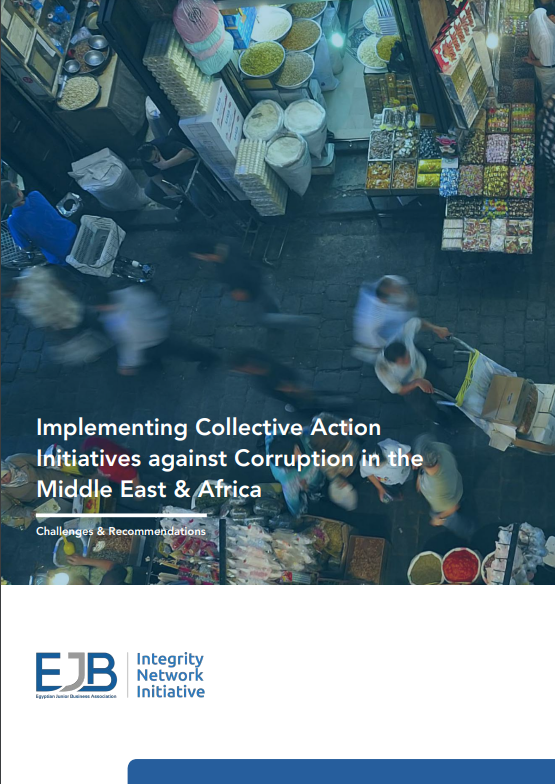 Publisher
Egyptian Junior Business Association Integrity Network Initiative
Author(s)