Gold Laundering: the dirty secrets of the gold trade – and how to clean up
In this eye-opening book, Mark Pieth gives an in-depth insight into how the global gold market works, what role Switzerland plays in it, where the hidden abuses lie and how human rights in the gold industry can be protected in a credible way.
The exclusively researched depiction of a key area of economic policy takes us both to the glittering world of gold refining and to the world's worst mining regions. Mark Pieth illuminates the historical roots of the gold trade before turning his attention to today's supply chains, from mines to refineries and clandestine intermediaries to consumers: central banks, investors, jewellers and watchmakers. He reveals some of the horrific problems caused by gold mining that still receive little attention due to a lack of binding regulations – severe environmental destruction, forced labour and human trafficking, land grabbing, stolen assets and money laundering. 
Mark Pieth not only points out the problems, but presents clear and coherent solutions for more transparency, greater responsibility for the main players and better protection of human rights.
Gold Laundering: The dirty secrets of the gold trade is published in English and German by Elster & Salis.
Links and other languages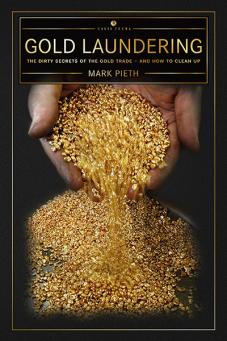 Author(s)