Gestión de riesgos en la administración y recaudación del impuesto predial para fortalecer la gestión municipal
**Español abajo**
This document offers guidance to municipal governments in Peru on managing risks that affect the efficient administration and collection of property taxes. Property taxes are a major source of revenue for municipal governments in Peru, yet collection rates appear low compared to other countries in Latin America.
The guidance is a product of the Basel Institute's Subnational Public Finance Management Strengthening Programme (Programa GFP), supported by the Swiss SECO Cooperation in Peru since 2015. 
It is the first in a series of documents on risk management to improve the delivery of public services and goods at the subnational level. Using the guidance, officials will be better able to develop relevant control measures for their annual action plan on internal controls.
Effective implementation of these measures will enable municipalities to achieve their institutional objectives more efficiently, thus better serving the people of Peru.
The guidance document, published in Spanish, is based on the provisions of a Peruvian Government directive and guidelines on risk management and internal controls for state entities. It also draws on the experiences of our Public Finance Management team providing technical assistance to officials in the Peruvian municipalities of Abancay, Cusco, Piura, Tarapoto and Trujillo.
Español
Este documento de trabajo ofrece orientación a los gobiernos municipales de Perú sobre la gestión de los riesgos que afectan a la administración y recaudación eficaces de los impuestos prediales. El impuesto predial es el principal impuesto a nivel municipal en el país. No obstante, la recaudación predial en el Perú representa solo el 0,25% del Producto Bruto Interno (MEF, 2022). Esto es bajo comparado con otros países en América Latina.
Es el primero documento de la serie "Gestión de Riesgos para mejorar la entrega de productos a nivel subnacional", la cual consiste en documentos de trabajo vinculados a las materias focalizadas. Estos documentos recogen la experiencia de los gobiernos regionales y gobiernos locales socios del Programa GFP Subnacional y el conocimiento de sus consultores, a fin de convertirse en un insumo práctico para identificar y tratar los principales riesgos que pueden afectar la producción y la entrega de bienes o servicios y el logro de los objetivos institucionales de las entidades a nivel subnacional.
Esta serie se desarrolla sobre la base de las disposiciones de la Contraloría General de la República del Perú (CGR) en la Directiva N° 006-2019-CG/INTEG, "Implementación del Sistema de Control Interno en las Entidades del Estado" (en adelante, Directiva SCI) y las orientaciones en la "Guía para la Gestión de Riesgos para los Gobiernos Regionales, en el marco de la implementación del Sistema de Control Interno" (CGR, 2022b). Asimismo, adopta las pautas de la Secretaría de Integridad Pública de la Presidencia del Consejo de Ministros, en la "Guía de Gestión de Riesgos que afectan la Integridad Pública" (PCM, 2023).
En este sentido, las propuestas contenidas en estos documentos de trabajo pueden ser consideradas por las entidades cuando elaboren su "plan de acción anual - sección medidas de control", que es una herramienta establecida por la CGR, en el marco de la implementación del SCI.
El desarrollo y la elaboración de este documento han sido posible gracias al Programa de Fortalecimiento de la Gestión de las Finanzas Públicas a Nivel Subnacional en el Perú (2019-2023) - Programa GFP Subnacional, de la Cooperación Suiza - SECO, implementado por el Basel Institute on Governance - Perú.
Los autores de este documento agradecen el apoyo de servidores de la Municipalidad Provincial de Abancay, la Municipalidad Provincial del Cusco, el Servicio de Administración Tributaria de Piura, el Servicio de Administración Tributaria de Tarapoto y el Servicio de Administración Tributaria de Trujillo, que participan en las actividades de asistencia técnica durante la segunda fase del Programa y cuyas experiencias han sido recogidas en este documento.
Links and other languages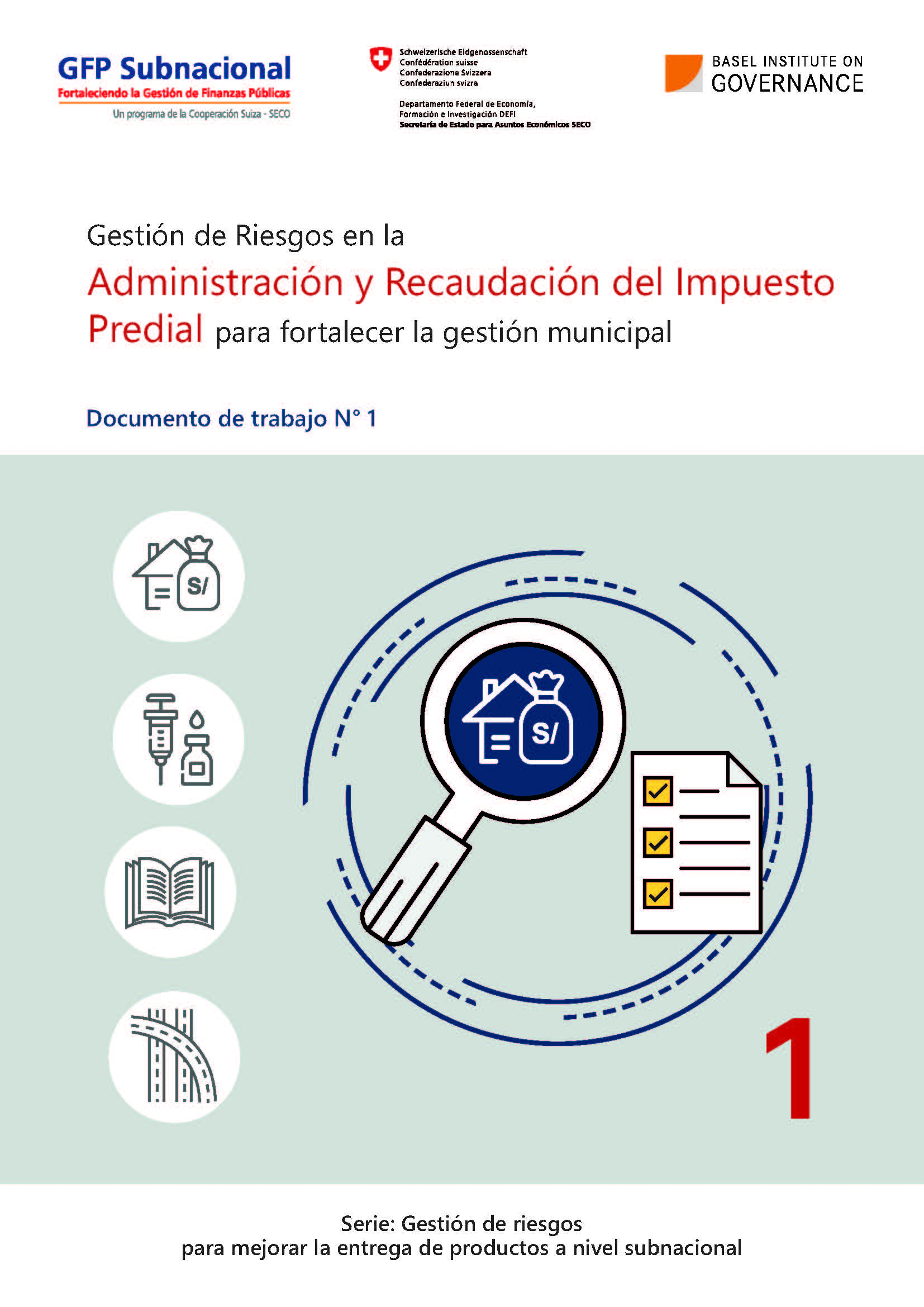 Publisher
Basel Institute on Governance - Peru