Determinants and drivers of wildlife trafficking: A qualitative analysis in Uganda
The article analyses drivers and determinants of illicit wildlife trade (IWT), targeting those factors that support the participation of individuals in poaching and transportation of wildlife goods.
These factors are often explained in economic and institutional terms. Recently, scholars have started to recognise the importance of socio-cultural and behavioural drivers in influencing the individual propensity to engage in wildlife trafficking. The goal is clarifying how behavioural drivers may spur individuals to engage in these phenomena. The research provides further understanding on why wildlife trafficking happens by focusing on the role of the socio-economic context, the broader governance environment, and behavioural drivers associated with sociality and stereotypes in spurring participation in IWT.
The research is based on fieldwork in Uganda, specifically on 47 interviews with Ugandan-based and international anti-IWT experts and eight focus group discussions with wildlife conservation and anti-corruption experts in Kampala, members of reformed poachers' networks in Western Uganda, and individuals living around a wildlife habitat in northern Uganda.
The findings highlight that illicit wildlife trade is spurred by the wish for financial resources (economic factors) and weak governance (quality of governance), and it is justified by mental models, that is, the behavioural drivers such as socio-contextual and normative mechanisms. The research shows the importance of reflecting on the role that behavioural drivers, including sociality and shared understandings of IWT, play in influencing the propensity of individuals to engage in poaching and the early stages of wildlife trafficking.
Acknowledgement and citation
This publication arose out of a collaboration between the Basel Institute's Public Governance and Green Corruption teams. The research presented in this publication forms part of a two-year project aimed at stopping corruption from fuelling illegal wildlife trade between East Africa and Southeast Asia.
This research was funded by PMI IMPACT, a grant award initiative of Philip Morris International (PMI). In the performance of their research, the authors maintained full independence from PMI. The views and opinions expressed in this document are those of the authors and do not necessarily reflect the views of PMI. Neither PMI, nor any of its affiliates, nor any person acting on their behalf may be held responsible for any use which may be made of the information contained herein.
Kassa, Saba, Claudia Baez Camargo, Jacopo Costa and Robert Lugolobi. 2022. 'Determinants and Drivers of Wildlife Trafficking: A Qualitative Analysis in Uganda'. Journal of International Wildlife Law & Policy, doi.org/10.1080/13880292.2021.2019381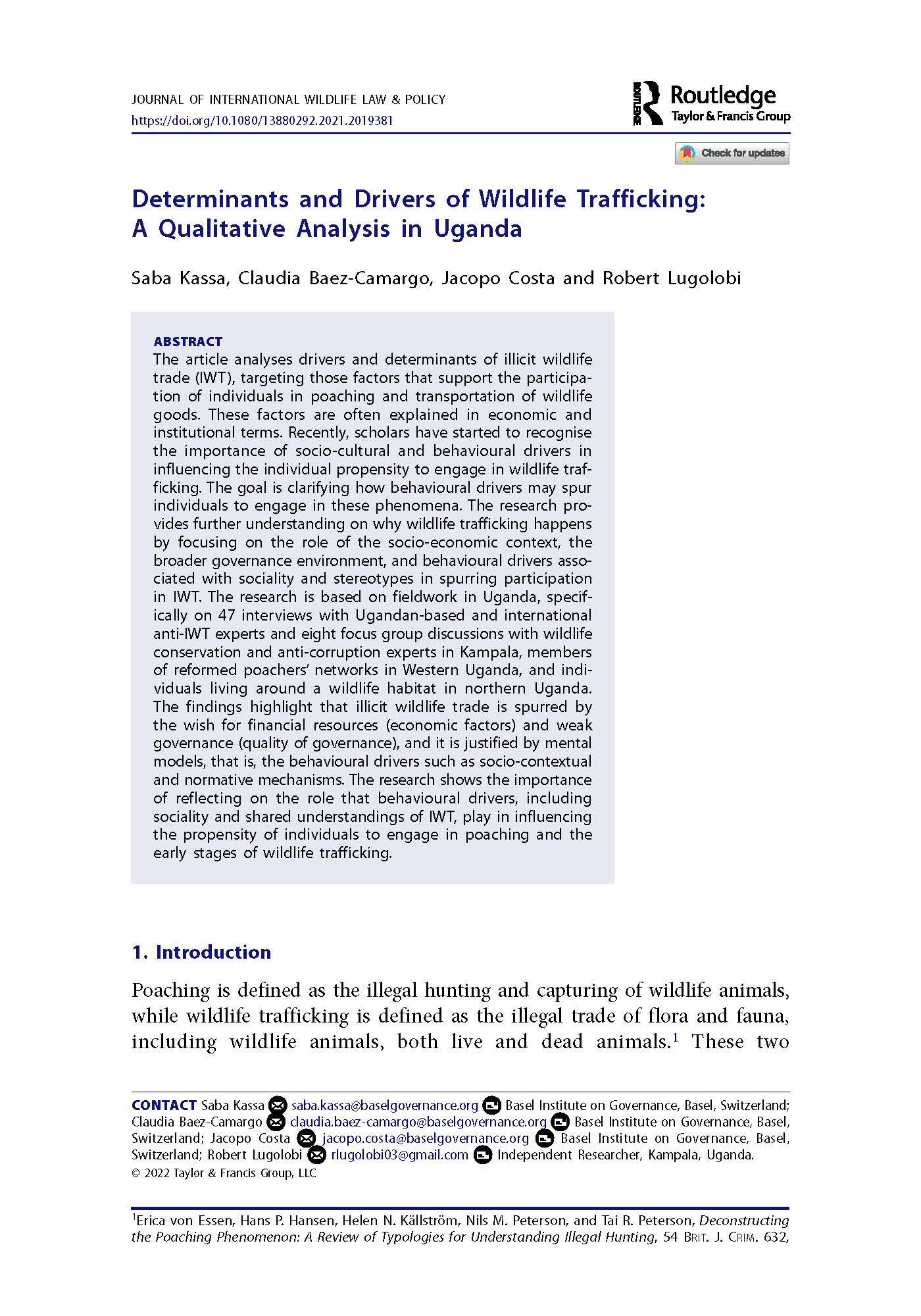 Publisher
Journal of International Wildlife Law & Policy
Author(s)