Corruption undermines nearly all key legal and developmental priorities today, including the effective functioning of democratic institutions and honest elections; environmental protection; human rights and human security; international development programs; and fair competition for global trade and investment.
This book chronicles the global anticorruption steps taken since the movement advanced after the end of the Cold War. It provides a realistic assessment of the present state of affairs by critically evaluating what existing anticorruption programs and treaties have accomplished and documenting their shortcomings, while developing an action agenda for the next decade. 
The authors argue that reformative action is imperative, and the forces of globalization and digital communication will level the playing field and erode the secrecy corruption requires. They define corruption, document its effects, discuss the initiatives that changed public perception, analyze the lessons learned, and then evaluate how to move forward with existing initiatives charting a new path with new, differentiated strategies.
Links and other languages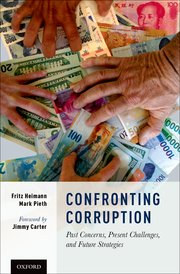 Publisher
Oxford University Press
Author(s)