12. July 2017
Partnership key to asset recovery, say experts from Jersey, Kenya, Nigeria and UK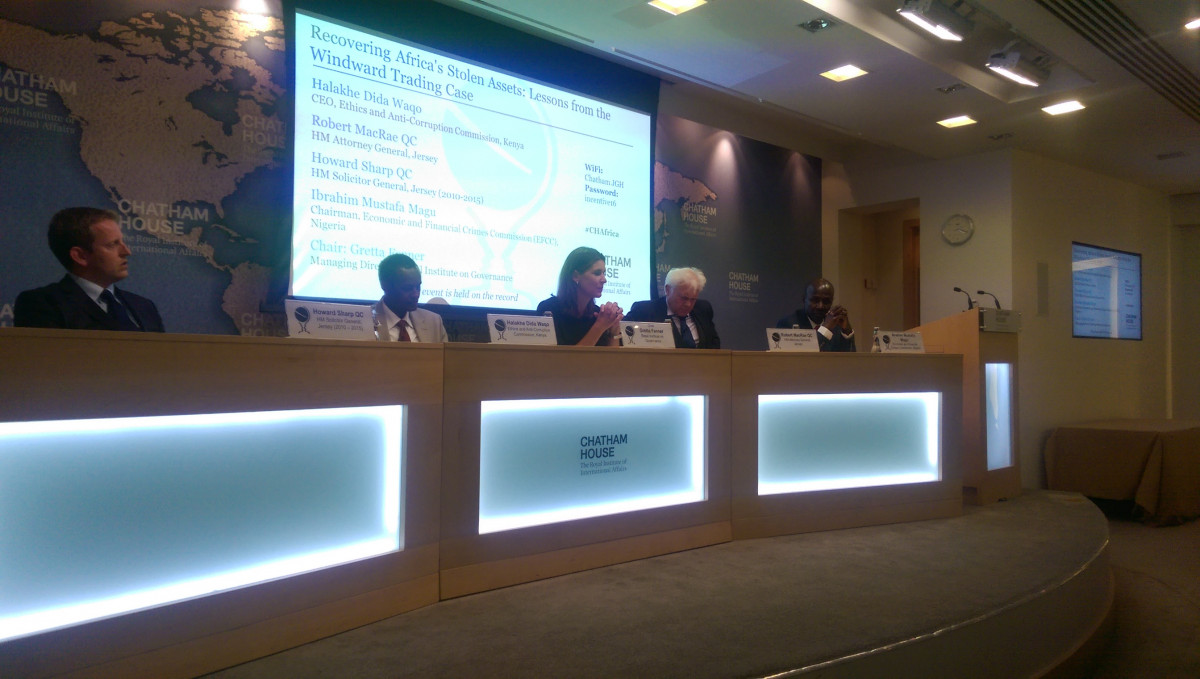 At an event in London co-hosted by the Basel Institute on Governance and Chatham House on Monday 10 July 2017, panelists from Jersey, Kenya, Nigeria and the UK agreed that partnership, understanding each other's systems and procedures, and informal communication between requesting and requested states is critical to successfully recover stolen public funds internationally. This message is very much in line with the Basel Institute's own experience and supports a range of international policy initiatives supported by the Institute's International Centre for Asset Recovery (ICAR), including the Swiss-led initiative to promote Guidelines for Efficient Recovery of Stolen Assets and many of the recommendations made during the 2016 London Anti-Corruption Summit.
In analysing lessons learned from the successful Windward Trading case under which assets confiscated in Jersey are to be returned to Kenya (see Basel Institute press release), experts also recognised the need to be persevering. They highlighted that asset recovery is as much about complex legal and technical issues for which a special skill set is required, as it is about international diplomacy and domestic politics. That being said, the Windward Trading case further illustrates that regardless of such circumstances, having a solid and irrefutable package of evidence is the best recipe for success. This is particularly true when, as was the case in the Windward Trading proceedings in Jersey, new legal avenues are being explored.
The ensuing discussion in a packed room brought up many other very timely topics. For example, questions were raised as to the obligation of countries to share assets recovered in the context of foreign bribery investigations and related plea-bargains. The well represented African diaspora asked how they could support international efforts to recover stolen assets; it was suggested they could work with some of the specialised civil society organisations that were present at the event, to collect intelligence and information, and then to share such with law enforcement in the UK or in countries of origin or other jurisdictions, as suitable. Finally, concerns were raised about the risk of returned stolen public funds being looted again. On-going discussions between Kenya, Jersey, the UK and Switzerland about a framework agreement on the end-use of returned stolen public funds were mentioned in this context as an example of good practice, and Nigeria reported about its efforts to further intensify corruption prevention and safeguard any assets returned from other jurisdictions.
We thank the panelists and speakers, in particular Susie Kitchens, Deputy UK High Commissioner to Kenya, Halakhe Dida Waqo, CEO of Kenya's Ethics and Anti-Corruption Commission (EACC), Robert MacRae QC, HM Attorney General of Jersey, Howard Sharp QC, attorney-at-law and former HM Solicitor General of Jersey, and Ibrahim Mustafa Magu, Acting Executive Chairman of Nigeria's Economic and Financial Crimes Commission (EFCC) for their valuable contribution, and we express our equally sincere thanks to Chatham House for having co-hosted this event with the Basel Institute.
2