Event
Dirty deals: Launch of Environmental Corruption Deep Dive report on corruption in waste management and trade
This event launched the new Environmental Corruption Deep Dive Report: Dirty deals: Case studies on corruption in waste management and trade.
The report is an initial exploration of corruption in crimes involving waste. It looks at corruption risks at different states of domestic/international waste management chains and at external factors that make corruption more likely.
It also proposes basic steps to start understanding and addressing corruption risks related to waste management and trade, from the perspective of governments, the private sector and civil society.
The launch featured an overview of the findings plus presentations of three of the cases featured in the report (Albania, the U.S. and Latin America, Canada–Philippines). It was following by a Q&A.
The event featured the three report authors:
Nancy Isarin, Waste Crime and Environmental Enforcement Expert
Claudia Baez Camargo, Head of Public Governance, Basel Institute on Governance
Amanda Cabrejo le Roux, Environmental Crime Specialist, Basel Institute on Governance
Juhani Grossmann, who leads the Basel Institute's Green Corruption programme, moderated.
The report and entire research series, as well as this webinar, is funded by the Principality of Liechtenstein.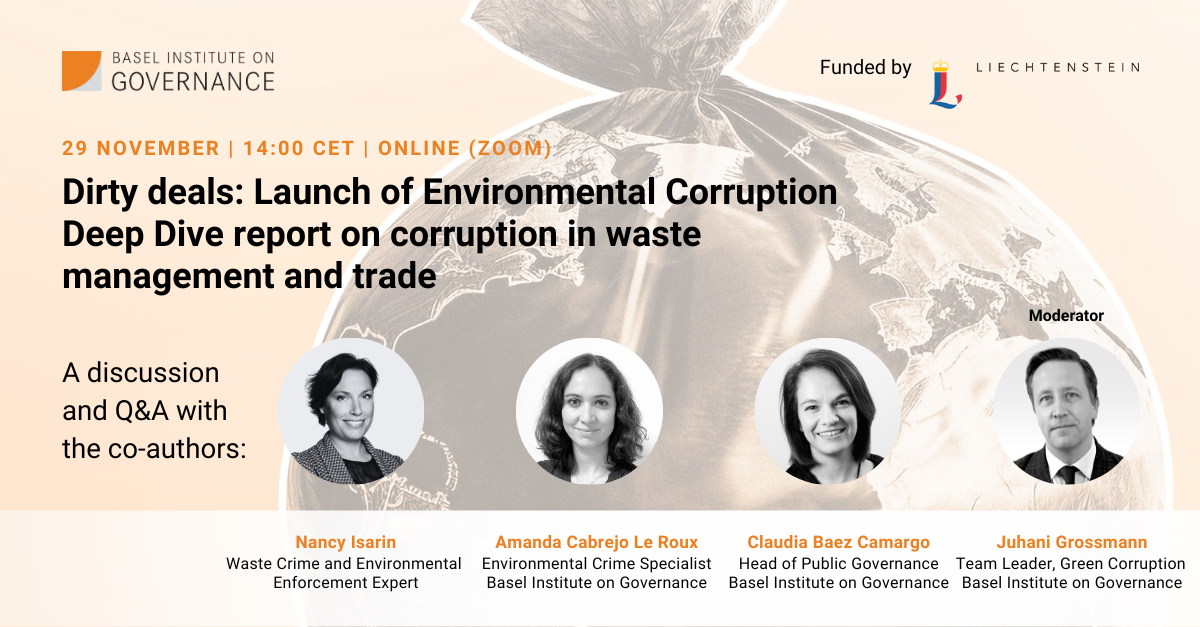 Start date
29 November 2023
End date
29 November 2023
Organiser
Basel Institute on Governance