Event
Proactive financial investigations in illegal wildlife trade – a Follow-the-Money Working Group meeting
At this month's meeting of the Follow-the-Money Working Group, Simon Marsh will present a case study from East Africa illustrating proactive financial investigations in illegal wildlife trade, with a focus on the international nexus.
The case study will reveal the strategies, challenges and successes in tracing the flow of illicit funds to disrupt a criminal network engaged in illegal wildlife trade.
Simon Marsh is a Senior Financial Investigation Specialist at the Basel Institute on Governance and Coordinator for Southern and Eastern Africa. He is a passionate conservationist.
***
Español: En la reunión de este mes del Grupo de Trabajo "Seguimiento del dinero", Simon Marsh presentará un estudio de caso de África Oriental que ilustra las investigaciones financieras proactivas en el comercio ilegal de especies silvestres, centrándose en el nexo internacional.
El estudio de caso revelará las estrategias, los retos y los éxitos en el seguimiento del flujo de fondos ilícitos para desarticular una red delictiva dedicada al comercio ilegal de fauna y flora silvestres.
Simon Marsh es Especialista Senior en Investigación Financiera del Basel Institute on Governance y Coordinador para África Meridional y Oriental. Es un apasionado de la conservación.
***
Français: Lors de la réunion du groupe de travail "Suivre la piste de l'argent" de ce mois-ci, Simon Marsh présentera une étude de cas en Afrique de l'Est illustrant les enquêtes financières proactives dans le domaine du commerce illégal d'espèces sauvages, en mettant l'accent sur le lien international.
L'étude de cas révèlera les stratégies, les défis et les succès dans le traçage des flux de fonds illicites pour perturber un réseau criminel engagé dans le commerce illégal d'espèces sauvages.
Simon Marsh est spécialiste principal des enquêtes financières à la Basel Institute on Governance et coordinateur pour l'Afrique australe et orientale. Il est un défenseur passionné de la nature.
***
About
The Follow-The-Money Working Group is part of a broader Countering Environmental Corruption Practitioners Forum created in late 2022 by a consortium of leading conservation and anti-corruption organisations: WWF, TRAFFIC, Transparency International and the Basel Institute on Governance. The Follow-The-Money Working Group is coordinated by the Basel Institute.
Membership is free and open to any professional working (or aspiring) to tackle the illicit finances of environmental criminals.
The monthly meeting is a chance for members to share best practices, challenges and updates on using follow-the-money techniques to detect, investigate and prosecute environmental criminals and their corrupt facilitators. Meetings take place on the third Wednesday of each month.
The meetings take place in English with simultaneous interpretation in Spanish and French.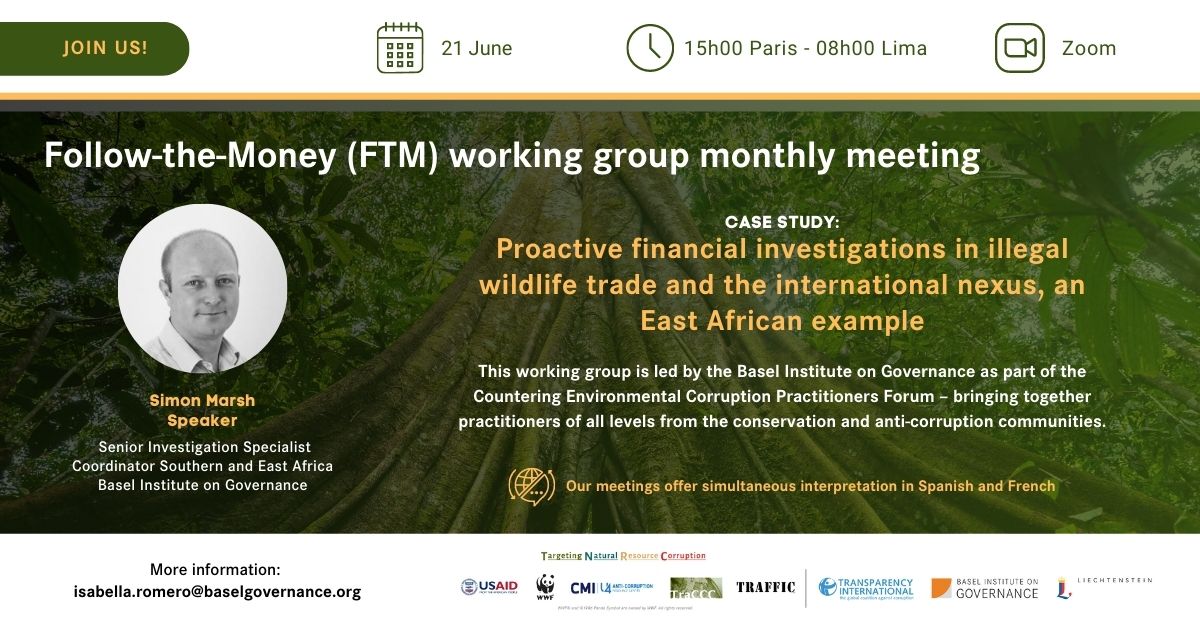 Organiser
Basel Institute on Governance