Event
Anti-corruption prosecutors under attack: a CoSP9 event
Anti-corruption prosecutors are under attack everywhere. They are threatened, exposed to undue influence or hindered by abusive defence strategies.
At a special event at the Conference of the States Parties to the UN Convention Against Corruption (UNCAC) in 2021, a panel of international experts discussed measures that different stakeholders must take to protect prosecutors, and by extension protect the Convention.
The event was organised by the Basel Institute on Governance and Norway on behalf of the Corruption Hunter Network.
Norwegian State Secretary Astrid Bergmål of the Ministry of Justice and Public Security made opening remarks.
Gretta Fenner, Managing Director of the Basel Institute on Governance, moderated a panel of experts from across the globe:
Gary Balch, General Counsel, International Association of Prosecutors
Greysa Barrientos Núñez, Senior Public Prosecutor, Costa Rica
Hermione Cronje, Head, Investigating Directorate, National Prosecuting Authority, Pretoria, South Africa
Simon Taylor, Director and Co-Founder, Global Witness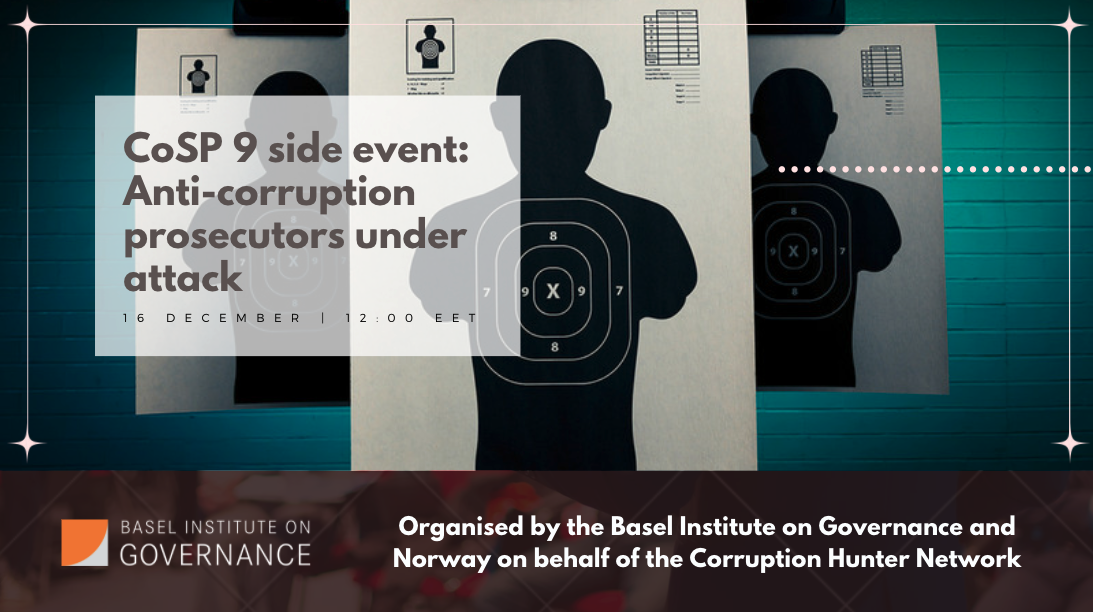 Start date
16 December 2021
End date
16 December 2021
Organiser
Basel Institute on Governance; Norway; Corruption Hunter Network