02. December 2022
Using follow-the-money techniques to detect environmental crimes – an #IACC2022 panel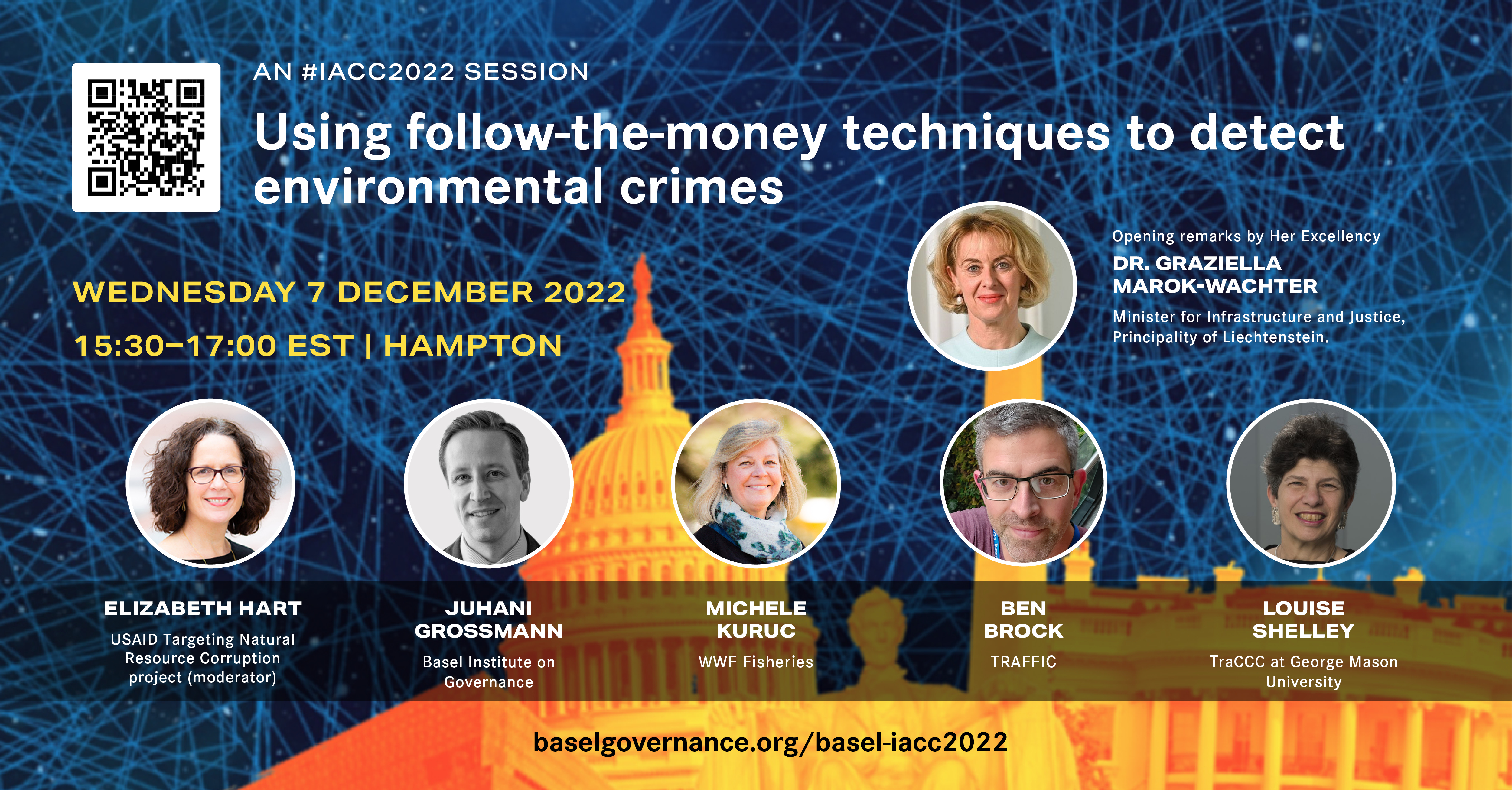 A key session at the 2022 International Anti-Corruption Conference will shine a spotlight on efforts to take the profit out of environmental crimes like illegal wildlife trade, fishing, logging and mining.
Following (and confiscating) the money seems an obvious way to disrupt criminal networks engaged in environmental crimes, identify the kingpins and corrupt facilitators, and remove the profit motive. In practice, it is proving challenging. Why? What can practitioners do to ensure financial investigations achieve their potential in the fight against environmental crime?
Organised by the Basel Institute's Green Corruption team, the event will draw on panellists' practical experiences seeking to make financial investigations a standard part of environmental crime investigations. Liechtenstein's Minister for Infrastructure and Justice, Her Excellency Dr. Graziella Marok-Wachter, will set the scene with opening remarks.
Following the money in practice
Numerous policy bodies, including the FATF, OECD, G20 and UN General Assembly, have urged states to incorporate financial investigations into their environmental crime arsenal.
The logic is obvious. Rarely do seizures of illicit goods alone reveal the entire criminal network. This leaves criminal kingpins and their corrupt facilitators unpunished. They are able to both continue deploying their illicit funds for more criminal activity and – after laundering the money – enjoy the privileges they bring. 
The reality on the ground, however, is that financial investigations remain an afterthought and the exception, not the rule. With some notable recent exceptions, few environmental crime cases so far have featured asset seizures and confiscations, or even significant financial damages.
This is certainly not for a lack of trying. Numerous anti-corruption and conservation groups have provided consistent technical support to wildlife agencies with law enforcement functions to strengthen this technique. However, most environmental agencies with enforcement functions struggle to transition from a commodity-focused approach that prioritizes seizures of wildlife goods to one where the finances of the criminal organisations are probed. The result is that top-level traffickers of wildlife and other environmental goods are still rarely punished, unlike the poachers and low-level operators caught red-handed. And government officials suspected of facilitating the crimes are almost never the targets of investigations.
The panelists will share their experiences providing technical support to wildlife agencies with law enforcement functions to strengthen the use of financial investigation techniques. They will highlight how such approaches need to be fine-tuned to increase the likelihood of success.
Who, when and where
The panel takes place on Wednesday 7 December from 15:30–17:00 EST at the International Anti-Corruption Conference (#IACC2022) in Washington D.C. (Hampton room).
Her Excellency Dr. Graziella Marok-Wachter, Liechtenstein's Minister for Infrastructure and Justice, will make opening remarks. The Principality of Liechtenstein has long been a strong supporter of efforts to combat environmental crime and corruption and is a core donor to the Basel Institute's Green Corruption programme.
Elizabeth Hart of WWF will moderate the discussion, drawing on her vast experience in environmental corruption as Chief of Party of the USAID Targeting Natural Resource Corruption (TNRC) project. Panellists are drawn from the TNRC project consortium and the Basel Institute, including:  
Juhani Grossmann of the Basel Institute on Governance
Michele Kuruc of WWF Fisheries
Ben Brock of TRAFFIC
Louise Shelley of the Terrorism, Transnational Crime and Corruption Center (TraCCC) at George Mason University.
More
WWF International and US, Transparency International, the Basel Institute on Governance and TRAFFIC are jointly launching a new Community of Practice on Countering Environmental Crime at #IACC2022. The launch will take place on Tuesday 6 December at 15:30 EST at the session: A call to action: building bridges across conservation and anti-corruption practice to stop environmental corruption from the ground up.
See all events of the Basel Institute at #IACC22.
See an overview of illicit financial flows, money laundering and follow-the-money approaches on the TNRC knowledge hub.
If you are a journalist wishing to cover this event and/or would like to interview the organisers, please contact monica.guy@baselgovernance.org.