15. June 2023
Updated OECD Guidelines on Responsible Business Conduct encourage anti-corruption Collective Action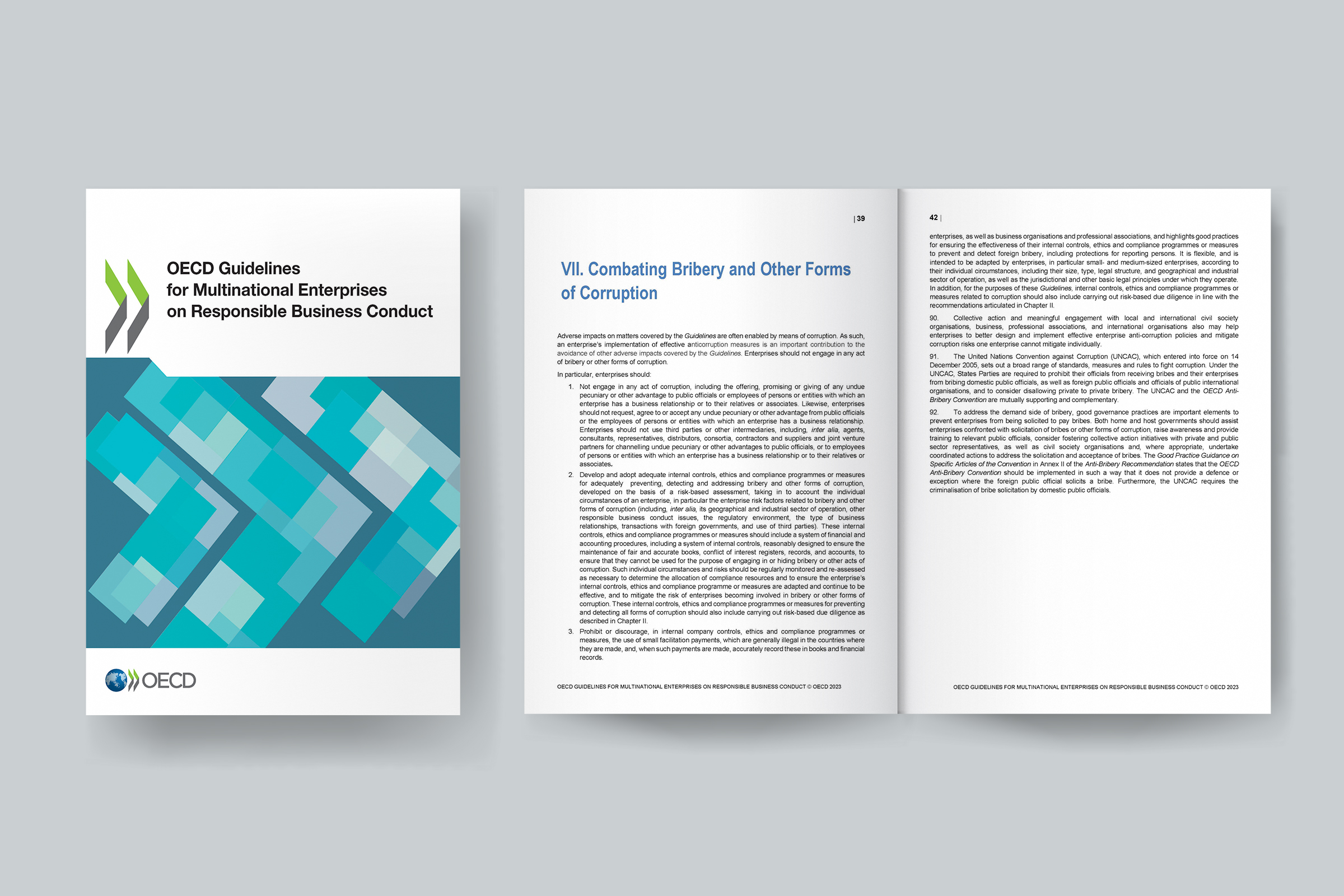 "Collective action and meaningful engagement with local and international civil society organisations, business, professional associations, and international organisations also may help enterprises to better design and implement effective enterprise anti-corruption policies and mitigate corruption risks one enterprise cannot mitigate individually."

"Both home and host governments should [...] consider fostering collective action initiatives with private and public sector representatives, as well as civil society organisations and, where appropriate, undertake coordinated actions to address the solicitation and acceptance of bribes."

– OECD Guidelines for Multinational Enterprises on Responsible Business Conduct (Chapter VII)
In another boost for anti-corruption Collective Action, the OECD has included the approach in its updated Guidelines for Multinational Enterprises on Responsible Business Conduct.
First published in 1976, the highly influential document guides multinational enterprises (MNEs) on how to enhance their contribution to sustainable development and reduce adverse impacts of their business.
Updates over the years reflect how both societies and expectations on businesses are changing. The latest update, made on 8 June 2023 at the 2023 OECD Ministerial Council Meeting, is no exception. Alongside the inclusion of Collective Action in Chapter VII on Combating Bribery and Other Forms of Corruption, the updates include new recommendations on aligning with international environmental goals and introducing due diligence for new technologies and data usage.
Why Collective Action makes sense for MNEs
As our Private Sector team emphasised in our contribution to the public consultation on the updated Guidelines, Collective Action is a valuable tool for MNEs.
Through constructive dialogue with other stakeholders across the public and private sectors and civil society, multinationals can improve the effectiveness of their anti-corruption compliance mechanisms and harmonise (or raise!) standards of integrity and fair business across their industry.
For example, a set of indicators for reporting on the effectiveness of anti-corruption programmes in the pharmaceutical industry, developed by leading pharmaceutical MNEs through a Collective Action initiative in 2020, is now seeing uptake across the industry. Success stories such as the Maritime Anti-Corruption Network also reveal how Collective Action can help overcome corruption challenges that no single company – however powerful – can solve alone.
There are many more examples on the database of initiatives on our B20 Collective Action Hub resource centre.
Collective Action in international standards
The inclusion of anti-corruption Collective Action in the updated OECD Guidelines for MNEs follows its endorsement in the updated OECD Anti-Bribery Recommendation in 2021.
Other recent high-profile documents include the European Commission's Handbook of good practices in the fight against corruption and recommendations presented at the B20 Indonesia Summit in 2022.
The Basel Institute's Private Sector team is working together with global partners to make anti-corruption Collective Action a "go-to" tool for governments, businesses and civil organisations seeking to create fairer and more transparent business conditions. Endorsements such as those of the OECD are a welcome boost to these efforts, joining others by international organisations, international financial institutions and national governments worldwide.
More