06. January 2021
Unpicking the vicious triangle of corruption, illicit trade and environmental degradation at the OECD/Basel Institute dialogue series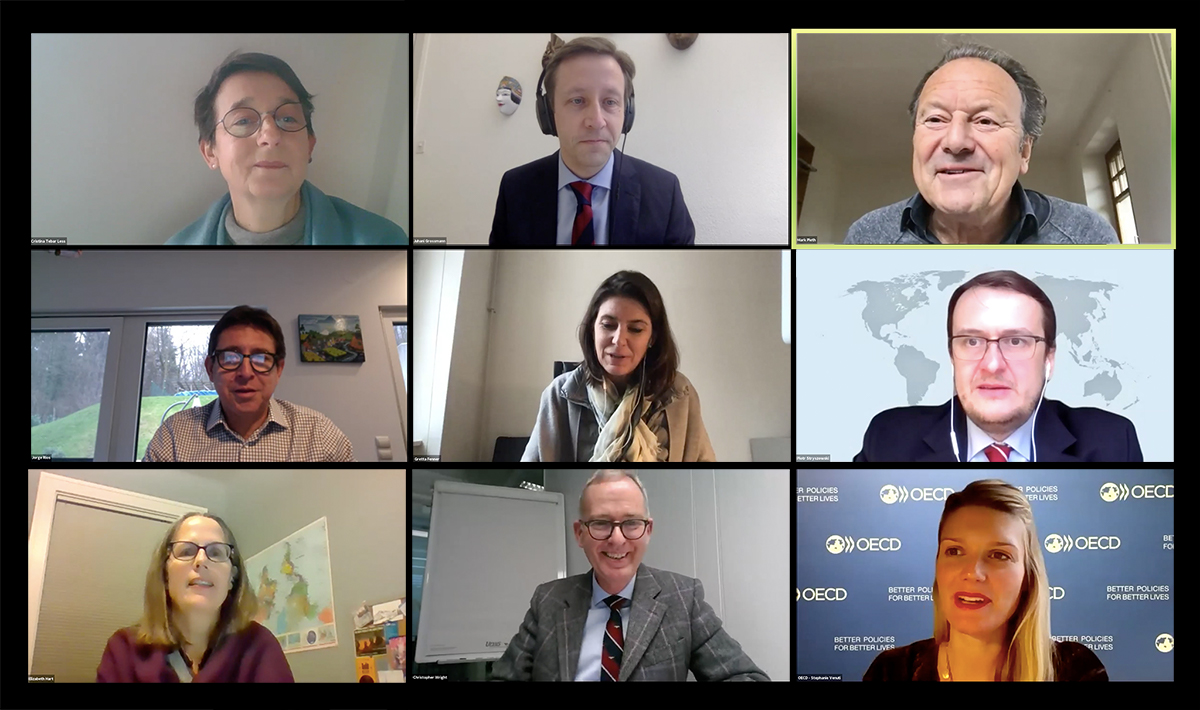 Business, conservation, anti-corruption, global trade, compliance and risk management. International law, organised crime enforcement, standard-setting, political economy analysis and social norms. The inaugural Corrupting the Environment dialogue used all these lenses to examine the "vicious triangle" that undermines sustainable development: corruption, illicit trade and environmental degradation.
Taking place virtually on 9 December 2020, International Anti-Corruption Day, the event launched a new dialogue series organised by the Organisation for Economic Co-Operation and Development (OECD) and Basel Institute on Governance. The monthly dialogues will bring together different perspectives on burning issues of environmental degradation, seeking creative solutions through the lens of financial crime and illicit trade.
Driving change in global supply chains
Opening the session, Cristina Tebar Less, Acting Head of the OECD Centre for Responsible Business Conduct, highlighted the OECD's Guidelines for Multinational Enterprises and OECD Due Diligence Guidance for Responsible Business Conduct, the recognised gold standard for corporate due diligence covering human and labour rights, environmental degradation and bribery in international supply chains.
The OECD's standards and tools are designed to help shape national policies and enforcement tools, she said, but also to help companies "actively engage their own supply chains and become drivers of change."
Tebar Less noted that covid-19 had exposed the systemic risks and vulnerabilities in global supply chains. And as has been widely documented but is still not widely understood, corruption is a key factor in explaining why and how organised criminals around the world are increasingly able to exploit the environment for their illicit activities.
These issues require a solutions-oriented mindset and engagement between stakeholders on all sides, including business, governments, non-profit and civil society organisations, as well as subject matter experts.
Corruption: the headline, not a footnote
Mark Pieth, President of the Basel Institute on Governance and former Chair of the OECD Working Group on Bribery, stressed the cross-cutting nature of corruption. "It devastates entire societies, destroys natural environments, endangers wildlife and biodiversity, and undermines sustainable and equitable development," he said. "It should not be treated merely as a footnote of criminal law or an aspect of unfair competition."
Giving the example of illegal gold mining and related deforestation and human rights violations in Suriname, he pointed out that complex global supply chains make it easy for illegally obtained natural resources to enter legal markets. The logic behind the Basel Institute's Green Corruption programme is to follow the money trail, said Pieth, and target the corruption and other forms of financial crime that facilitate environmental degradation.
Different dialects of corruption
Elizabeth Hart of WWF US, Chief of Party for the USAID Targeting Natural Resource Corruption (TNRC) project, brought her perspective as an expert at the intersection of anti-corruption, governance and conservation.
Underlining how corruption undermines global and national measures to promote sustainability and protect biodiversity, she explained why the conservation community is and should be engaged on issues of corruption. Along with questions of how illegally harvested goods enter legal supply chains, for example, conservation objectives are deeply affected by policy choices at many other levels. Whether building a hydroelectric dam or granting a logging concession, when systemic corruption influences decisions that can destroy habitats and devastate indigenous communities and the very people who are critical to conservation, it becomes clear that environmental corruption should be seen as a political, policy, and management issue and not just a topic for law enforcement and trade regulators.
Analysing the political, economic and social dynamics that perpetuate corruption and undermine environmental goals has not been the traditional strength of conservation organisations, so the TNRC project was conceived to bring knowledge about corruption and anti-corruption approaches more squarely into the conservation and natural resource management context. Initial studies on corruption risks in illegal wildlife trade, permitting and CITES documentation processes, along with themes like political economy and political ecology, is available on the TNRC Knowledge Hub.
Among other outcomes, the project has helped illuminate how anti-corruption and conservation practitioners need to understand each other better, said Dr Hart. Some of us use "corruption" to mean "the abuse of entrusted power for private gain," while others may be referring to human rights violations, equity and social justice, or even greenwashing. Being aware of the different understandings will help conservation and anti-corruption practitioners work together more effectively and expand the set of tools to combat both corruption and environmental degradation. It may also open new possibilities for partnerships between people promoting environmental protection or human rights and those looking at democracy, justice, equity and other issues that impact sustainable development.
As Basel Institute Managing Director Gretta Fenner, co-facilitator of the panel alongside Piotr Stryszowski of the OECD's Task Force on Countering Illicit Trade, said: Even if we all have the same ultimate goal and are speaking the same underlying language, we use different dialects. That's why the multi-disciplinary – as well as multi-stakeholder – aspect is vital.
The "elusive and omnipresent enemy"
Jorge Eduardo Rios, Chief of the Global Programme to Combat Wildlife and Forest Crime at the United Nations Office on Drugs and Crime (UNODC), brings 27 years of experience targeting organised drug trafficking to the field of environmental crimes.
Corruption is the "elusive and omnipresent enemy" that is the principle facilitator of both drug trafficking and environmental crime, he said. In essence, it helps the criminals to maximise profits and evade detection. He noted that environmental and natural resources crimes are a large and growing source of finance for organised criminal activities, impacting economic and social aspects as well as national security and most recently, human health as demonstrated by the current COVID-19 pandemic.
Almost universally ratified, the United National Convention Against Corruption (UNCAC) explicitly recognises crimes against the environment in its Resolution 8/12 passed at the 2019 Conference of the States Parties in Abu Dhabi. Applying the force of international law through the UNCAC and the United Nations Convention against Transnational Organized Crime (UNTOC) provides a framework for strengthening the entire criminal justice chain – from "crime scene to court" and from source to destination countries.
Countries can implement numerous preventive measures in line with Chapter II of the UNCAC, explained Jorge Eduardo Rios. These include a risk-based approach to identify corruption threats within wildlife and fisheries authorities and establish protocols for high-risk areas like procurement and human resources. Echoing the earlier comments on differences in language and meaning, he stressed that it is also vital to understand the social norms around corruption and the mechanisms that enable it. What law enforcement regards as corruption might be considered routine in another context, and these small routine acts can add up to devastating impacts.
Lastly, he stressed, we shouldn't put all our eggs in the prevention basket. Helping to build capacity to conduct financial investigations in cases of environmental and natural resources crime is an aspect that's sorely needed.
Relevant tools include guides on addressing corruption in the fisheries sector (Rotten Fish) and on addressing corruption for wildlife management authorities (Scaling back Corruption). Complementing the series, a publication on corruption in the forestry sector is currently under development. Additional UNODC tools can be found here.
Going beyond legal compliance to meet investor and consumer expectations
Bringing the business perspective to the table was Christopher Wright, Senior Vice President for Compliance at Lafarge Holcim. The Swiss multinational has the largest geographical footprint in the building materials sector, with 2,000 sites in 70 countries. Environmental issues such as water use, biodiversity and of course climate change present a very real and present challenge.
Lafarge Holcim has taken the Business Ambition for 1.5°C pledge to follow a net zero pathway with science-based targets for carbon emissions reductions by 2030, and has launched the industry's first sustainability-linked bond. Its two-pronged approach encompasses active promotion of better building in the environmental space (such as to reduce water usage and carbon emissions) and active prevention to protect the environment.
Wright explained how anti-corruption compliance and environmental protection converged in many areas, including the key risk area of obtaining permits and licences. Environmental issues are central to the overall Lafarge Holcim compliance programme, which covers not only anti-corruption but also anti-money laundering, sanctions and due diligence on business partners, customers and suppliers.
In this respect, he noted a growing convergence between legal requirements on compliance and the wider expectations from investors and communities on corporate behaviour. These reputational and financial aspects are driving companies to go beyond legal necessities, said Wright, and to proactively embrace environmental, social and governance (ESG) issues.
Is there room for the building materials industry to act collectively with other stakeholders to solve some of these issues? "An emphatic yes," said Wright.