11. December 2020
Subnational Public Finance Management Programme in Peru hits the ground running in second phase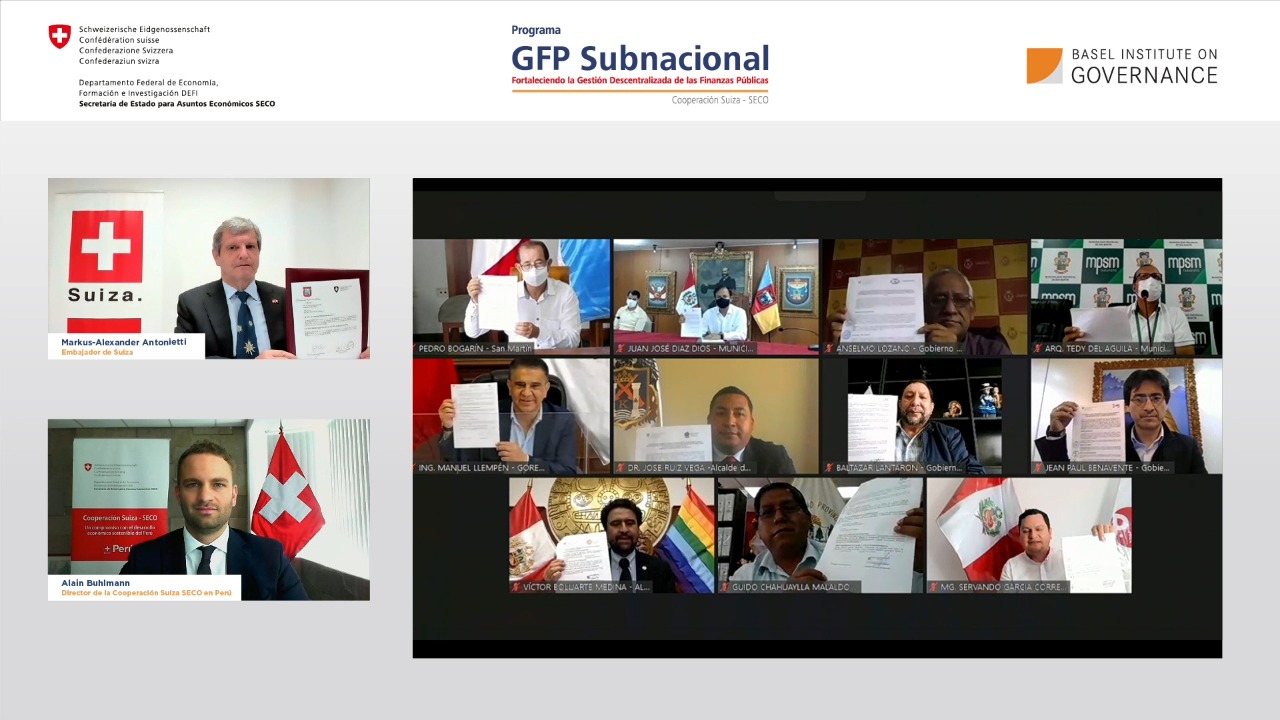 A Swiss-funded programme to strengthen public finance management at the local and regional levels in Peru has entered its second phase, with a virtual launch event gathering high-level diplomats and subnational government leaders.
Supported by the Swiss State Secretariat for Economic Affairs since 2013 and implemented by the Basel Institute's regional office in Peru, the Subnational PFM Strengthening Programme, supports five local and six regional governments across the country. The overall goal is to improve the management of public spending and thereby the quality of services enjoyed by the Peruvian people.
The Swiss Ambassador to Peru, Markus-Alexander Antonietti, commented that through the programme,
"Switzerland will continue to support Peru in promoting adequate institutions and trained officials at the subnational level. We know that an orderly, efficient and transparent management of public finances is a fundamental ingredient in the provision of basic services such as health, education and sanitation. This contributes to the sustainable development of a country and to the reduction of poverty".
Alain Bühlmann, Director of the Swiss SECO Cooperation in Peru, added that:
"This second phase of the Subnational PFM Strengthening Program has been designed taking into account the good practices learned so far, as well as the particular characteristics and needs of each regional or local government. We at the Swiss SECO Cooperation hope that these efforts will bear fruit. We want to accompany the coordination, effectiveness and implementation of policies that help to achieve sustainable development and improve public services for citizens".
Carlos Vargas Mas, Programme Director, highlighted the main objective of strengthening the management of public finances of these subnational governments. This will promote transparency and better allocation of public resources, and thus be able to contribute to better provision of basic services such as education, health and sanitation.
From 2020 to 2023, the second phase will seek to consolidate the clear success of the early pilot and first phase of the Programme by promoting deeper dialogue and the long-term sustainability of the PFM reforms.
It will focus on optimising the processes of managing capital expenditure and prioritised basic services, on prioritised property tax collection in local governments, on strengthening internal controls and public integrity in subnational governments, and on recovering stolen public assets.
Find out more