29. July 2020
New agreement with Peru's Special Public Prosecutor's Office brings fresh firepower to efforts to recover stolen assets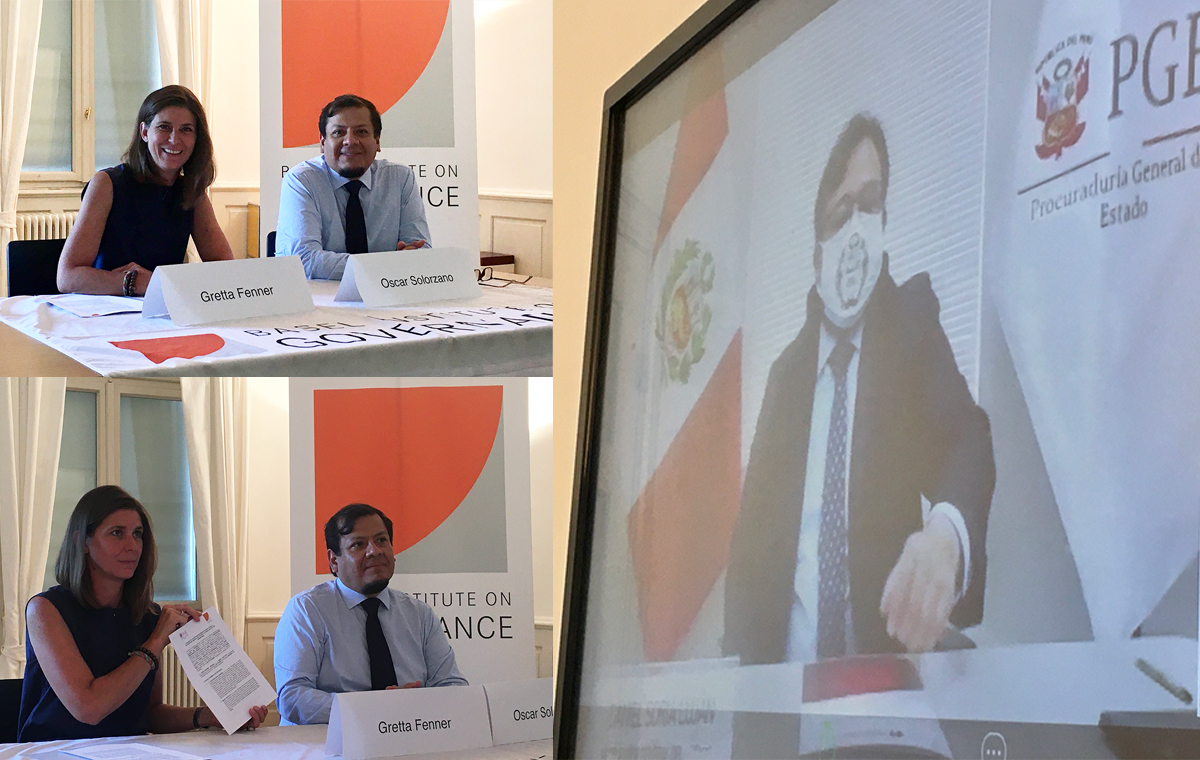 We are delighted to have signed a new framework agreement with Peru's Special Public Prosecutor's Office.
The Special Public Prosecutor's Office (Procuraduría General del Estado del Perú) was established in 2019 as an independent authority within the Ministry of Justice and Human Rights. In collaboration with the Attorney General's Office, it is responsible for advancing prosecutions of offences where the Peruvian State is the victim, including corruption, money laundering and environmental crimes.
The signing of this agreement is an opportunity to renew our congratulations to Peru for establishing the new Office and to Dr. Daniel Soria Luján for his appointment as Special General Public Prosecutor.
The agreement builds on our seven-year engagement with the country's key institutions for combating corruption and recovering stolen assets. It covers:
Technical assistance in recovering assets arising from acts of corruption, money laundering or other financial crimes that are located outside of Peru;
Technical assistance in developing training programmes and building the capacity of Peru's specialised prosecutors in matters of corruption, money laundering and asset recovery;
Support for cases based on Peru's non-conviction-based confiscation legislation, known as extinción de dominio.
This support will continue to be carried out by experts of our International Centre for Asset Recovery (ICAR) based in our regional office in Lima, Peru.
Growing capacity to recover stolen assets
Through ICAR, we have been supporting the Peruvian justice authorities since 2013, when we first signed a framework agreement with the Ministry of Justice and Human Rights covering technical support and capacity building to the Office of the Specialised Anti-Corruption Prosecutor.
Since then, Peru has made significant strides in recovering illicit assets from Switzerland and Luxembourg, including in a set of high-profile cases linked to former presidential adviser Vladimiro Montesinos. Over USD 30 million have been recovered so far and are currently being repatriated.
We have also been delighted to see landmark recoveries already achieved under Peru's new extinción de dominio legislation, which was developed and is being implemented with ICAR support.
These successes bear witness to the development and strengthening of the country's justice system, as well as the capacity of its investigators, prosecutors and judges, over these years. The establishment of the independent Special Public Prosecutor's Office will now consolidate the work of the various specialised prosecutorial offices. It will bring fresh firepower to the fight against corruption and renewed momentum to efforts to recover stolen assets for Peru.
Virtual signing ceremony
The signing ceremony took place by video conference on 29 July, a day after Peru's National Day. Dr. Daniel Soria Luján, Special General Public Prosecutor, was present along with Dr. Martín Mijichich Loli, Technical Secretary of the State Council for Legal Defence, Amado Enco Titado, Special Prosecutor for Corruption Offences, and Sonia Medina, Special Prosecutor for Drug-related Offences. Dr. Soria Luján emphasised the importance of the agreement, stating that asset recovery and the fight against corruption are responsibilities that are shared between governments, civil society and international organisations like the Basel Institute on Governance.
Representing the Basel Institute were Gretta Fenner, Managing Director, and Oscar Solórzano, Head of Latin America and Senior Asset Recovery Specialist. In her speech at the ceremony, Gretta Fenner expressed her sincerest thanks for the trust and excellent cooperation between the Special Public Prosecutor's Office and the Basel Institute on Governance. "If there ever is a time when corruption is destroying lives," she said, "and when recovering stolen assets can save lives, this is now."
Learn more about our asset recovery in Peru