27. January 2019
Mark Pieth on commodity trading, gold and investment – interview with cash.ch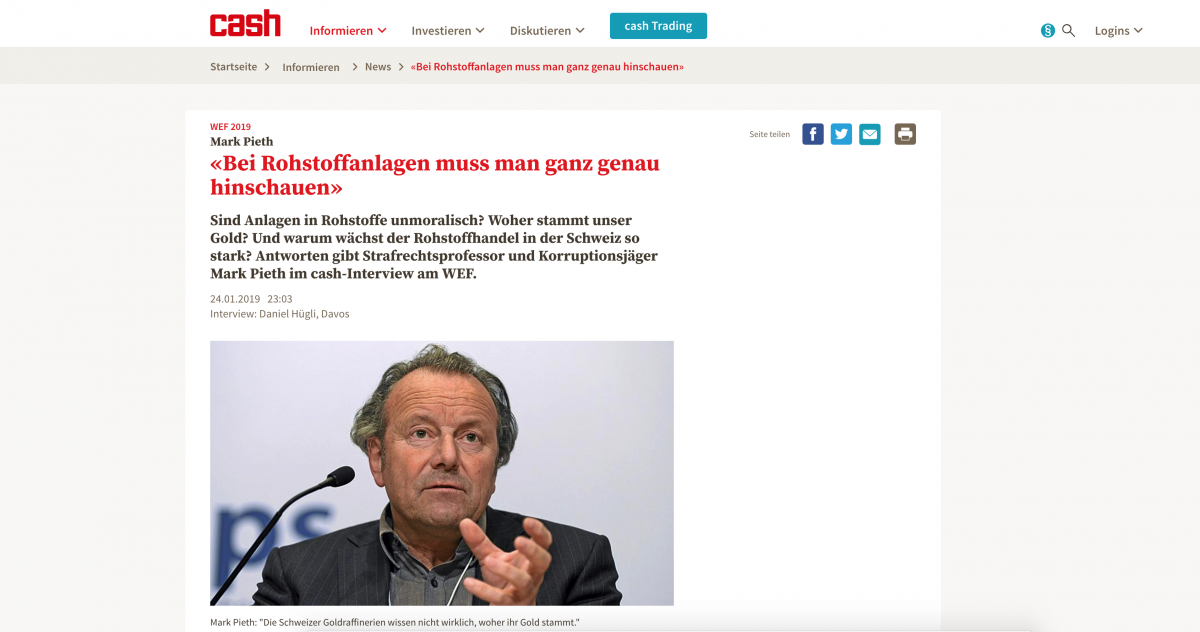 Basel Institute President Mark Pieth was interviewed by cash.ch journalist Daniel Hügli at the 2019 World Economic Forum in Davos. See the original interview here.
Below is the (unofficial) English translation of his comments on commodity trading, gold supply chains and clean investments. 
"You have to pay real close attention to commodity investments"
Are investments in commodities immoral? Where does our gold come from? And why is commodity trading growing so strongly in Switzerland? 
Criminal Law Professor and corruption fighter Mark Pieth answers these questions and more in an interview with cash.ch at the World Economic Forum. 
cash: Mr. Pieth, don't you sometimes feel out of place at the WEF as a professor of criminal law and an anti-corruption activist? 
Mark Pieth: When I first started coming here, more than 10 years ago, I felt like a clown. We, that is PACI (editor's note: Pieth is co-founder of the 'Partnering Against Corruption Initiative' of the WEF), have long been uncertain whether our activities are really relevant for the business world. Over time, however, we got the feeling that we had influence. This has to do with the fact that the penalties are now enormously high if you do something stupid, especially in the USA. But also with the fact that I have become an expert in arbitration cases. This is partly about insanely high sums.
cash: According to the list of WEF participants, the top managers of all the major commodity companies in Switzerland are in Davos. But they're staying in the background. What are these people doing here?
Pieth: That's easy to explain. Every boss of these commodity companies sits here in a hotel and has a different conversation every quarter of an hour. I used to do this myself at the oil companies. I just rattled them off. In the arms industry there was once a difficult case, namely British Aerospace with its case of corruption in Saudi Arabia. We made peace, so to speak, during this conversation. The deal was: I would become less 'sharp', and British Aerospace had to make sure that the UK got a new law. So on the one hand you catch these people in Davos in a more relaxed environment. On the other hand, people are clearly here to do business.
cash: Glencore, Trafigura, Vitol and so on: Switzerland's six largest companies in terms of turnover are commodity companies, followed by Nestlé in seventh place. Why is this sector growing so strongly? 
Pieth: This development was to be expected. Switzerland used to be a manufacturing centre as well as strong in the financial services sector. The machinery industry, for example, is now moving away. Switzerland is increasingly being pushed into specialist areas. Commodity trading is one of them.
cash: What is the role of Switzerland's well-known advantages as a business location? 
Pieth: Not so long ago, some company executives told me they were in Switzerland just because of taxes. And the well-known commodities trader Marc Rich said bluntly: If you put me under the Money Laundering Act, I'm going. I know that because at the time I was sitting in a commission of the Department of Finance. But the companies have realised today that they have to do something. Recently, this has included going through a process of opening up – to some extent.
cash: In its reports on raw materials and gold, the Federal Council focuses on self-regulation by the industry instead of new laws. Parliament also wants it that way. Does self-regulation work?
Pieth: I have concerns about that. I say this with my 25 years of experience in the fight against corruption and in the field of money laundering. Self-regulation is okay, but we must set clear guidelines, as the European Union has done for example [with the Conflict Minerals Regulation]. It has declared the relatively soft OECD requirements [the OECD Due Diligence Guidance for Responsible Supply Chains of Minerals from Conflict-Affected and High-Risk Areas] binding.
cash: This EU regulation comes into force in 2021. How do Swiss gold refiners, for example, behave when they have dealings with the EU? Then they have to apply EU rules. 
Pieth: Switzerland imports about 70 percent of the world's gold production. In the Gold Report, the Swiss legal situation is equated with South Africa, the United Arab Emirates and India. But this is the 'dirty competition'. Switzerland is on a different level, especially with regard to human rights.
cash: The main problem for Swiss gold refiners is the origin of their raw material. Do the companies make enough efforts? 
Pieth: They're trying hard – on paper. They don't really know where their gold comes from. They know the supplier, for example an export company from Peru, but not the whole supply chain behind it. I wanted to personally find out the origin of the gold last summer. That's a frightening story. 
cash: Tell us. 
Pieth: A Swiss refinery obtains all its gold from the area around Lake Titicaca in Peru. I drove there and saw a slum with 60,000 miners and 4,000 forced prostitutes near the glacier at an altitude of 5,500 meters. All that gold mining there is illegal. The miners work for 28 days without pay in order to have access to the mine. Then they are allowed to mine gold for themselves for two or three days. That is the way the Incas did it in the old days. That way you can earn $400 or more a month. There are only 20 cops there. The reason there are so few is because they only make $200. The cops become miners as soon as they arrive.
cash: That doesn't sound safe. How did you get access to this place? 
Pieth: I asked a journalist from Lima to accompany me. She knows about gold and also knows miners personally. We were then passed from priest to priest, until we ended up talking to a well-known engineer of the mine. We went there with the protection of the Catholic Church.
cash: Are investments in commodities immoral? 
Pieth: I don't think so. There are big differences. The Norwegian sovereign wealth fund, which is fed by the country's oil revenues, pays close attention to its investments. But if you invest in the Congo, there is a relatively high risk that the investments will be linked to the civil war.
cash: And from the private investor's point of view?  
Pieth: You really have to keep your eyes open. Investments in cocoa sound relatively harmless. But there is a fair amount of child labour in this sector. Coffee looks better. Organised crime in Colombia, for example, is not widespread in the coffee sector. In the case of cereals or rice, there is a risk that you might contribute to fuelling price increases. 
cash: Some companies, such as the Zürcher Kantonalbank, offer their customers 'Fair Gold' or 'Clean Gold'. Does it live up to its promise? 
Pieth: I also visited such places in Peru, where gold is mined and processed under better conditions, during my trip last summer. Even with these certified products, there is no guarantee that mercury or cyanide will not be used during processing. These are highly toxic substances. But child labour is excluded and the workers are at least subject to labour laws.
cash: We live in times characterised by less tolerance towards critics. Have you ever been put under pressure or attacked by more modern means, such as cyber attacks? 
Pieth: When I was working at the OECD, I was relatively harsh with both countries and companies. I've been threatened with defamation several times. During my work at 'Oil for Food' in New York we changed the ceiling panels of our office every two weeks due to possible bugging and unscrewed the telephones. We also had a secret service come to give advice. Personally, I had to make sure that there was no risk of eavesdropping and that no one came into my office. So in the end, it happened that my office was not cleaned for over a year (laughs).
Mark Pieth (65) has been Professor of Criminal Law, Criminal Procedure and Criminology at the University of Basel and an Honorary Doctor of Sussex University in the UK since 1993. He is founder and President of the Basel Institute on Governance and was President of the OECD Working Group on Bribery in International Business Transactions from 1990 to 2013. From 2011 to 2013, Pieth also chaired FIFA's independent governance committee. He resigned from this post in protest.