12. August 2014
ICAR mandated to assist Ukraine in recovering Yanukovych assets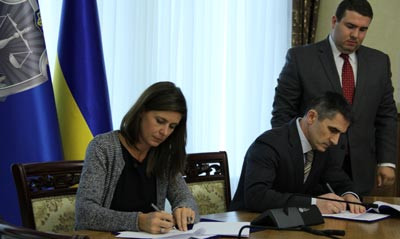 The Office of the Prosecutor General of Ukraine (GPO) mandated the Basel Institute on Governance's International Centre for Asset Recovery (ICAR) to assist with tracing and recovering assets stolen by former Ukraine President Viktor Yanukovych and his inner circle. The agreement was signed on Monday, 11 August 2014, in Kyiv by the Prosecutor General of Ukraine, Mr Vitaliy Yarema, and Basel Institute Managing Director Ms Gretta Fenner.
Technical assistance requested from ICAR by the GPO relates, notably, to financial investigation and the prosecution of corruption and money laundering offences. ICAR will also assist in liaising with foreign jurisdictions, through informal contacts and by using formal mutual legal assistance channels. By providing expertise in this area, ICAR will support GPO investigators and prosecutors to locate stolen assets, to obtain evidence domestically and from abroad to enable a successful confiscation of the assets and, ultimately, to return the stolen assets to Ukraine.
During the signing ceremony, both Mr Yarema and Ms Fenner noted the considerable challenges that lay ahead in this task, caused for example by the fact that vast amounts of assets were stolen in cash which makes them harder to trace, and that many assets are expected to be located in jurisdictions which have not in the past shown great willingness to cooperate with foreign states in the recovery of stolen assets.
Immediately after the signing of the agreement, a team of ICAR investigators, prosecutors and international cooperation experts began work with the GPO. Based on the experience that the recovery of stolen assets is a highly time consuming and intricate process, it is expected that the cooperation will continue over a few years.