16. May 2019
FRACCK agreement with Kenya illustrates that partnership is essential when the disposal of confiscated assets should benefit development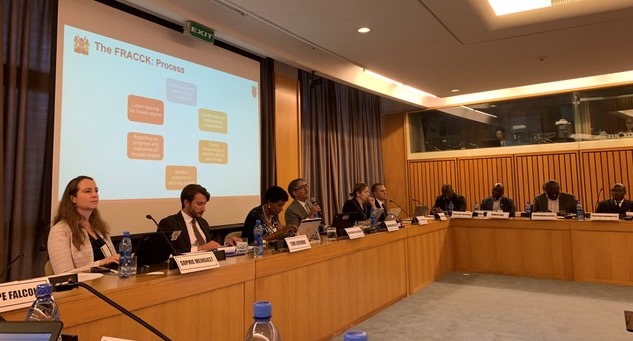 The Framework for the Return of Assets from Corruption and Crime in Kenya (FRACCK), agreed and signed by the Governments of Kenya, Jersey, Switzerland and the UK in 2018 with support from the Basel Institute's International Centre for Asset Recovery (ICAR), is already generating strong interest for its "innovative" and "novel" approach to asset return.
These were the words of Brigitte Strobel-Shaw, Officer-in-Charge of the Corruption and Economic Crime Branch of the UNODC, during a May 7-9 International Expert Meeting on the Return of Stolen Assets. 
The FRACCK sets out good practices for the return of stolen assets to Kenya. It encourages transparency and accountability, as well as the use of returned assets to advance sustainable development and benefit citizens. Read more about it here.
At the meeting in Addis Ababa, co-hosted by UNODC and the Governments of Switzerland and Ethiopia, participants commented positively on how FRACCK establishes clear communication channels and shared principles for the return of assets between jurisdictions.  
ICAR has been advocating for these principles ever since asset recovery was made a fundamental principle of international law under the UN Convention against Corruption (UNCAC). Indeed, FRACCK demonstrates how Article 57 paragraph 5 of the UNCAC can be implemented in practice. The Article encourages States Parties to conclude agreements or mutually acceptable arrangements for the final disposal of confiscated property.
Gretta Fenner, Managing Director of the Basel Institute and ICAR, highlights that "the FRACCK shows how meaningful disposal of confiscated property is in the interest of both requesting and requested party. It is not a topic that should oppose these parties, but instead bring them together."
ICAR experts continue to participate in the working group and support the parties in implementing the FRACCK on a case-by-case basis, including for high-profile asset recovery cases such as Anglo Leasing and Windward Trading Ltd.
The agreement is open for signature by any other interested jurisdiction and the concept could well be replicated and adapted to other contexts.
Photo courtesy of the Government of Jersey.