15. December 2019
COSP side event: Living up to the spirit of articles 43 and 46 UNCAC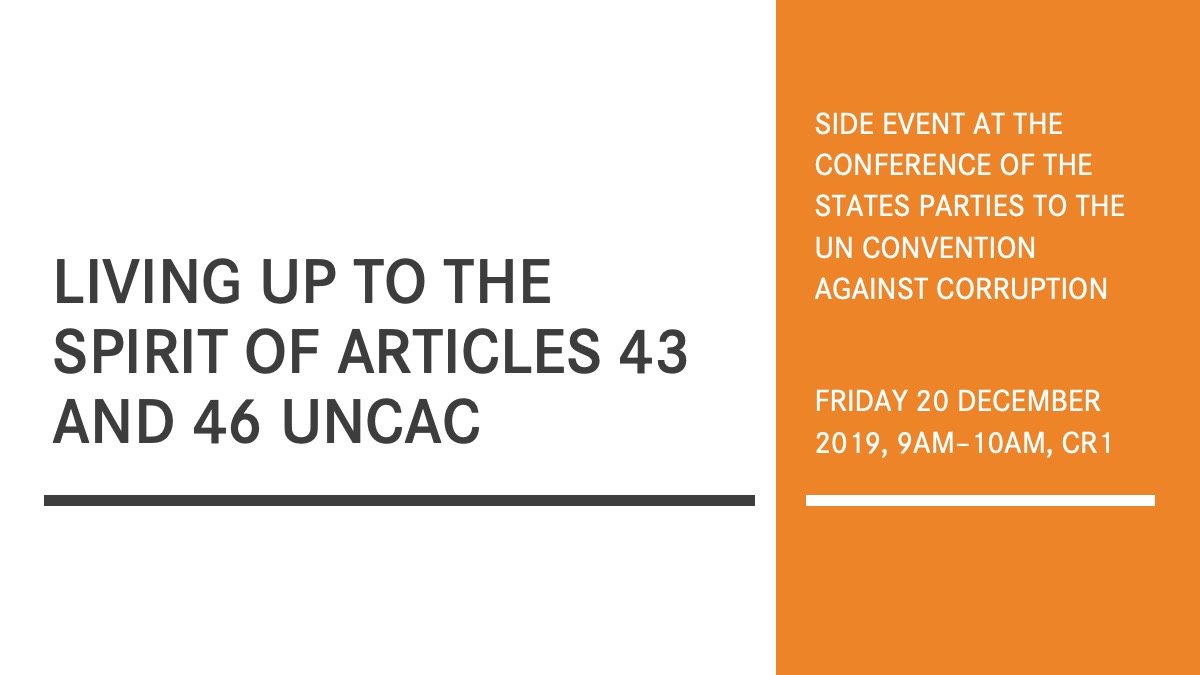 The Basel Institute's International Centre for Asset Recovery (ICAR) is hosting a side event on "Living up to the spirit of articles 43 and 46 UNCAC" at the Conference of the States Parties to the UN Convention Against Corruption (COSP8). 
UNCAC Articles 43 and 46 deal with international cooperation and mutual legal assistance. 
How can their principles provide answers to countries that are victims of corruption and seeking to recover assets through non-conviction-based confiscation?
Join the panel of expert practitioners from Peru, Switzerland, Germany and Kenya on Friday 20 December, 9am–10am, in conference room CR1 of COSP. 
Questions
Why is it so difficult for countries that have been victims of large-scale corruption to get international asset confiscation orders enforced?
How can we make it easier for states to afford one another, as Article 46 requires, "the widest measure of mutual legal assistance" in asset recovery cases?
What can we learn from successful cases of international cooperation in asset recovery?
Panellists
Oscar Solórzano, Senior Asset Recovery Specialist and Country Manager Peru, Basel Institute on Governance
Hamilton Castro, Specialised Prosecutor, Office of the Attorney General, Peru
Barbara Kammermann, Swiss Federal Office of Justice, Switzerland
Markus Busch, Head of Division, Federal Ministry of Justice and Consumer Protection, Germany
Muthoni Kimani, Director, Asset Recovery Office, Kenya
Information