01. June 2023
Community of practice emerges from Southern Africa Anti-Corruption Collective Action Forum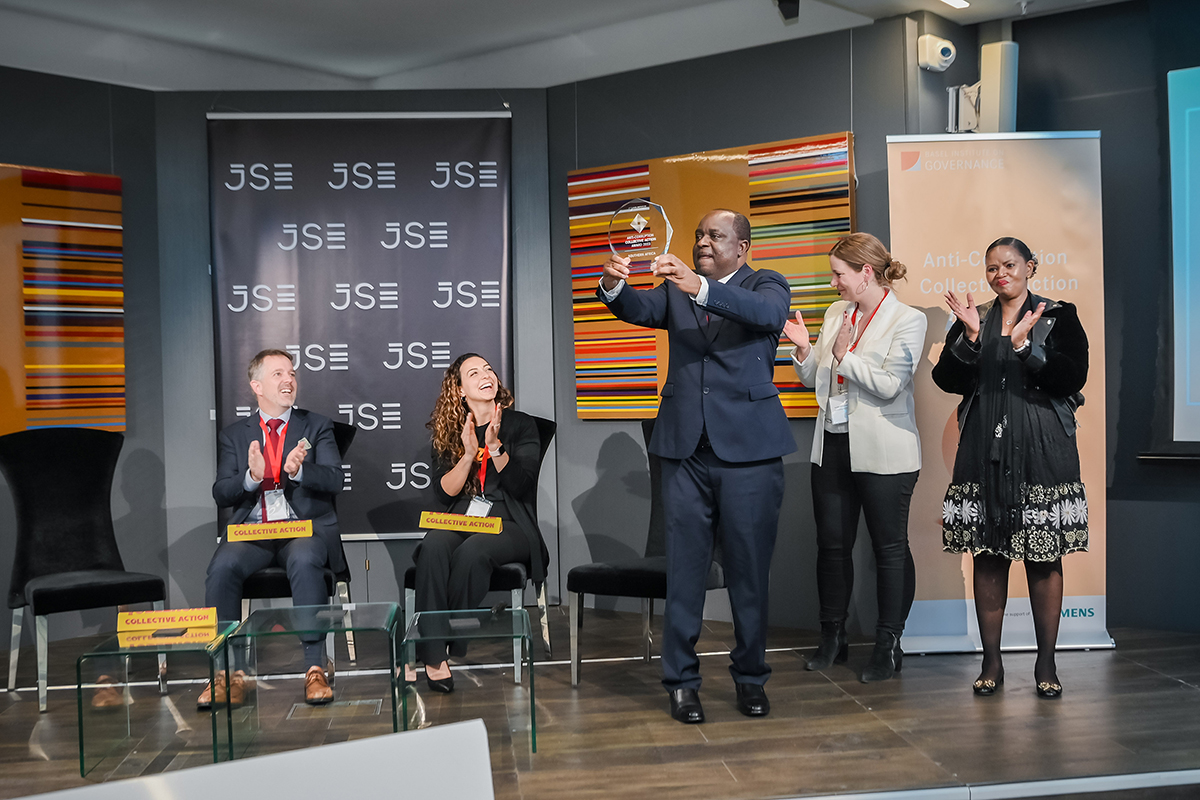 Across Southern Africa, leaders from the business community, civil society and government are coming together to strengthen business integrity and thus catalyse the region's huge economic potential.
That groundswell of multi-stakeholder action – anti-corruption Collective Action – was on display on 31 May at the Southern Africa Anti-Corruption Collective Action Forum. The Forum marks the emergence of a regional community of practice that will sustain and multiply the efforts of the 66 inspiring professionals present.
Held in Johannesburg, South Africa, the one-day Forum was organised by the Basel Institute on Governance together with The Ethics Institute and Southern African Anti-Corruption Network (SAACoN). This event was held with the support of the Siemens Integrity Initiative.
Joint action against corruption
Among the participants were representatives of businesses and industry associations; governments, including anti-corruption agencies and offices of the ombudsman; and civil society organisations.
Highlights included:
A provocative panel on how institutions like the stock exchange can improve corporate governance in a country.
A group reflection on the challenges that anti-corruption Collective Action initiatives encounter in Southern Africa and ways to overcome them.
Whistleblowing in the private and public sectors and changing the culture to one of "speaking up" about corruption.
Breakout sessions on new training or reporting tools and certification opportunities.
A keynote speech by Mosilo Mothepu, a former CEO at Trillian Financial Advisory who blew the whistle on state capture. Her speech, like her book Uncaptured, emphasised the challenges of facing endemic corruption and the need to stand together.
The participants had a preview of the Basel Institute's new, free Collective Action online training course. Soon to be launched on our virtual learning platform Basel LEARN, the course takes users through the fundamentals of setting up an anti-corruption Collective Action initiative.
CoST Uganda wins Collective Action Award
CoST Uganda – the Ugandan arm of the global Infrastructure Transparency Initiative – was presented with a prestigious Anti-Corruption Collective Action Award for its outstanding achievements in tackling corruption and raising standards of business integrity in the region. Gilbert Sendugwa, CoST Senior Regional Manager for Africa, commented:
"This Award is not just for CoST Uganda but for the government, private sector and civil society partners that have worked together to increase disclosure and undertake assurance processes to give meaning to disclosed data, and more importantly the government's commitment to implement recommended reforms. This Award inspires us to continue on this path." 
The other two finalists – the Fisheries Transparency Initiative and MozUp Enterprise Development Center – were also praised for their untiring efforts to bring business, government and civil society together to address specific corruption challenges in the fisheries sector and among Mozambican small businesses.
Coming up
Recordings, additional photos and a written summary will follow shortly – watch this space.
The regional gathering of anti-corruption leaders builds on the success of the International Collective Action Conference series hosted by the Basel Institute on Governance in Switzerland between 2014–2022. Further regional forums will take place in Southeast Asia in late 2023 and in Latin America next year.
See the Basel Institute's B20 Collective Action Hub for more information on upcoming events and Collective Action generally, and follow our Collective Action-focused newsletter, LinkedIn and Twitter accounts.