21. January 2021
27 January: OECD-Basel Institute webinar on illicit trade and natural resources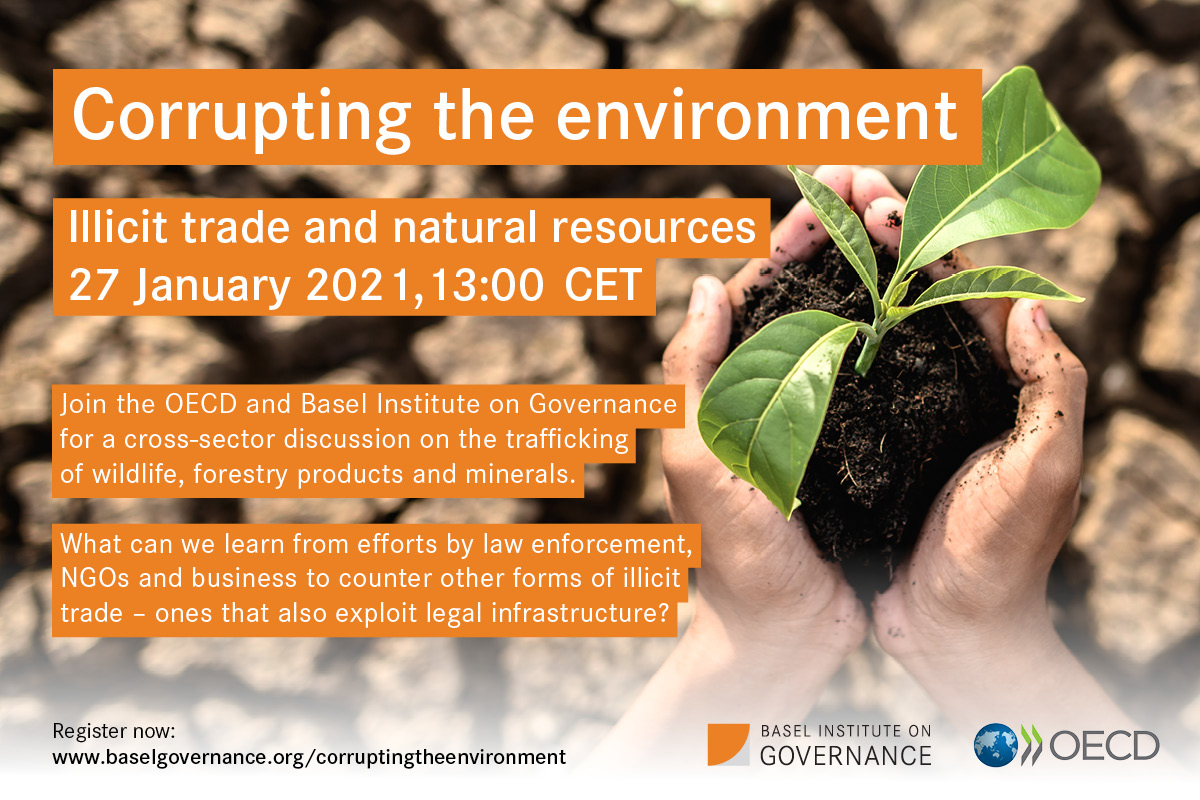 Please join us and our partners at the OECD on 27 January at 13:00 CET for a multi-disciplinary panel discussion on illicit trade in natural resources.
The event is part of the Corrupting the environment monthly dialogue series, which explores creative solutions to burning issues of environmental degradation through the lens of financial crime and illicit trade.
The challenge and the potential
Global trade flows in environmental goods such as wildlife, forestry products and minerals rely on modern logistical and financial infrastructure. However, illicit trade in environmental goods largely abuses the same infrastructure, making efforts to combat this scourge particularly challenging. But there is good news.
Numerous private-sector actors have made gains in combating illicit trade in their own sectors. These lessons might be applicable to the trafficking of environmental goods.
NGOs have analysed such trade patterns at length to draft out trends and mitigation measures.
Law enforcement and public officials have gained significant cross-sector experience in actively countering illicit trade and closing governance gaps that facilitate it. 
The discussion will contrast the experience of the speakers' diverse backgrounds and seek to draw conclusions about cross-sectoral applicability.  
The panel
Piotr Stryszowski, Senior Economist at the Task Force on Countering Illicit Trade at the OECD, will moderate our panel of distinguished speakers:
LCL Christian Tournié, Deputy Head of the Office for European and International Affairs, Central Office for Combating Crimes against the Environment and Public Health, France National Gendarmerie
Crawford Allan, Senior Director Americas and Wildlife Crime, TRAFFIC
Guilhem Isaac Georges, Senior Manager, Sustainability, CMA CGM
Alvise Giustiniani, Vice President of Illicit Trade Prevention, PMI
Sofie Flensborg, Legal Advisor, CITES Secretariat
Register here – we look forward to seeing you online!