14. March 2022
How a participatory approach helped the NRGI to develop effective anti-corruption guidance for oil, gas and mining sectors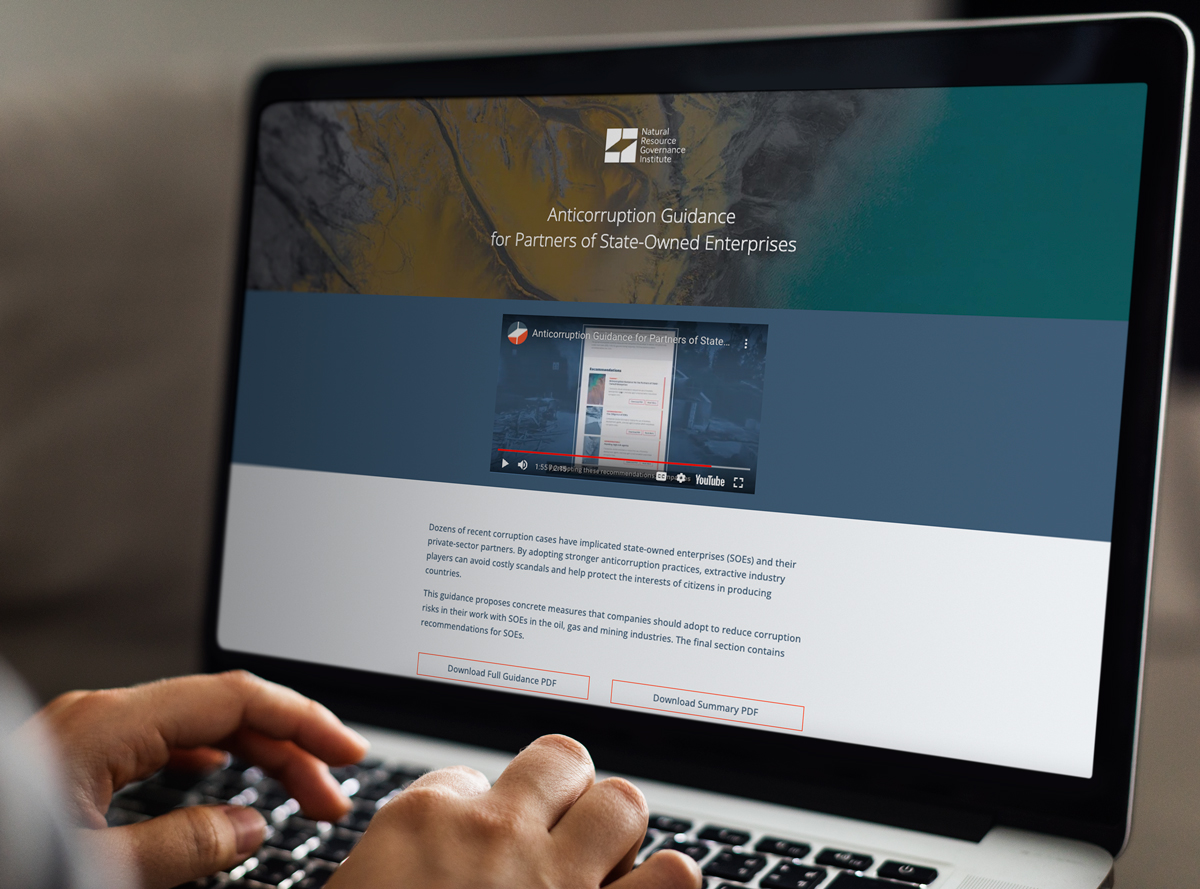 The Natural Resource Governance Institute (NRGI) has launched tailored guidance on measures that companies in the oil, gas and mining sectors can adopt to reduce corruption risks when partnering with state-owned enterprises (SOEs).
Published on a user-friendly website, Anticorruption Guidance for Partners of State-Owned Enterprises also recommends measures SOEs can take to strengthen their own anti-corruption safeguards. The guidance was launched at a virtual event on 26 January 2022, at which our Head of Collective Action Gemma Aiolfi moderated a panel discussion.
In this interview, Alexandra Gillies, Advisor to the NRGI and co-author of the guidance alongside Tom Shipley, explains how and why they developed the guidance over two years of research and multi-stakeholder consultations with private companies, SOEs and civil society stakeholders, including our Collective Action team.
Her insights throw light on the NRGI's approach of conducting extensive, multi-stakeholder consultation and trust-based discussion, which is central to many Collective Action initiatives. A similar process could help practitioners in other sectors and countries to develop guidance that both addresses pertinent corruption risks and has a good chance of being widely adopted.
Anti-corruption recommendations already exist for extractive industries and for SOEs. Why did you decide a fresh approach was needed?
Oil, gas and mining industries are crucial to many countries' development, but the benefits to citizens continue to be lost through corruption. Despite the many valuable efforts to raise standards of integrity and implement safeguards against corruption in these sectors, something is clearly missing the mark.
And the stakes are only going to rise with the commodities boom and explosion in demand for transition minerals. Three issues stand out:
First, interactions between international companies and SOEs in charge of oil, gas and mining resources remain a major problem area.
This finding emerged clearly from our detailed analysis of over 100 past corruption cases across many countries. Initial conversations with compliance officers confirmed that existing measures, and the standard risk-based approach to addressing corruption risks more generally, face difficulties in the case of interactions with some SOEs. They were open to fresh ideas.
Second, existing compliance systems often focus narrowly and inwardly on protecting companies from penalties for violating anti-bribery laws.
Yet many forms of corruption that are the most harmful to citizens are not covered by bribery laws, such as when political elites syphon off hundreds of millions of dollars that could be public revenue. We were keen to address the risks of company activities enabling corruption by helping corrupt actors to carry out their schemes.
Third, voluntary anti-corruption guidance needs buy-in from companies if it is to be effectively implemented across enough of the sector to make a difference.
This means it needs to take into account how companies interact with SOEs in their operations, the risks they face, and what is feasible to implement in their anti-corruption and due diligence systems. We therefore wanted to prioritise learning from private companies and other stakeholders about what's working and what's not in their relationships with SOEs. This is where a Collective Action approach helped.
Who is the guidance aimed at and why?
Despite the focus of the guidance on five specific risk areas between extractive industry companies and SOEs – due diligence, high-risk agents, political exposure, safeguarding payments and joint ventures – many of the recommendations are relevant to a broad stakeholder group.
As well as producers directly involved in extracting natural resources, we proactively involved other companies in the supply chain, notably commodity traders and suppliers to oil, gas and mining companies. Although we drew on existing relationships at NRGI, we also reached out to get new companies involved in the conversation.
Within these companies, we are targeting not only compliance teams but also commercial departments and those responsible for external affairs, transparency, human rights and related issues. This is because we take a broad view of what counts as corruption and what kind of anti-corruption measures can help. In SOEs, we spoke to compliance teams or, where dedicated compliance functions do not yet exist, we engaged the leadership or the legal and procurement departments.
This mix reflects the professional backgrounds of those who took part in the workshops and consultation process.
What were their incentives to take part?
I believe there was a genuine interest among participants in getting new ideas to tackle these common problem areas. And sharing experiences with like-minded professionals who have similar concerns is not only useful and enriching, but enjoyable.
Reputation is also an important factor. As with many Collective Action initiatives, engaging in such a consultation process helps to demonstrate that the company is proactively addressing corruption risks. This is particularly strong for companies that have faced public corruption issues that have damaged their reputation in the eyes of the public, investors or potential employees.
Third, many appreciated the chance to contribute to industry guidance that might become widely accepted standards or influence other standards down the road. Companies have an interest in making it realistic and feasible.
Can you recap the process?
First we conducted a lot of background research, particularly looking into past corruption cases in the extractive sector to understand the problem we were trying to address. The analysis made clear the vulnerability of SOEs in diverse countries to corruption. We then spent some time considering who should be involved in the conversations, including which types of company and from which countries, and getting initial ideas and feedback from colleagues.
After a few initial conversations with relevant stakeholders, we scheduled a first gathering to get feedback on the topic. Prior to the meeting, we discussed the project with many of the invited company representatives in order to provide adequate background. At that first meeting, held in December 2019, around 30 people from companies, academic institutions, NGOs, international organisations and other entities gathered to discuss new approaches to preventing corruption, with a focus on SOEs.
Drawing on the discussions, we then identified five priority areas of business interactions between companies and SOEs that represented particularly high corruption risks – and importantly, where existing measures are not proving sufficient to mitigate them. We then held interviews with stakeholders on these topics, which helped us gather frank feedback on what's working and what's not in each area.
Then, we organised five virtual, invitation-only workshops, one on each of the topics of focus. The workshops provided additional ideas regarding good practices and prevailing challenges, and created opportunities for companies and experts to share ideas on sensitive issues.
Next came the drafting and ongoing consultations with the workshop participants and other stakeholders, including SOE compliance teams, representatives from risk advisory consultancies, anti-corruption experts and academics, and investors. We also consulted with international banks that do business with SOEs; these can provide valuable inspiration for companies seeking to strengthen their systems for conducting customer due diligence.
Drawing on these inputs as well as additional research, we then drafted the guidance, shared it with the participants, and received a very robust set of feedback.
Were you seeking consensus?
No. Importantly, we were clear from the start that the guidance would be the product of consultation, but not consensus. As an independent organisation promoting transparency and accountability in natural resource governance, we knew we might put forward some more ambitious ideas that don't have much support among private companies.
This is a different approach from that of the Extractive Industries Transparency Initiative (EITI), for example, which seeks consensus on its global standard. Civil society organisations sometimes also unilaterally publish recommendations.
Both approaches have merit, but we believe a middle way is appropriate in this case: the guidelines are informed by participants' views and reflect what is realistic and feasible, but we are not asking companies to endorse or sign up to them all.
What are the prospects for widespread adoption, and how will you know?
We hope that, as a first step, some of the participating companies adopt elements of the guidance. We of course also hope to see widespread adoption by companies and SOEs in the sectors. That includes those not directly involved in the development of the guidance.
The participatory approach makes it more likely that companies and SOEs in the sectors will adopt the guidance. Many representatives were actively engaged in its development and can see the results of their contributions. Having been involved in the discussions, they can also understand why in some instances the final document doesn't always reflect their views.
The consultation process also enabled us to build good working relationships, so we hope to get positive responses to our follow-up surveys on the impact of the guidance on policies and practices within the companies.
One difficulty with measuring the impact of the guidance is that companies rarely disclose information about their anti-corruption practices beyond high-level statements. We believe this is a missed opportunity. Many of those involved in the consultations are doing impressive work to mitigate corruption risks and strengthen their anti-corruption safeguards. They should be shouting this kind of thing from the rooftops.
What are potential obstacles?
One big barrier to adoption is the widespread concept of "risk appetite" in business, which weighs up potential financial rewards against financial and other risks, including corruption risks. If the deal is potentially very lucrative, it could tip the balance towards going ahead despite corruption risks that can harm the public interest.
Our guidance seeks to address by encouraging companies to set clear upfront rules – red lines – on what they will not tolerate in any circumstances, even if the financial rewards are huge. But changing that ingrained risk appetite approach more generally is going to take a lot more than our guidance.
What lessons did you learn and what will you take forward?
First, a thorough stakeholder mapping is helpful to gather an influential group of stakeholders.
In this case, we identified that we needed to reach out to more supplier companies, which have traditionally been left out of conversations around extractive sector transparency and governance. Stakeholder mapping doesn't guarantee a perfect mix – our group leaned significantly towards North American, European and Australian companies – but successful Collective Action doesn't require every single actor to be around the table.
Second, building trust between participants – who may be direct competitors – goes beyond basic elements such as confidentiality and anonymity.
We found it useful to clarify from the start that this guidance is NRGI guidance, not the result of consensus or something that companies will be asked to endorse. This helped to set expectations and gave participants the freedom and security to engage with the issues openly and in a good faith way. And that in turn encouraged more hesitant participants to do the same.
Third, don't be afraid to talk about sensitive issues – but to do it in an empirically grounded and evidence-based way.
We felt empowered by our research and data on corruption in the sector. These allowed us to ask pertinent questions, push back where needed and generate real debate. Without that expertise or evidence base, you are standing on much shakier ground.
Going forward, we see great potential for more multi-stakeholder discussion and potentially building Collective Action initiatives around specific issues within the guidance. For example, requirements that companies use third-party agents in particular markets, or around how to utilise beneficial ownership information and respond to political exposure in the supply chain.
Learn more