14. February 2023
How Brazilian agribusinesses are working to root out corruption through Collective Action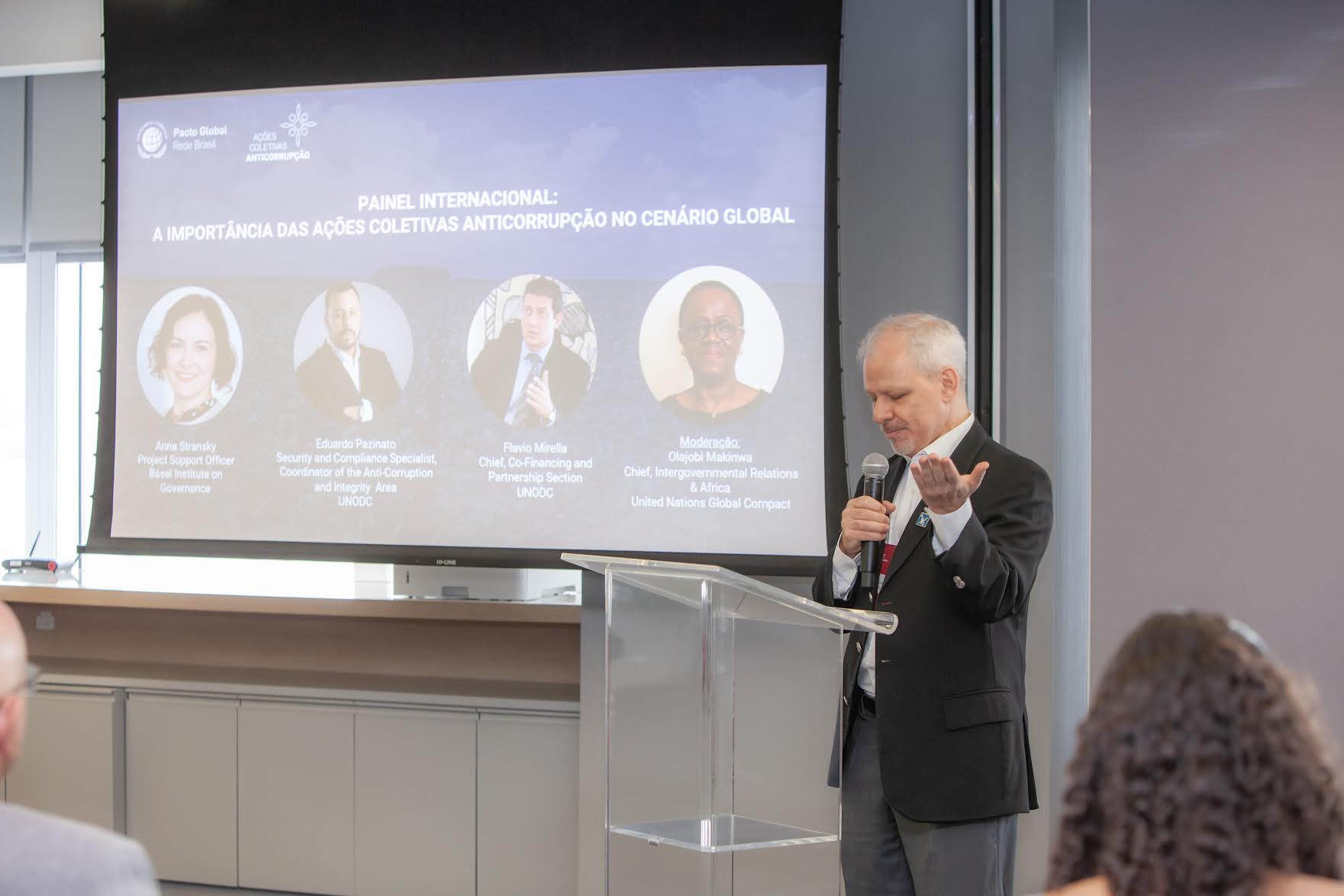 Brazil's huge agricultural sector is no stranger to corruption scandals – but now a group of agribusinesses are working together with government and civil society to raise standards of integrity and prevent corruption from damaging their business opportunities and reputation. This guest blog by Ana Aranha and Jacqueline Oliveira, Anti-Corruption Manager and Anti-Corruption Coordinator at the UN Global Compact Network Brazil, explains how Collective Action is helping the group to collaborate on anti-corruption and achieve tangible change on the ground.
Brazil's agribusiness is hugely important for both global food security and Brazil's economy – it accounts for about a fifth of the country's GDP and generates important revenues and jobs for local people.
But like any large industry, corruption undermines its effectiveness and harms the environment and human health. Just one example: the Weak Meat case (Carne Fraca in Portuguese) revealed that some meat producers were allegedly doling out bribes to inspectors to certify meat that was either rotten or tainted with salmonella. Brazil's largest meat producers, BRF and JBS, were among those involved.
Coupled with reports of massive deforestation to create land for livestock and soy, such revelations have immensely tainted the industry's reputation.
Fertile ground for anti-corruption Collective Action
Ultimately, corruption and even perceptions of corruption are bad for business. That is why some of Brazil's leading agribusiness companies proved eager to join efforts to improve governance practices and raise ethical standards in the industry.
Since its launch in 2021, Brazil's Food and Agriculture Anti-Corruption Collective Action Initiative has grown to include 18 companies and six business associations, and entered into a partnership with the Brazilian Ministry of Agriculture.
For participating companies, engagement in Collective Action provides a path to reducing the risks of future corruption cases while being directly involved in setting up new integrity mechanisms that also reinforce their social and environmental commitments.
From its inception, the initiative has received vital support from the Global Compact Network Brazil,  part of the United Nations Global Compact. The 1,500-strong network has built a strong reputation for creating spaces for dialogue to promote Collective Action to address corruption in the private sector in recent years. As a neutral body, the Global Compact Network Brazil can promote dialogue and action, and offer a dedicated platform that facilitates discussion and avoids the perceived risk of anti-competitive conduct.
As in any Collective Action, engagement with government plays a vital role. That is why the participation of Brazil's Ministry of Agriculture is so important. In 2022, for example, the Ministry incentivised engagement in the Collective Action initiative by making membership a prerequisite to applying for its annual agribusiness integrity award.
Building the business case for Collective Action in agribusiness
Building on the Global Compact Network Brazil's prior experience in establishing two Collective Action initiatives in the engineering and construction, and urban cleaning and solid waste sectors, the participating companies collaboratively developed the "business case" for their initiative. This clearly defined its objectives and ensured some level of commitment and financial sustainability.
The main objectives of the initiative are to:
change the culture and the reputation of the agribusiness sector, domestically and internationally;
promote a cleaner business environment in the companies as well as in their supply and logistic chains through improved practices and regulations;
incentivise integrity in public-private relationships;
protect the sector as a whole as well as each company and each employee from potential corruption and bribery cases in settings with scarce transparency and accountability mechanisms.
The companies also agreed on and published anti-corruption principles and governance rules. These included policies for the decision-making process, transparency and confidentiality measures, a communication plan, criteria for including and excluding members, and criteria to end the project. These initial milestones were crucial to building trust among all stakeholders and setting up the initiative for success.
Raising the bar: developing risk-based anti-corruption best practices
As a next step, the initiative developed a corruption risk assessment for the sector based on an analysis of participating companies' main operations and supply chains. The assessment also identified the need for further knowledge material exploring the main threats, risks and regulatory issues that companies may encounter throughout their operation.
The Best Practice Guide on Anti-Corruption in Agribusiness, launched in April 2022 (and presented here on YouTube), is the result of a collaborative effort between all participants of the initiative. It covers the eight highest risk areas identified by the participating companies during the corruption risk assessment and is available in Portuguese and English.
The Guide's contributors believe that the path to address corruption and contribute to effective changes of irregular practices is through public commitments.
A representative of BASF, one of the member companies, elaborated:
"The initiative brought to us even more awareness on the importance of individual movements to impact the collective. The materials produced by the group are being very much appreciated by the executives that are using them to communicate integrity messages to their respective teams and with that everybody wins."
What to expect
In terms of activities, in 2023, the initiative's plan is to develop videos and training materials based on their best practice guide. The training materials will be developed for both companies' employees on the ground and their counterparts in the public sector.
In terms of impact, what everyone wants to see is the end of corruption that harms humans and the environment and makes it hard for agribusinesses to operate with integrity. Creating trust and collaboration among stakeholders through Collective Action is the first step to restoring trust in Brazil's agribusiness sector.
Learn more
See more examples of successful initiatives on the B20 Collective Action Hub – the Basel Institute's platform for resources and engagement on anti-corruption Collective Action.
Got questions? Use our free Collective Action helpdesk to ask anything you would like to know about Collective Action and related multi-stakeholder approaches for business integrity.