28. October 2016
Collective Action: Evidence, experience and impact - a recap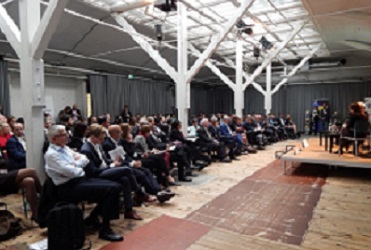 The Basel Institute on Governance and its International Centre for Collective Action recently concluded its second international Anti-Corruption Collective Action Conference. The event, which took place on October 20-21 2016 in Basel, brought together nearly 200 participants from business, government, civil society, international organisations, academia and beyond, with participants hailing from every continent.
This second Collective Action conference aimed to build upon many of the experiences and discussions surrounding the topic in recent years and with several principle questions in mind: what is the evidence for Collective Action effectiveness? What has worked, why, and in what ways can examples of best practice be replicated in order to maximise the impact of Collective Action? While frequently described as a young and promising method to combat corruption, Collective Action is slowly reaching the stage where it must more explicitly deliver on the promise, making the establishment of the evidence base critical for the credibility and future of this anti-corruption approach. To address these questions, the conference invited as panelists and keynote speakers a number of researchers and practitioners, with broad stakeholder representation and diverse national experiences. A call for papers conducted in conjunction with the conference underscored the desire to promote the academic and practical evidence base. An entire afternoon session of the event was devoted to presentation and discussion of several papers submitted in response, in addition to concrete examples of good practice evidenced in other panels.  
As presentations at the conference demonstrated, there is no one-size-fits-all method for successful engagement in Collective Action. This is particularly the case when examining initiatives practiced at global versus local levels, or single sector versus multi-sector approaches, examples of which were all presented at the event. The session on the morning of October 20 entitled "Anti-Corruption Collective Action: Impact Stories" explicitly demonstrated this through presentations ranging from those such as the Wolfsberg Group, an association of global banks addressing financial crime risks, to more national and local-based initiatives, including the use of Integrity Pacts in Hungary and a Collective Action initiative in Egypt led by the Egyptian Junior Business Association and focused on SMEs. This diversity of experiences poses challenges to the development of a grand unifying theory of Collective Action initiatives, yet also provides encouragement by underscoring the flexibility of Collective Action to foster change in various national or international settings.  The experience of the Alliance for Integrity, another initiative presented during this session, encapsulates this through its global approach combined with various regional offices.
The question remains however as to how to measure impact from Collective Action initiatives, this despite frequent articulation of its benefits from participating civil society stakeholders and companies, including reputational benefits, increased awareness of anti-corruption internally, and raising standards within an industry. The definition of success itself and methods for measuring it also remain subjects of debate as seen from the practitioners and academic panel discussions. More systematic documentation of evidence of Collective Action impact could potentially be realised by focusing more on locally-operating initiatives (as opposed to global) that take into account local circumstances, as well as incorporating data-driven approaches to complement qualitative evidence-gathering. Sharing these examples through increased dissemination of results, at conferences such as these and with the wider public, could further bring Collective Action to the forefront as an anti-corruption strategy.  The packed program and generous audience participation attests that there has indeed been significant progress in Collective Action over the years, but there remains much work to be done. Fortunately the conference delivered evidence that the maturation process continues, laying the groundwork for improved cooperation between stakeholders against corruption.  
Visit the conference website for further information, presentations and papers.
2