13. August 2021
Annual Report 2020: On fighting the pandemic of corruption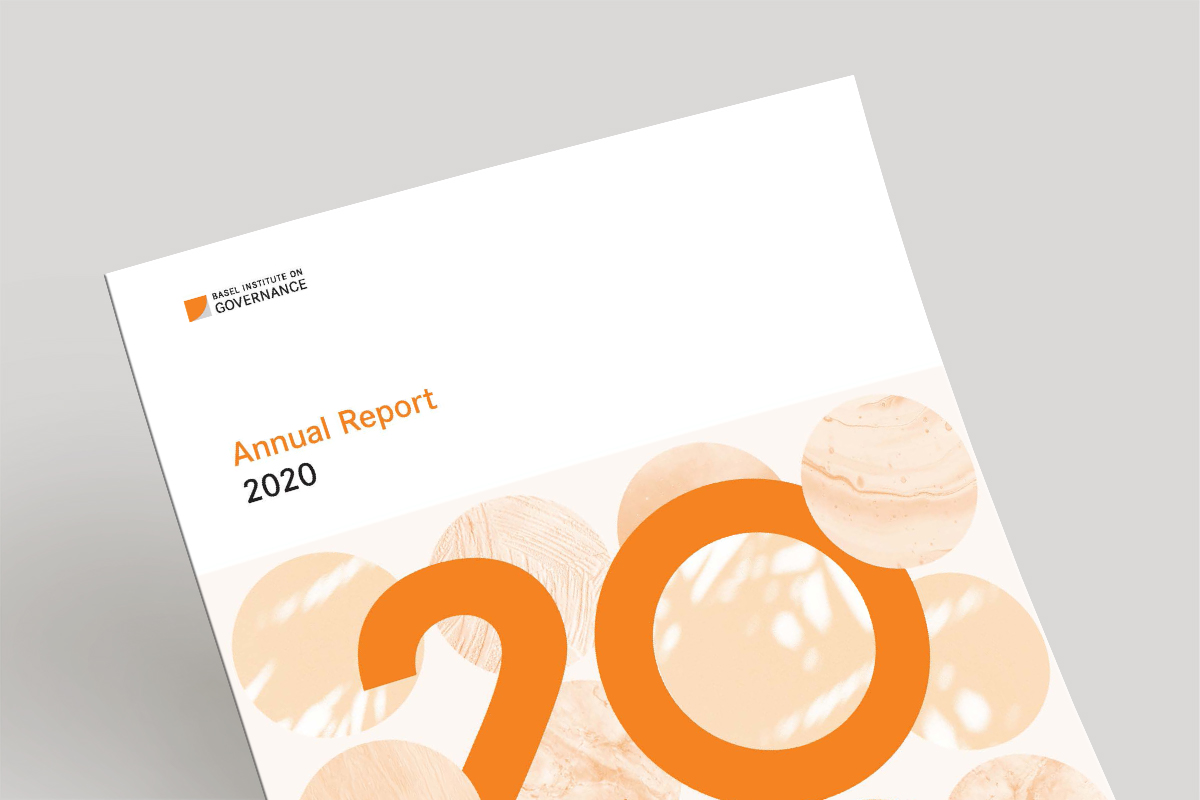 Published today, our Annual Report celebrates the achievements of our teams and partners around the world that we are most proud of in 2020. It also reveals some of the hurdles we were challenged to overcome together. There are many of both, and a lot more stories and highlights in between. 
This year's report offers deep dives into some of our key focus areas.
Our International Centre for Asset Recovery explains why we are supporting the use of non-conviction based forfeiture mechanisms to recover stolen assets, why our training team has launched a new open course on cryptocurrencies and AML compliance, and how Mozambique established a new Asset Recovery Office with our support.
Meanwhile, our Public Governance team reveals why networks, not just individuals, are crucial to understanding and countering corruption.
The report sets out the new strategy we have launched to address Green Corruption – the corruption and other financial crimes that drive environmental degradation. The popularity of our Corrupting the Environment webinar series, which we are offering together with the OECD, has demonstrated the breadth and depth of interest in this field. 
In the contributions from our Compliance and Collective Action teams on their work with the private sector, we explore how state-owned enterprises can address their corruption and antitrust risks. We also illustrate efforts to create guidance on reporting on the effectiveness of anti-corruption compliance programmes, with the example of a Collective Action initiative between healthcare companies.
In Peru, our 30+ Public Finance Management specialists are breaking new ground with their innovative training approach, using social media and peer-to-peer learning.
We also look at what the Basel AML Index revealed about money laundering trends in 2020, the role of virtual training beyond the pandemic thanks to our new Basel LEARN virtual learning platform, and how lockdown opened up fresh opportunities to maximise the potential of open-source intelligence, including through our Basel Open Intelligence search tool.
Throughout the Annual Report, it is clear that our achievements depend greatly on the efforts of our partners and donors. And so this is also a chance for us to thank them warmly and to demonstrate some of the impact we are having together on the fight against corruption around the world.
Please flick through and stop to read, to think and to send us your ideas and insights – by email, over social media or in any other way.
Foreword
"We must revive the global social contract to fight the pandemic of corruption" begins the foreword by Gretta Fenner, Managing Director, and Mark Pieth, President of the Board. They continue:
While medical research has been quick to develop protection against Covid-19, another pandemic continues to rampage humankind and our attempts at stopping it continue to fall short.

We are talking about the widespread disease of corruption, which has become deeply rooted in our societies, and which plagues our communities, their social cohesion and economic wellbeing. It leaps effortlessly between public officials and businesses regardless of political colour, nationality or sector, helped by professional middlemen and rule-free blind spots where dirty money can go on holiday.

This has never been more apparent than when the two pandemics met. Initial research seems to indicate that corruption levels rose to even higher levels during the pandemic. It might also be that seeing its deadly consequences from closer quarters made it more visible.

What is certain is that more people are seeing through the corruption fog. Political protests and toppled governments around the world show that more people are upset about it, and that is a good development. Those of us who work in the light can only fight a threat that is seen.

The ophthalmologists in this case are the many individuals, the journalists, civil society activists, researchers and law enforcement officials who, courageously and often at great risk, are standing up to corruption and dragging it into the daylight. This is a tremendous help for our work, and we hope that our effort helps them.

But many of these anti-corruption heroes still fight a lonely battle. What's more, they are faced with the overwhelming resources and power of the grand transnational corrupt networks that, collectively, stifle sustainable development and undermine the economic and social wellbeing of our societies.

To amplify the work of the many courageous people and organisations, nation states, global enterprises and governance bodies should be coming together. But instead, what we see and what is of major concern is an increasing breakdown of global solidarity and a return of increasingly divisive and at best nationalistic domestic and global politics.

So we urge politicians and business leaders to revitalise the global social contract – which is competently guided by the Sustainable Development Goals – by showing true and courageous leadership that disregards geographical, social, economic or other borders.

But before we are misinterpreted: We are not waiting for another global leaders' declaration; there are plenty of those. We are waiting for these key stakeholders to really do what they preach. And in doing so, to ask more of themselves and of each other than ever before. This means not just meeting but going beyond the requirements of international treaties and standards.

Those who risk their lives to fight corruption, and those who lose their lives because of corruption, every day, in every corner of the world, deserve at least that.

So, as we rightly celebrate the healthcare workers and other providers of essential services that are helping their fellow citizens get through the Covid-19 pandemic, let us also celebrate – and actively support – those individuals who resist, stand up and fight against corruption.

We have done our best to do just that throughout last year, and we will continue on this mission, hopefully with more backing from true leadership, for the good of everyone in this world.