26. May 2021
UNGASS side event, 2 June – Collective Action: Building efficient public-private partnerships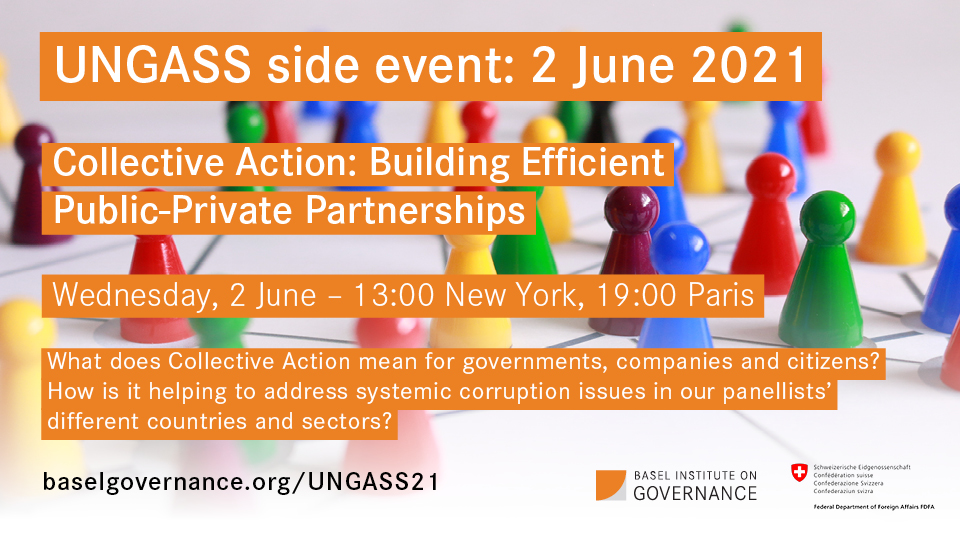 On Wednesday, 2 June, we are honoured to be co-hosting a virtual side event at the 2021 Special Session of the General Assembly against Corruption (UNGASS) in collaboration with the Swiss Federal Department of Foreign Affairs.
Register here for the 60-minute session at 19:00 CET/13:00 EST: Collective Action: Building Efficient Public-Private Partnerships.
About the event
Why does the draft UNGASS Political Declaration 2021 recognise and encourage the use of anti-corruption Collective Action, as the Basel Institute recommended in a submission to the Consultation Process last year?  
What does Collective Action mean for governments, companies and citizens? Does it work in practice? Is it an efficient way for the public and private sectors to partner? What benefits can it bring? 
This panel discussion seeks to inspire, enlighten and engage participants on the scope and possibilities of anti-corruption Collective Action.
The speakers will explain how partnerships between the public and private sectors are helping address systemic corruption issues in their countries and sectors.
Opening remarks
H.E. Ambassador Stefan Estermann, Head of the Prosperity and Sustainability Division, Swiss Federal Department of Foreign Affairs 
Panel
Moderator: Gemma Aiolfi, Head of Compliance, Corporate Governance and Collective Action at the Basel Institute on Governance
More