Structures, functions and flows of IWT: deconstructing a criminal network between East Africa and Southeast Asia
The paper investigates the role of criminal networks in fostering illegal wildlife trade (IWT), and how these relational structures interact with transnational organized crime. The paper frames these topics within the debate around the opportunistic or organized nature of IWT. The aim is to understand how chaotic behaviors can transform into an ordered and organized strategy.
Social network analysis (SNA) and network ethnography were conducted to explore the crime network surrounding a wildlife trafficker based in East Africa. The empirical results suggest that criminal networks operate as "machine of order" that transform opportunistic behaviors at the micro level into ordered strategies at the macro level.
Empirical results also suggest that organized crime has an important role in making the process of transforming opportunistic into organized behaviours more efficient and more effective.
Acknowledgement and citation
This publication arose out of a collaboration between the Basel Institute's Public Governance and Green Corruption teams. The research presented in this publication forms part of a two-year project aimed at stopping corruption from fuelling illegal wildlife trade between East Africa and Southeast Asia.
This research was funded by PMI IMPACT, a grant award initiative of Philip Morris International (PMI). In the performance of their research, the authors maintained full independence from PMI. The views and opinions expressed in this document are those of the authors and do not necessarily reflect the views of PMI. Neither PMI, nor any of its affiliates, nor any person acting on their behalf may be held responsible for any use which may be made of the information contained herein.
Costa, Jacopo. 2022. 'Structures, functions and flows of IWT: deconstructing a criminal network between East Africa and Southeast Asia'. Crime, Law and Social Change. https://doi.org/10.1007/s10611-021-10009-8
Links and other languages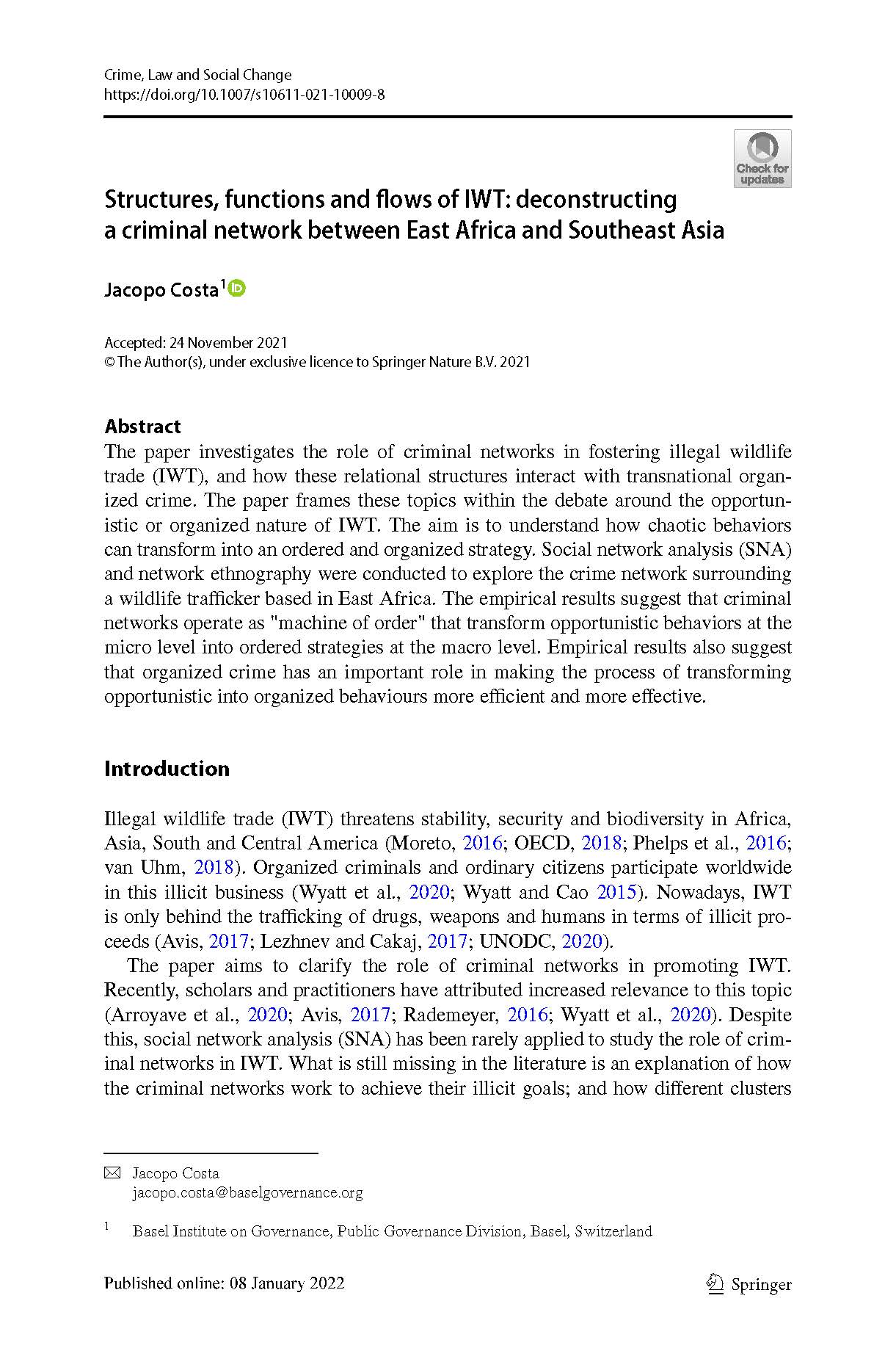 Publisher
Crime, Law and Social Change
Author(s)