A Social Model of Conservation to Fight Wildlife Trafficking: What Conservationists Can Learn from Public Health
The key determinants of whether particular species and ecosystems will live or die today are social factors – criminal behavior, political corruption, consumer behavior, land use decisions, cultural norms and practices, individual psychology, conflict, poverty, local livelihood choices, socio-economic inequalities, et al. But despite recognizing that our current biodiversity catastrophe has human, social roots, conservationists and environmentalists have yet to translate such consensus into action to save wildlife and the natural environment on a wide scale. 
This article examines this paradox in terms of efforts to combat illicit wildlife trafficking, and proposes a social model of conservation, which is focused on systematically identifying and addressing the social determinants of wildlife trafficking and presents an alternative to conventional – yet in many instances failing – bio-scientific models of conservation.
This article focuses exclusively on the worldwide poaching crisis impacting most acutely charismatic and other economically valuable species, but likely has applicability to other important drivers of extinction and species decline such as habitat loss, ocean acidification, pollution, climate change, or other human-driven causes.
It was originally issued in 2015 with minor updates in 2017. 
Links and other languages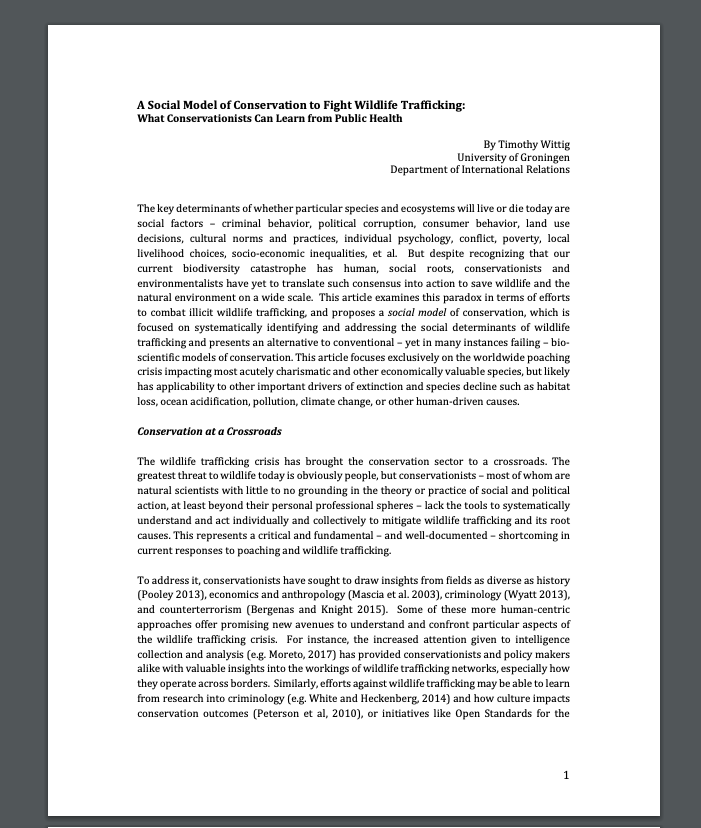 Author(s)