Law enforcement, criminal justice and natural resource corruption - a TNRC guide
This introductory guide for the Targeting Natural Resource Corruption (TNRC) project:
outlines the impact of corruption in law enforcement or the wider criminal justice system on conservation goals;
explains approaches that can help conservation and natural resource management practitioners to strengthen their programming and related responses;
offers guidance on strategies for working with law enforcement.
It leads the Law Enforcement topic page of the TNRC Knowledge Hub and is designed to help practitioners find relevant resources, including on the following approaches:
Supporting enforcement agencies
Fostering transparency, accountability, and monitoring
Leveraging technologies
Exploring whistleblowing and other reporting options
Engaging the private sector
Key takeaways
Law enforcement and the wider criminal justice system are essential to address both illegal activities that undermine conservation objectives and the corruption that facilitates those activities.
Crimes and corruption involving wildlife, forests, and fisheries are not "victimless," and detecting and deterring them should be prioritized.
Effective enforcement of laws helps create an environment of stability and trust. This in turn reinforces adherence to laws and regulations that govern natural resources and their use. Practitioners can play an important role in promoting effective law enforcement to address crime and corruption in support of conservation objectives.
Options range from working directly with partner agencies and institutions to strengthen their resilience to corruption, to working with other stakeholders to strengthen wider enabling conditions.
However, corruption can undermine law enforcement, rendering it ineffective or even harmful. Applying a "corruption lens" can help shape better and safer strategies for working with law enforcement.
Strategic decisions about whether and how to support law enforcement in a particular context therefore require a strong understanding of local actors, power dynamics, legal and institutional frameworks, and the underlying drivers and facilitators of corruption.
The Basel Institute's Green Corruption team developed the guide in collaboration with TNRC consortium partners and external experts.
Links and other languages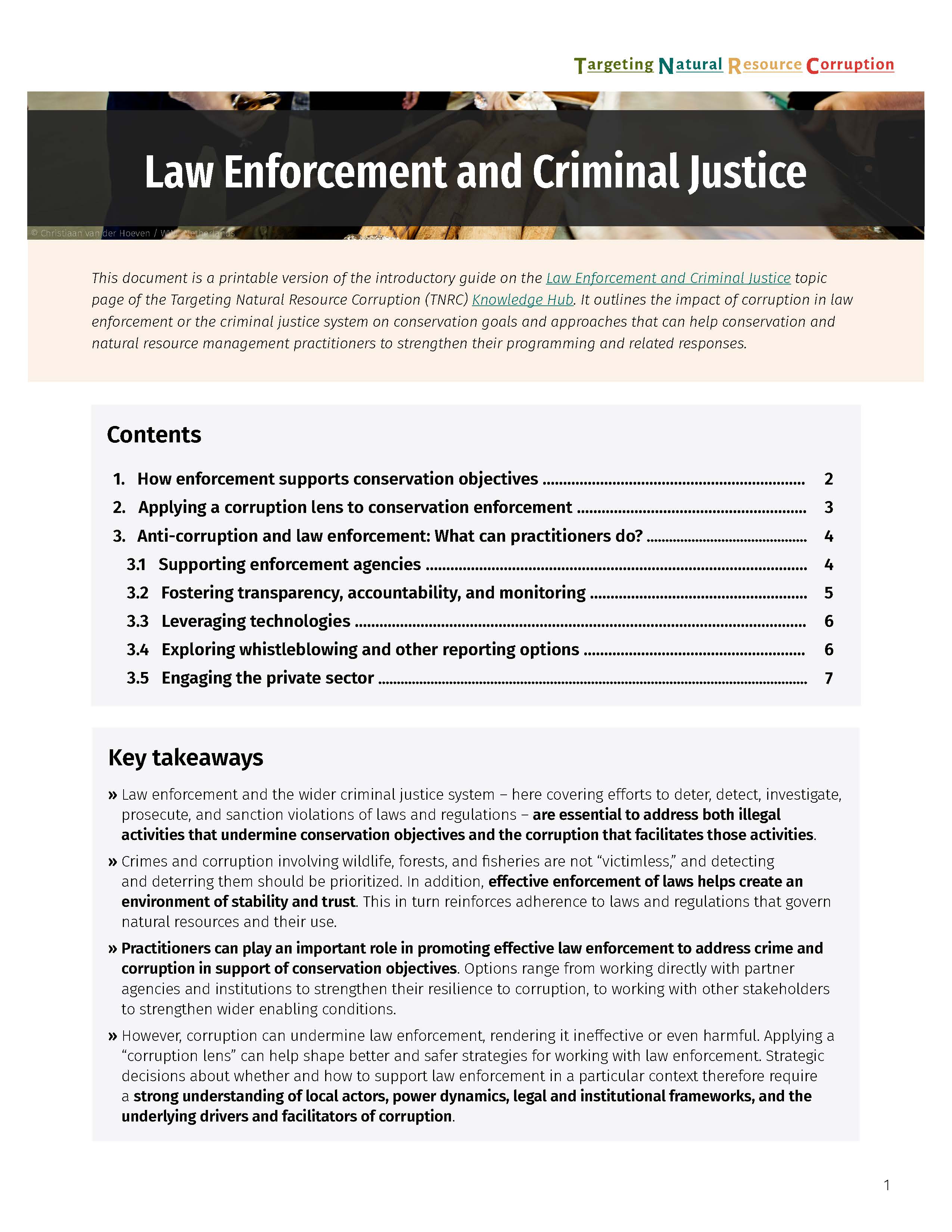 Publisher
Targeting Natural Resource Corruption (TNRC) project