How political economy analysis can support corruption risk assessments to strengthen law enforcement against wildlife crimes
As part of a collaboration with the Targeting Natural Resource Corruption (TNRC) project, the Basel Institute on Governance undertook political economy analyses in three countries in Latin America and Africa.
The purpose was to understand why corruption risks may emerge in investigations and prosecutions of illegal wildlife trade (IWT) cases. The analyses complemented the findings of corruption risks assessments conducted in the three countries and focused on the IWT law enforcement process.
The experience showed that political economy analyses can help practitioners better understand corruption risks in a specific context. This understanding helps practitioners to design and implement corruption risk mitigation measures that take prevailing political and power dynamics into account. In particular, it helps to identify windows of opportunity for addressing corruption risks and highlight strategically important stakeholders that may support or oppose the intervention.
Based on the research, this Practice Note:
summarises the value added and key insights gained by complementing the corruption risk assessments with political economy analyses;
explains the lessons learned from the experience of implementing the analyses;
offers practical guidance to natural resource management and conservation practitioners interested in incorporating a similar approach in the design of corruption risk mitigation measures.
The paper was developed by the Basel Institute's Public Governance team together with the Green Corruption programme as part of a wider research collaboration between the Basel Institute and TNRC project consortium. 
About the TNRC project
The TNRC project seeks to improve biodiversity conservation outcomes by helping practitioners to address the threats posed by corruption to wildlife, fisheries and forests. TNRC harnesses existing knowledge, generates new evidence, and supports innovative policy and practice for more effective anti-corruption programming on the ground.
A USAID-funded project, TNRC is implemented by a consortium of leading organizations in anti-corruption, natural resource management, and conservation: World Wildlife Fund (WWF), the U4 Anti-Corruption Resource Centre at the Chr. Michelsen Institute, TRAFFIC, and the Terrorism, Transnational Crime and Corruption Center (TraCCC) at George Mason University.
Links and other languages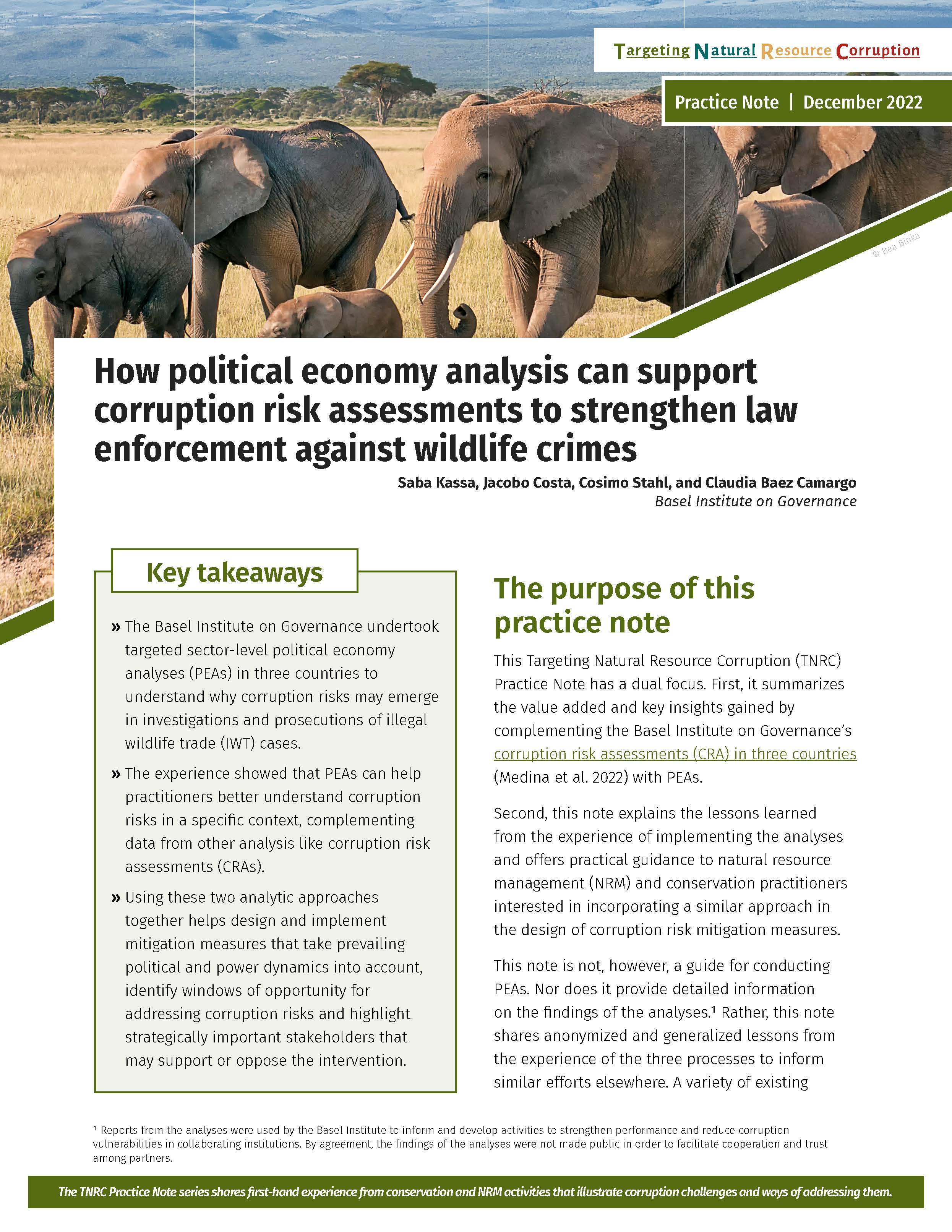 Publisher
Targeting Natural Resource Corruption (TNRC) project
Author(s)